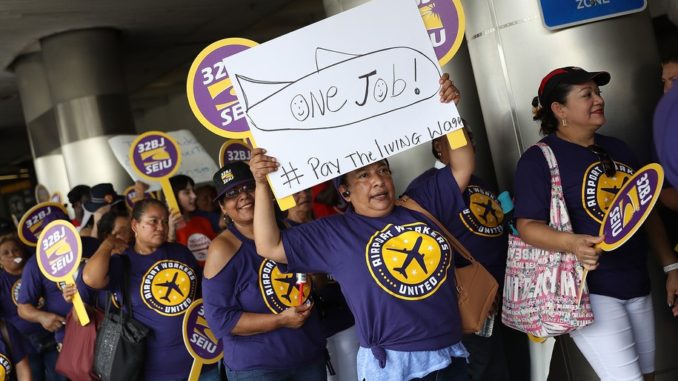 Reprinted from The Daily Kos by Laura Clawson on June 29, 2019.
Contract workers at four East Coast airports staged a one-day strike on Thursday, citing abuses by Eulen America, the company that employs them. The workers, including baggage handlers, cabin cleaners, ramp workers, and wheelchair attendants, service American Airlines and Delta.
A recent investigation by CBS Miami's Jim DeFede found that Eulen hires recent immigrants, pays them low wages for hours that fall short of full time, and has grueling working conditions, with workers lifting heavy bags in high heat and going without breaks or adequate hydration. Workers say they are transported to clean and supply airplanes in unsafe, cockroach-infested vehicles.
"A lot of the people are new to this country and they don't know the laws or their rights, and then management takes advantage of that," a worker told DeFede. A striking worker said his team isn't provided with adequate cleaning supplies or staff to fully clean planes, and that supervisors are abusive to workers who speak little or no English. …