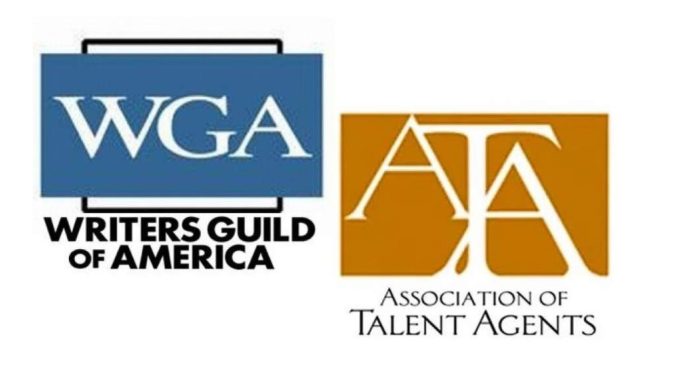 Reprinted from The Hollywood Reporter by Jonathan Handel on April 4, 2019.
The Writers Guild of Canada and the International Affiliation of Writers Guilds issued a statement Thursday supporting their US colleagues as the fight between the Writers Guild of America and talent [agents] counted down to a weekend deadline.
The 43-year-old agreement between the WGA and Association of Talent Agents terminates at midnight Saturday night, and will be replaced then by a WGA-imposed "Code of Conduct" barring packaging fees and affiliate production unless the two sides reach an agreement before then. With no meetings scheduled and just two days to go, that's beyond unlikely, and as the code is unacceptable to most or all large and medium-sized agencies, thousands of writers may be ordered as early as Sunday or Monday to fire their agents or risk being disciplined for violation of a WGA rule prohibiting members from having unsigned agents represent them. What happens next is anyone's guess.
"The WGA is rightly endeavoring to restore fairness and transparency to the process of making film and television for its members through instituting a new Agency Code of Conduct," said the IAWG in a statement issued by the WGC. "The IAWG's members stand with our WGA brothers and sisters and have resolved to educate our members on the underlying issues of the dispute, the adoption of an Agency Code of Conduct and the list of non-signatory agents. Additionally, we will encourage our dual members to ensure that their agents sign on to and adhere to the WGA's new code." …
Writers, Agents Leaving Hollywood Mired in Uncertainty
Reprinted from Variety by Dave McNary on April 3, 2019.
Leaders of Hollywood agents and writers have conducted what's become a deeply disappointing set of negotiations — fueling the town's growing uncertainty over the outcome.
As of late Wednesday afternoon, neither the Writers Guild of America nor the Association of Talent Agents would disclose when — or if — they will meet again. The two sides, which have not met since March 26, face a looming deadline of  12:01 am PT on Sunday, April 7, when the WGA's agency franchise agreement expires.
At that point, the guild will require its 15,000 members to fire their agents if they have not signed the WGA's new "Code of Conduct," a scenario that's been unnerving Hollywood in recent days. The WGA has advised its members that agenting duties can be handled by managers and lawyers but agents say that's illegal under California law. WGA leaders have also warned that the guild may file a conflict-of-interest suit against WME, CAA, UTA and ICM. …