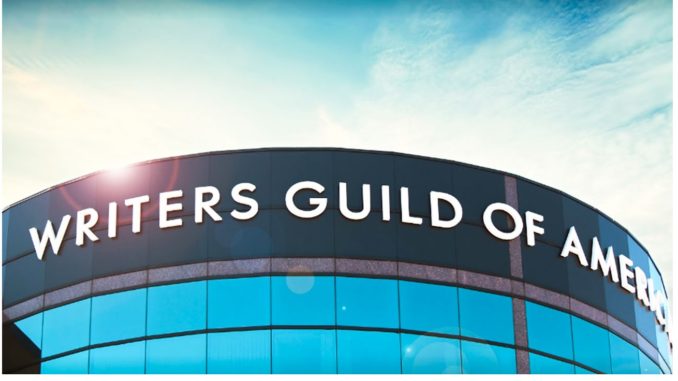 Reprinted from Variety by Dave McNary on March 30, 2019.
Leaders of the Writers Guild of America have repeated a threat to sue the major Hollywood talent agencies for alleged conflicts of interest.
The leaders issued the threat Saturday during a members-only meeting at the Writers Guild Theater in Beverly Hills, California, attended by about 300, according to an attendee. The meeting was the fourth held this week in order to rally members to approve of "Code of Conduct" that will bar agencies from collecting packaging fees and having ownership interests in production company.
Online voting among the 15,000 members ends Sunday. If the code is instituted, members will be required to fire agents who have not signed on to the code as of April 7, following expiration of the current franchise agreement — which regulates how agents represent WGA members. …
Labor Action, with a Hollywood Twist: Screenwriters Threaten to Fire Their Agents
Reprinted from The Wall Street Journal by R.T. Watson and Joe Flint on March 29, 2019.
The middle-class wage squeeze is affecting an unlikely group: Hollywood movie and television writers, who are threatening to fire their agents en masse over what their union calls unfair business practices.
Their union, the Writers Guild of America, is convinced agencies' pursuit of lucrative side deals—with the studios actually employing the writers—has created conflicts of interests in which talent agents put their own paydays ahead of their clients', precipitating a decline in wages for a vast swath of the screenwriting community.
Some 15,000 WGA members are currently voting whether the union should demand their agents agree to new employment terms that would bar the longstanding practice known as "packaging," in which an agency creates the framework for a new television series or movie by bundling various clients—writers, directors, actors and others—and sells it as a whole to a studio that then funds the production and distributes it.
When an agency enters into a package deal with a studio, it collects a fee and waives the commissions it would normally receive from clients involved in the project, meaning the agent's financial interest isn't as closely tied as usual to those clients'. The upshot, writers argue, is that the agency is effectively a partner in the production, and that is a conflict of interest. …