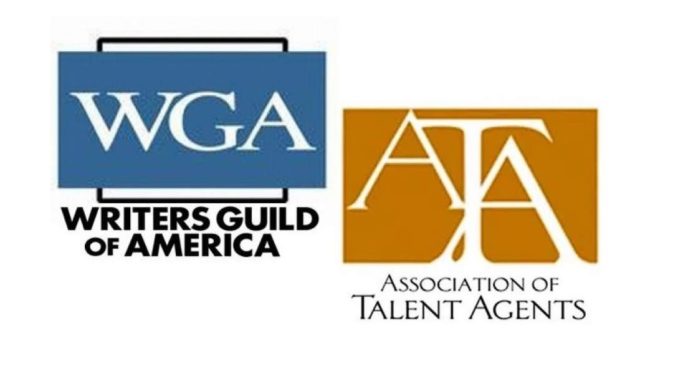 Reprinted from Deadline Hollywood by David Robb on April 15, 2019.
Talent agencies that signed the WGA's new Code of Conduct aren't being flooded with calls from writers seeking new representation now that they've been ordered by the guild to fire their agents who refused to sign. Deadline reached out to many of the 48 agencies that signed the Code and asked if they've been getting calls from writers who fired their agents on this the first business day since the Code went into effect.
"I have certainly had a few phone calls from writers who have fired their agents," said Michael Lewis of Michael Lewis & Associates.
"I have not," said Victoria Sanders, owner of the Victoria Sanders Literary Agency, which is based in Stone Ridge, New York. "I represent book writers and novelists. I'm a signatory to the WGA. I have a few clients who are members, but I'm not a film or television agent. I use co-agents. I'm very pleased with my co-agents at WME. They're top-notch." WME is one of the major agencies that has refused to sign the Code (read the list here). …
WGA Disciplinary Trials Could Await Writers Who Don't Notify Guild They've Fired Their Agents
Reprinted from Deadline Hollywood by David Robb on April 15, 2019.
WGA West president David Goodman has issued a statement in response to Deadline's story [Monday] about members who fail to inform the guild that they have fired their agents.
"The WGA is a group of writers, not a tribunal. The membership voted overwhelmingly, 95.3% in favor, to leave agencies that have not signed our Code of Conduct. Thousands of members have already done so. Our power is based on solidarity, not coercion, and this article's supposition that we are planning on putting members in front of trial committees is false."
The WGA soon could be hauling members before disciplinary trial committees if they don't notify the guild that they've e-fired their agents.
The Guild's Working Rule 23 states: "No writer shall enter into a representation agreement whether oral or written, with any agent who has not entered into an agreement with the guild covering minimum terms and conditions between agents and their writer clients." As of April 13, that agreement is now the WGA's Agency Code of Conduct. Members in violation of Working Rule 23 "shall be subject to discipline in accordance with Article X of the WGA West constitution," the guild says. …
Jon Robin Baitz First Major Writer to Rebuff WGA Demand He Fire His Agents
Reprinted from Deadline Hollywood by Mike Fleming Jr on April 15, 2019.
All day we've been hearing of the misgivings numerous writers are having over the recent brass knuckle negotiations on packaging and affiliated production companies that led the WGA to demand that its members fire their agents. Some writers with close ties to their longtime reps want everyone WGA and ATA back at the bargaining table, with less rancor and a mindset to find a solution. Jon Robin Baitz, the playwright/screenwriter/TV producer — who just signed on to adapt the Jo Piazza novel Charlotte Walsh Likes To Win as a series for Julia Roberts to star in and produce with Baitz and wiip — has become the first major WGA member writer to publicly declare to his union that he will not fire his agents. Baitz is the two-time Pulitzer Prize finalist playwright who created the ABC series Brothers & Sisters and the NBC miniseries The Slap.
He has sent a letter to the WGA, a copy of which Deadline Hollywood obtained. [Follow the link to read it.]