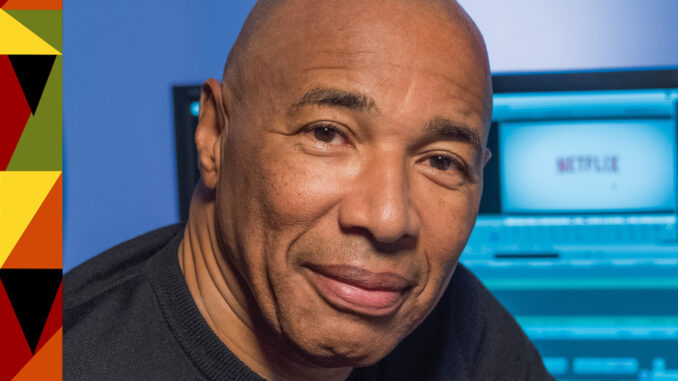 For each day in the month of February, the African American Steering Committee will be highlighting Local 700's African American members, both past and present, and their accomplishments. We look forward to showing the contributions and influences African Americans have had on the industry.
---
Name: Monty DeGraff
What's your job/classification? Supervising Picture Editor
List the credits you're most proud of: "Law & Order," "Narcos," DareDevil," "Man In The High Castle," "Carnivale"
What are you working on right now? "PowerBook III: Raising Kanan"
What books are you reading, shows are you watching and/or movies you're excited about? I'm currently reading Colton Whitehead's "Harlem Shuffle," excited about the return of "Atlanta," and still tripping on the greatness of "Judas and the Black Messiah."
What would be your superhero name? HappyMan… Able to be happy during any circumstances and around all people!
What are your black history month memories? When I started in editorial as an apprentice, MLK's birthday was not widely celebrated in Hollywood. Post supervisors would quietly come up to me (invariably the only person of color on the project ) to let me know that if I wanted to take the day off, I could.
If you could time travel, when would you go and why? I could time travel it would be 40 years into the future so I could see how we get out of the environmental and societal mess we're in
What's your favorite (Black) television/movie moment? Seeing Sidney Poitier slap the …… out of a rich white southerner who had slapped him in "In The Heat of The Night."
What's your personal/professional mantra? "There are no limits to what I can do."
What would be your dream project to work on? My dream project is the one that I'm working on now "Raising Kanan." I've cut the pilot and have recently directed my first episode. The scripts are amazing and the acting led by Patina Miller, is simply incredible. Always excited to go to work on this one.