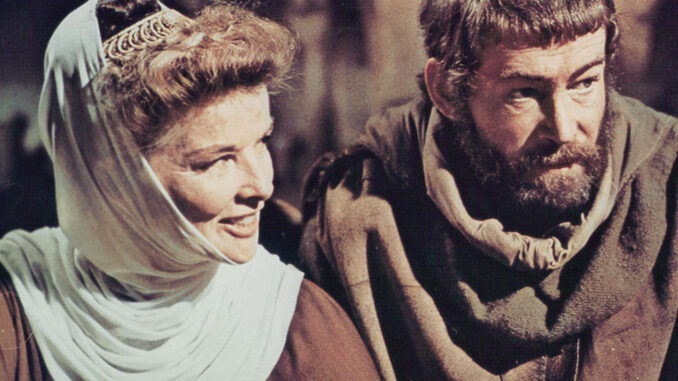 by Kevin Lewis
A medieval historical romp like The Lion in Winter was considered to be an old-fashioned project in the revolutionary political year 1968, especially after the success of such socially provocative films of 1967 as Bonnie and Clyde, The Graduate, In the Heat of the Night and even Guess Who's Coming to Dinner?, which presaged the New Hollywood.
By the time The Lion in Winter played in theatres 40 years ago in November 1968, critics were proclaiming a New Cinema with films of social chaos by Ingmar Bergman (Shame), Jean-Luc Godard (Weekend) and John Cassavetes (Faces). Ironically, the film is probably one of the few perennially popular films from that year. Hindsight reveals that it is more revolutionary than it appeared at the time because its then-novel themes of dysfunctional families, sibling rivalry, grudges, adultery, women's liberation and homosexuality are still fascinating to the viewer.
However, the film, which was one of the top grossing movies of its year, itself influenced the film industry forever. It was nominated for Best Picture, Director and Actor, and won Oscars for James Goldman's script (from his play), Katharine Hepburn's performance and John Barry's original score. Its influence can be seen in Monty Python and the Holy Grail (1975) and on television in Dallas, Dynasty and Falcon Crest, which replicated the backstabbing family.
Hepburn herself showed that age does not wither and she shattered the glass ceiling for actresses over 50, who were losing their starring careers. She became an icon of the women's liberation movement after this film, making possible the future stardom of such strong, intelligent, wryly funny actresses as Maggie Smith, Glenda Jackson, Glenn Close and Judi Dench––all of whom are extensions of the Hepburn mystique. At 61, the same age as Eleanor at the time of the play, 1183, Hepburn becomes her character in every way: manipulative, sarcastic seductive and wise to every game. The play and movie's most famous line, delivered by Eleanor during an explosive familial crisis, "Every family has its ups and downs," reveals Goldman's thesis of dysfunction as denial. But Hepburn's Eleanor is no Queen of Denial; she's closer to a cat on a hot tin roof, surviving the warring men with logic, intelligence and cunning.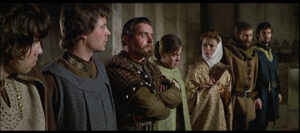 The film is deliberately anachronistic and satirical. It uses real historical characters as an allegory of any grudge-laden dysfunctional family. Henry II (Peter O'Toole) of England has imprisoned his wife Eleanor (Hepburn) because she is plotting against him to put their son Richard (Anthony Hopkins) on the throne. Henry has made Richard's fiancée his mistress. Their two other sons, John and Geoffrey, are plotting to kill the whole lot of them and seize the throne of England.
Anthony Harvey, whose first film was the interracial drama Dutchman (1967), was chosen by O'Toole to direct. He had been an esteemed film editor for such directors as Stanley Kubrick on Lolita (1962) and Dr. Strangelove (1964), Roy and John Boulting on seven films and Bryan Forbes on The Whisperers (1967).
Harvey undercuts any grandeur associated with medieval castles by showing how close members of the royal family were to the peasants in their courtyard. The stone castle is dingy and similar to its geological origins. In fact, there is an organic quality to the whole film. "I threw in chickens and dogs whenever I had a chance, to give it grit," Harvey told Cinemontage. "I didn't tell the actors. I just threw them in. They lived in a farm yard." There are scenes where Eleanor and Henry are literally stumbling over chickens and dogs as they descend stairs greeting their court. How did Hepburn react to this? "She roared with laughter. We had so much fun, which is really rare in making a film," adds Harvey, who remained the actress' close friend until her death 25 years later.
"With a movie, you need two things," Harvey explains. "You've got to have a good script, and the chemistry between the leading actors has to work. The thing about Hepburn and O'Toole was that they were very funny together. He called her 'Nags' and she called him 'Pig,' and they just thought that was hilariously funny. They had so much in common in a way. It was wonderful for me because, when I had some trouble with either of them at one moment, Kate would say, 'Oh come on, Peter, just bloody well listen to Tony,' and the other way 'round. So it was terrific for me early on in my career to have not only this great sense of humor, but great support. They were both wonderfully fun to work with."
John Bloom, who edited the film, agrees that Hepburn's humor and sparring with O'Toole made the film crackle off the screen, as did Hopkins in his film debut. "Tony Hopkins was such a revelation,"Bloom recalls in a separate interview with Cinemontage. "To see an actor like that is really exciting. My God, what a presence he had!"
Harvey was impressed with Bloom's editing on Georgy Girl (1966), which updated the Cinderella story into a Carnaby Street mod satire with British New Wave editing. "I thought it had been beautifully cut," says Harvey. "I don't think it's terribly easy for an editor to be working with an ex-editor who has become a director, but he did a terrific job, and I did a couple of films with him."
The film is deliberately anachronistic and satirical.
He had been allowed to experiment on Georgy Girl, Bloom recalls. "The Lion in Winter was a different sort of experience because Tony Harvey had been a very fine editor indeed," says Bloom. "I was pretty scared working with him, though we had a sort of passing relationship that seemed to be very good." The film was also very character and performance driven and "had nothing to do with trends of the time," he says.
"Tony was someone who was very aware of performance and I guess that was my strong point too through the ages, so the film was edited with that in mind," Bloom continues. "If you went with the style of the writing, and you believed in it, it was the sort of film where you could just allow the dialogue to speak for itself––and the same with the performances. But I think one of the troubles I initially had with editing the film with Tony was that the very first scene I showed him––in great fear and trembling–– he was absolutely thrilled by. And I thought, 'Wow! I'm in.'"
Ten days later, however, Harvey did not like another scene, according to Bloom and told him, "Well, I know exactly how it should go." Bloom recalls that he went to Harvey and said, "'Look, Tony, it would appear there are two ways. If I do the scenes exactly as you think they should go, you obviously will think I'm brilliant and a genius. But if I don't, obviously you get very upset. That being the case, there's really no point. Why have me as an editor? I was hoping that you would like me to bring something of my own to the film. Even if I gave you one idea in the course of the whole film that was something different from the way you could do it, why not accept that? Otherwise, just have an assistant put it together and just stand over his shoulders.'
"It was wonderful, actually, because Tony respected that," Bloom adds. "From that moment on, that's how we worked. It was a terrific creative process and we became good friends." Harvey and Bloom preferred direct cuts rather than fades and dissolves. "Both Tony and I eschewed them and I suppose in a way we were sort of ahead of our time and joined that group which didn't believe in them."
Bloom went on to edit two more films for Harvey: the TV movie The Glass Menagerie (1973) and The Abdication (1974). Another prominent editor who began her career as an assistant on the film was Lesley Walker, who edited Eagle's Wing (1979) and Richard's Things (1980) for Harvey, and for whom he retains a great respect and friendship. "She does marvelous work and has a lovely personality," Harvey attests.