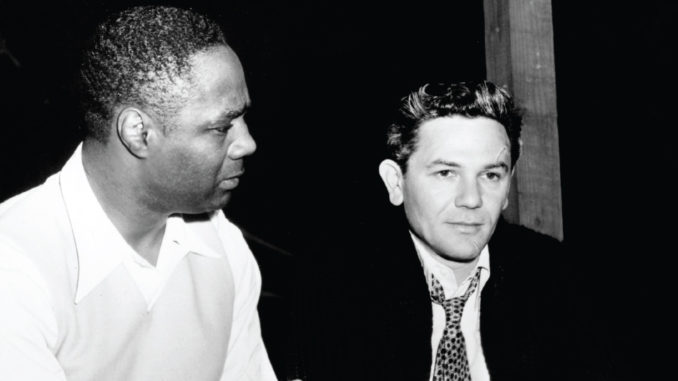 by Kevin Lewis
Body and Soul has remained one of the least dated, most influential films since its release 60 years ago this November because it marks a dividing point between Golden Age Hollywood and the independent film era that emerged after World War II. It depicts the racially diversified nation after the war, an event that transformed the content, the look and the omissions of Hollywood's "product."
Directors like William Wyler, John Huston, George Stevens––all of whom served as officers in the Armed Forces and photographed the carnage––no longer wanted to make melodramas for moguls like Louis B. Mayer or Jack L. Warner. Even Fox head Darryl F. Zanuck preferred edgier material. Producer/directors such as Stanley Kramer and Robert Rossen created realistic socially conscious films, which were mainly distributed by United Artists.
An ex-Warner Bros. screenwriter, Rossen directed Body and Soul, a formulaic boxing saga that could have been cribbed from the Warners script archives. It featured such Warners talent as anti-hero star John Garfield (who played this role many times) and cinematographer James Wong Howe. The film was a hit (and received three Academy Award nominations) in 1947 because it accurately reflected the tarnished post-war world. What made the movie unique was African-American Broadway star Canada Lee (a maimed former prizefighter in real life) as the aneurysm-afflicted boxer Ben Chaplin, who is the moral compass of Lower East Side Jewish boxer Char-ley Davis (Garfield).
Chaplin is quite vocal in the film about his exploitation by fight promoters, and Lee, who was a political ally of Congress-man Adam Clayton Powell and NAACP executive secretary Walter White, spoke out during the war about segregation of the troops and the failure––even during the Franklin Delano Roosevelt administration––to pass an anti-lynching law. Black and white friendships were not a part of Hollywood scripts in that era, and the relationships between Sam and Rick in Casablanca (1942) and Jack Benny and Eddie "Rochester" Anderson in their films were not comparable. In fact, the only equivalent was the business partnership and friendship between the black and white women played by Louise Beavers and Claudette Colbert in Imitation of Life (1934).
What makes Body and Soul such a legendary film is that, although it was conceived after World War II, the film represents the swan song of the Depression and reflects the indelible intertwined romance and despair of that haunted era.
The House Un-American Activities Committee targeted the film and those involved with it, many of whom (such as Garfield, Lee, Rossen and screenwriter Abraham Polonsky) were blacklisted. Lee and Garfield––neither of whom were Communists––died within two weeks of each other in 1952 of hypertension and heart disease, respectively, likely accelerated by FBI surveillance. Ironically, 1947 was also the year that the Brooklyn Dodgers ended segregation in Major League Baseball with the hiring of Jackie Robinson, and when President Harry S. Truman informed the Pentagon that henceforth, it would be ebony and ivory in the Armed Forces. Despite his prominent role in the film, Lee's name does not appear on the movie's one-sheet, and he is listed eighth in the cast––a sheepish decision on the part of the distributor considering that he had been featured in the advertising for Alfred Hitchcock's classic Lifeboat (1944).
Though Francis D. Lyons and Robert Parrish were awarded the film's only Oscar––for editing––both were better known subsequently as directors, leading one to believe Rossen's statement that he was responsible for the picture editing. Around 1964, Rossen told Cahiers du Cinema his hands-on approach to editing: "I have always, since I began, attached much importance to editing. I have spent more time in the cutting rooms than anywhere else. I always think about the editing when I shoot, for it is the second part of the writing of the film."
Producer Bob Roberts hired Polonsky to write the screenplay for Body and Soul, an odd choice since director Rossen was also a screenwriter. When he was under contract at Warners, Rossen wrote many fast-paced, socially conscious and underworld films such as Marked Woman (1937), The Roaring Twenties (1939), Blues in the Night (1941), and especially Dust Be My Destiny (1939), which was similar to Body and Soul. Polonsky thought that the script was marred by Rossen's reliance on hackneyed Depression-era romantic plotting. Certainly, the script is not as pointed and sophisticated as Polonsky's script for Force of Evil (1948), an acknowledged influence on Martin Scorsese. That said, there is a certain kinship between Body and Soul and Scorsese's Raging Bull (1980), both of which won Oscars for their editing of the dynamic prizefight sequences.
Body and Soul marks a dividing point between Golden Age Hollywood and the independent film era that emerged after World War II.
Rossen admired the deep-focus, black-and-white cinematography of Howe, who photographed many of the James Cagney, Humphrey Bogart and Edward G. Robinson movies at Warner Bros. The sharp-edged cinematography brought truth to the familiar film-noir narratives. Howe prided himself on his collaborative relationships with directors and devised photographic effects that turned a vision by a director into a concrete image.
The documentary-style editing in the boxing scenes in Body and Soul was aided greatly by Howe's hand-held technique. As he told Mike Steen in Hollywood Speaks, "Body and Soul…required a lot of close shots of the fighting. It was difficult to follow the action with a big camera on a dolly, so I put on a pair of roller skates and used a hand-held camera while the man who was my grip pushed me around the ring. In movie theaters, the audience would stand up and yell and root for the fighters! The unsteady effect was desirable. When a fighter would get a hard punch, I would even shake the camera a little, and the audience would get a jolt, too."
What makes Body and Soul such a legendary film is that, although it was conceived after World War II, the film represents the swan song of the Depression and reflects the indelible intertwined romance and despair of that haunted era, which scalded and shaped conservatives, liberals, right- and left-wingers, fascists and communists––all of whom collectively comprised "the greatest generation" of World War II.