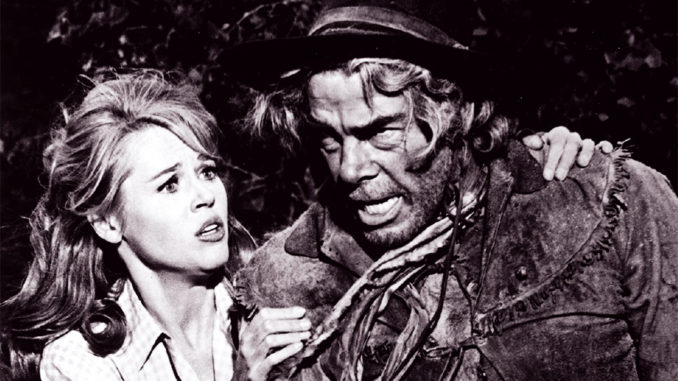 by Pam Malouf
Forty years ago, Los Angeles had the Watts uprising, Lyndon Johnson was the US President, black voting-rights demonstrators led by Martin Luther King, Jr., were gassed and whipped by Alabama State Police and more than 180,000 troops were deployed to Vietnam by the end of the year. But as a little girl, my only concern was whether or not Billy Mumy would be rescued from Lost in Space.
Barbra Streisand was on Broadway in Funny Girl, Gemini space missions made me dream about men going to the moon, and the miniskirt (which I would later wear as a teen) lit up runways. On television was Gidget, starring my idol Sally Field, and Beatles records blasted from the bedroom of my older sister. In those days I would dance around the house pretending I was Audrey Hepburn singing "I Could Have Danced All Night" from My Fair Lady.
My dad loved Jane Fonda—who was at the height of her sex-kitten days—so he took us kids to see her in the sleeper hit Cat Ballou. I didn't know it at the time, but the movie would change my life. At the beginning of the film, the Columbia Pictures logo lady tosses away her torch and toga and morphs into a cowgirl shooting with both barrels! This is your first clue that it's a Western like no other!
Yep, it's a comedy/sex/Western spoof with one-of-a-kind performances from Fonda and Lee Marvin, who has two roles—drunken former gunslinger Kid Shelleen and his twin brother Strawn, a cold, noseless assassin. Marvin, in one of his finest film performances, steals the movie and won himself an Oscar for his fabulous work.
The bold courage and willingness to stand up to authority displayed by Cat showed me that all it takes is guts for anyone [including women] to stand up for her rights.
To our amusing surprise, there are also wandering minstrels (Nat King Cole and Stubby Kaye) who sing: "The Ballad of Cat Ballou" (Academy Award nominee for Best Song). "It's hanging day in 1894… She killed a man, it's true, and that's why they're hanging Cat Ballou." We first see the sweet young thing-turned-outlaw, Catherine "Cat" Ballou (Fonda), in prison wearing a sexy slip as she prepares to be hanged. (Isn't that standard garb for all prisoners?) Then the minstrels (who frame the picture like a Shakespearean chorus) sing, "How come they're now gonna hang you and how did you begin?" as the movie flashes back to tell Cat's story.
Innocent schoolteacher Cat Ballou returns home to find that her father won't sell the water rights to his farm, and that his life is being threatened. Cat assembles two petty criminals: a wisecracking ranch hand and a hired killer, Kid Shelleen, to protect her father. But in spite of their best efforts, gun-toting assassin Strawn murders him. At that moment, Cat shows more strength than every man in the movie when she rides after the killer and confronts him in town with the sheriff.
Ah, but the sheriff (Jay Flippen) provides an alibi for the guilty gunfighter and lies directly to Cat's face! We watch her innocence melt right before our eyes as the minstrels sing, "There are teardrops in her heart, but they can't make her cry." Seeking revenge, Cat embarks on a life of crime. When Kid Shelleen learns that Strawn threatened to kill Cat, he decides to sober up and, in an excellent series of scenes, transforms from a drunken slob into a genuine gunfighter. Director Elliot Silverstein shot these scenes with a metro-nome and the timing and editing is impeccable.
Forty years later, I still find myself thinking about Cat Ballou. I lost my innocence right alongside Cat that day when the sheriff lied about her daddy's death. The bold courage and willingness to stand up to authority displayed by Cat showed me that all it takes is guts for anyone (including women) to stand up for her rights. If a young, innocent girl could ride fearlessly after a noseless killer, then nothing could stop me! Cat Ballou was an inspiration to throw caution to the wind and fight for what I believe in. This 1965 parody of Westerns, which received five Academy Award nominations, including Best Editing (Charles Nelson), hasn't lost any of its humor or fun with the passing of time. Fonda stars in one of her most playful roles and Lee Marvin alone makes this movie worth viewing.