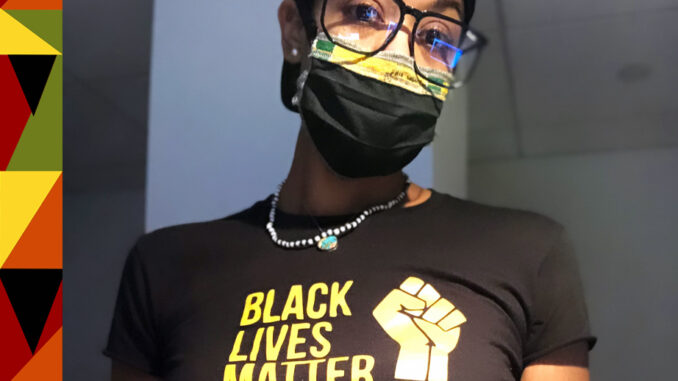 For each day in the month of February, the Committee will be highlighting African-American members, both past and present, and their accomplishments. We look forward to showing the contributions and influences African-Americans have had on the industry.
---
Name: Brandice C. Brown

What's your job? Lead Assistant Editor/Assistant Editor

List the credits you're most proud of. "Insecure, "Big Brother," "Celebrity Big Brother," "Dancing With The Stars," "The Cabin with Bert Kreischer"

What are you working on right now? I wrapped on Fox's "New Year's Eve Toast & Roast" in January, and then took a much needed break to work on some personal projects. But I'm sure I'll be back to my workaholic ways soon.
Who and what are your influences and/or mentors? I'm influenced by other hard-working individuals that I work alongside – other AEs, Editors, Online Editors and amazing Supervisors and Producers in post.
What books are you reading, shows are you watching and/or movies you're excited about? Currently reading "The Artist's Way" by Julia Cameron and "The Adventures of Sherlock Holmes" by Arthur Conan Doyle. Just binged all of "The Chilling Adventures of Sabrina" (S4) on Netflix and getting into "The Masked Dancer." Excited for "Coming 2 America" in March.
What would be your superhero name?
The Extinguisher
What are your Black History Month memories and any cultural or historical impacts on your life?
I think my favorite memory is singing "King Holiday" for the Black History Month celebration in middle school. Our school choir sang that song with the band every year and we all LOVED it. It was the best. I still know all the lyrics. Google it.

What's the best piece of advice you've been given? Don't take anything personally. The way people treat you usually has nothing to do with you and everything to do with them.
If you could time travel, when would you go and why?
That's a hard one…I would say that I would travel to the future so I could see how things turn out for our society. But I'd also love to work during the golden era of Hollywood or go back and tell my teenage self a few things…
What's a little known fact about you?
I used to sing and act on stage a lot as a kid. I love performing.
What are your hidden (or not so hidden) talents?
 I can fold my tongue into the shape of a clover.
What's your favorite (Black) television/movie moment?
Will Smith's emotional performance on "The Fresh Prince of Bel Air" after his character's father disappoints him. Hands down my favorite tv scene – S4/Episode 24. Also the moment in "The Color Purple" when Shug Avery busts into her father's church with the all the folks from the juke joint in tow.
Was there a television show/movie that inspired you to pursue your career?
Spike Lee's "School Daze" made me want to be a filmmaker. The Eddie Murphy film "Boomerang" was the first time I really saw Black people being portrayed as editors and creatives working behind the scenes. It showed me that I could make a good living working in this industry in various capacities.
What's your personal/professional mantra? 
Let your work speak for itself.
What's the last show/movie that left you speechless? "Lovecraft Country" was amazing, and I can't wait for season 2!
What would be your dream project to work on? Outside of working on my own creative brainchild, I would love to work on "RuPaul's Drag Race." I'm a HUGE fan.