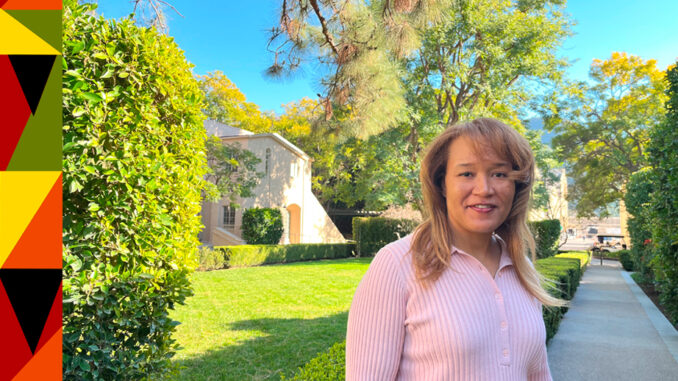 For each day in the month of February, the African American Steering Committee will be highlighting Local 700's African American members, both past and present, and their accomplishments. We look forward to showing the contributions and influences African Americans have had on the industry.
---
Name:  Felicia Livingston
What's your job?  Picture Editor
List the credits you're most proud of. "Winning Time," "You," "All American," "The Flash."
What are you working on right now?   I am working on "Winning Time" Season 2.
Who and what are your influences and/or mentors?  I love the editing style of Lou Lombardo. I love his work on Sam Peckinpah's "The Wild Bunch." As violent as that movie is you have to admire the technique of the editing to make the audience feel as though they actually there in this Mexican village watching this gun battle. Also, his use of step printing film in "The Wild Bunch," which he crafted on a small TV show called "The Felony Squad" is brilliant to me. 
I'm also influenced by the film "The Boston Strangler," which incorporates split screens to tell the story; this style has also informed my work.
What books are you reading, shows are you watching and/or movies you're excited about? I'm reading Kazuo Ishiguro's "Klara and the Sun."
What would be your superhero name? Maybe Storm from "X-Men." There is no real reason why except that I really love the character. 
What are your black history month memories and any cultural or historical impacts on your life?  My mom is a retired history teacher and I enjoyed when I was kid helping her decorate and prepare for Black History Month. That really influenced me. She would make it clear the many contributions blacks made that were not spoken or written about in the history books. She also taught me that black history is American history. 
What's the best piece of advice you've been given? The advice that has stuck with me the most is, "Don't let people tell you who they think you are." It actually took me a while to grasp this, however.
If you could time travel, when would you go and why? I honestly would like to go back and see the Egyptians building the pyramids.  I am fascinated how they were built.
What's a little known fact about you? What are your hidden (or not so hidden) talents? In high school I played the flute and saxophone. Sadly, I can't play either instrument today. I also earned a scholarship to play basketball in college.
What's your favorite (Black) television/movie moment? When Dewayne ran down the aisle yelling for Whitley in "A Different World." Watching "Claudine" with my family. Watching "Imitation of Life" with my Mom and she and I crying our eyes at the ending. To this day that film gets me choked up and makes me cry.
Was there a television show/movie that inspired you to pursue your career? The "Shaka Zulu" miniseries. Seeing that miniseries as a kid blew my mind. It was epic, big, and bold. I needed to know more about this man and how this was even made. I fell in love with the film "Best Years of Our Lives." It this drama about vets returning from WWII and trying to adjust back into civilian life. It had me riveted as a kid. 
What's your personal/professional mantra? "Stay true to yourself." "Trust your gut."
What's the last show/movie that left you speechless? The film: "Everything Everywhere and All At Once."