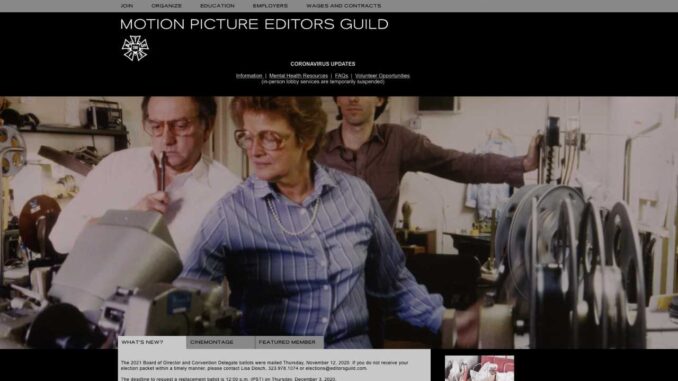 by A.J. Catoline
The EditorsGuild.com website is getting a major overhaul this weekend,  with a new "Member-to-Member" forum discussion board that will help employers connect with members looking for more union work, and assist those who are in need of more hours to stay active on the union health plan.
The website will be taken offline from December 11-13 to implement the changes. It will be the first major overhaul since a new generation website was introduced in the Spring of 2017.
The changes come after many years of discussion on the "I Am The Union" Facebook page among Guild members desiring an effective strategy to network and find more union jobs. In the COVID crisis, many members have been out of work and unable to meet qualification hurdles to remain active on the Motion Picture Health Plan.
Guild members have used a patchwork of private Facebook groups to network and help each other find hours. Now this community discussion will be centered closer to home on the EditorsGuild.com website.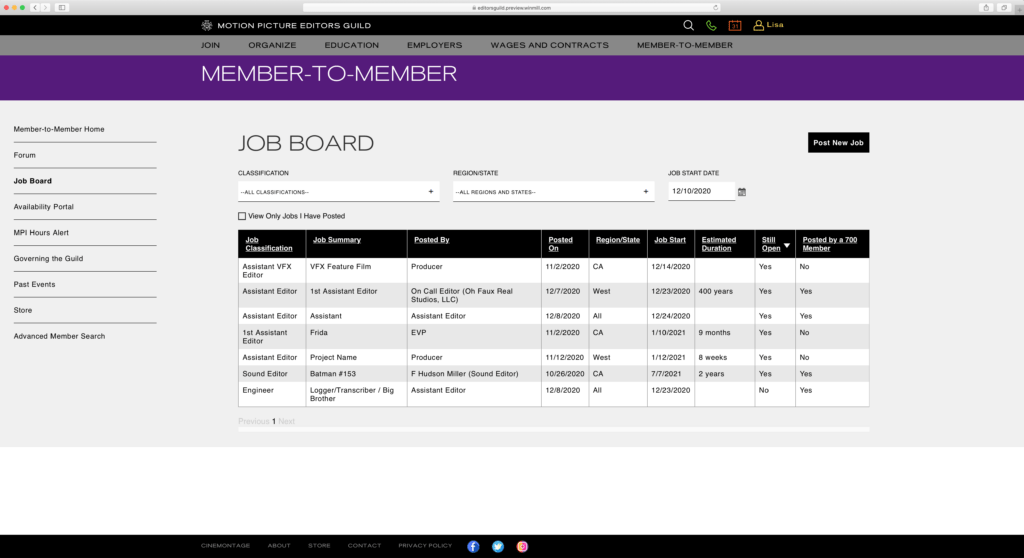 Board of Directors Member Shiran Carolyn Amir has been spearheading the project in conjunction with the MPEG Website Committee.
"There's absolutely no reason why the Guild can't provide a platform for members to help each other find work," said Amir. "I presented the initial concept to the Website committee, and after a lot of hard work the Member-to-Member section is finally here."
Amir added she hopes the online community of Local 700 members will use the new service. "Members are very busy just trying to make a living, and they aren't aware or involved enough to honestly know what the Guild does for its members. As a collective of members, who are the union, it feels good to be helping our own," she said. Executive Administrator and MPEG Webmaster Lisa Dosch facilitated the implementation of the new features, and the Website Committee is co-chaired by F. Hudson Miller and John Vitale.
The new features of the Member-to-Member section include:
A Job Board section that allows both Employers and Members to post union jobs.

A screengrab of an EditorsGuild.com website page, revamped in December 2020. PHOTO: Courtesy MPEG.

An Availability Portal to search Local 700 members who list themselves as available for work. A comprehensive search tool will allow members to find available candidates who best fit specific job needs using a matching scoring system. Availability will now be updated every 2 weeks so that the list stays more up-to-date with members' availability status.
Members can easily add and connect with members whom they have worked with on prior jobs, and have access to available member's resumes, IMDB.com profiles, and more.
An MPI Hours Alert section where members may specify if they need 50 hours or less to stay active on the union health plan. "This will be super useful for those last minute fill-in needs on the job," said Amir. "If you are scrambling to find someone to help on your project, why not help a fellow member get their hours too? I bet they would do a damn good job as a thank you."
A Forum section where members can engage with fellow members in personal messages, within a secure environment outside of traditional social media discussion.
A revamped Employer's Section of the website so union employers can easily search among the best professionals in the post-production industry.
Once the website is back online, Amir urges members to fill out their profile completely on the Dashboard page in order to benefit from the new section. She also stressed that the new website will work better with active participation of union employers to post jobs as they become available. All union employers are able to register for a login to the website.
"The more employers engaged in our website, the better," says Amir. Members should "encourage acquaintances who are employers for union shows to contact the Guild for employer login credentials. "