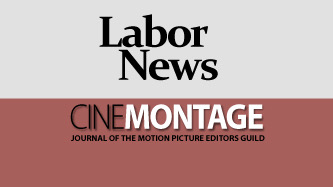 Reprinted from Deadline Hollywood by Bryn Sandberg on January 12, 2021.
Production in Los Angeles hit new pandemic-era lows last month.
FilmLA released its latest report examining filming in the greater Los Angeles area in the month of December, revealing that film permit requests dropped a steep 25 percent compared to the prior month. Filming activity had already dropped nearly 8 percent in November — but the organization says that permit requests declined from 813 that month to 613 in December. As another comparison, there were 965 permits in December of last year.
The production decline started early in the month and deepened throughout it, according to the report. The week before Christmas, FilmLA issued 143 permits, then 58 the week of the holiday (December 14 to December 20), and 50 the week of New Year's (December 28 to January 3). With just 21 working days in December, the organization doled out an average of just 29 film permits per day — the lowest daily output it has recorded since last August. …
Film, TV Production in Ontario to Keep Open Amid Pandemic Surge
Reprinted from The Hollywood Reporter by Etan Vlessing on January 12, 2021.
Ontario has decided to leave Hollywood film and TV shoots on local soundstages untouched as the province declares a state of emergency amid a resurgent coronavirus outbreak.
"As further lockdown measures were announced by Premier (Doug) Ford today on January 12, film and television productions and post-production projects will continue to operate with no changes to the previously reported guidelines presented in the province-wide shutdown currently taking place," the Toronto Film Office said in a statement obtained by The Hollywood Reporter.
On Tuesday, Ontario premier Ford outlined more stringent measures to reduce a surging COVID-19 infection rate across the province, Canada's biggest media market. Film studios in Ontario have been allowed to remain open, with restrictions like a limit of 10 performers and no studio audiences on set remaining in place. …