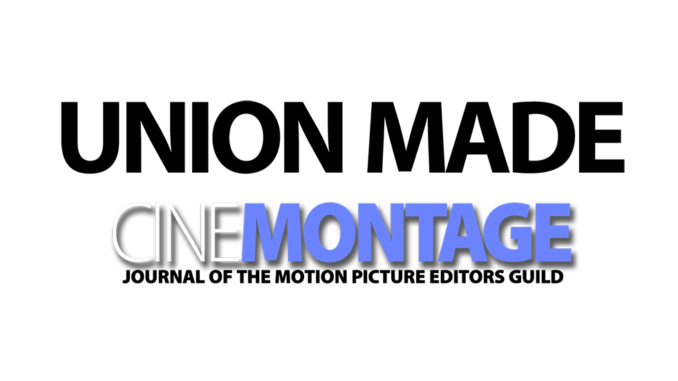 by Bernard Stone
By the early 1930s, the three-strip Technicolor process was transforming motion picture color, and sound in film was becoming a global phenomenon. As a little boy growing up in New York, there were no TVs for me to watch; going to the movies was the only real form of entertainment we could afford. What amazed and frightened me most was the size of human beings projected on the screen. I even remember when movie theatres gave away volumes of Dickens and china plates to entice patrons during the Depression. Fascinated by film, I took up photography as a hobby.
My father had been in the British army in World War I and, as he shared many hours of stories, I became captivated with history. My interests in photography and history had melded by college, and I wanted to study film, but no courses (yet) existed so I majored in history. After graduation, a friend of a friend got me a job as an apprentice film editor at Sterling Films, with a starting salary of $37.50 a week in 1953. Television was in its infancy and needed product, so Sterling (a distribution company) would cut features to TV requirements. That was no simple task because "married" films (wedded picture and optical soundtrack) had a 26-frame pull-up.
At that time, film was nitrate — the possibility of explosions could be catastrophic — so by law, film companies and processing labs were kept out of the center of Manhattan. I worked primarily in 16mm reversal until Eastman Kodak developed a 16mm negative that lent itself to very good 35mm blow-ups.
To help to get a union contract out of Sterling, I contacted an organization that I recall being named the Association of Documentary Producers. Apprentices got a raise to $60 a week! In 1956, this group amalgamated with IA Local 771. Over the years, my support for the union grew because I recognized the importance of solidarity.
Documentaries combine the reality of the human experience with the aesthetics of film.
After four years of apprenticeship, my lucky break arrived when I became an assistant editor on Twelve Angry Men, directed by Sidney Lumet in 1956. I remember having to pass a test to go from apprentice to assistant; one question involved knowing the difference between an establishing shot and an extreme close-up!
My first big break as an editor came at Dynamic Films, cutting automobile racing films (Indianapolis and Daytona). Sometimes, I went on location to interview drivers but, unfortunately, many of those drivers who chatted with me died shortly thereafter during the race, so I became rather unpopular and was avoided by drivers at the raceways!
In the early 1960s, at Wilding Pictures, I edited 13 beautifully shot worldwide travelogues. The color on the 16mm negative was so good that Eastman Kodak asked me to edit a short for them to illustrate the beauty and capability of its film stock. The 15-minute Moods in Motion was shown at the Museum of Modern Art. Around 1967, I edited and co-directed a short called 12-12-42, which dealt with the horrors of the Vietnam War. It was shown at the New York Film Festival and London Film Festival, and took the Grand Prix at the Oberhausen Film Festival in Germany. I felt pretty good about making the winning film out of 2,000 entries, not to mention the $1,500 prize!
At Westinghouse Productions, I was supervising film editor on Merv Griffin's specials. His talk show was done on tape, but the monthly specials were shot on film. I still remember a union meeting where the business agent told us he'd seen how difficult it was to edit on videotape and that we film editors had "nothing to worry about; it could never be done." I wonder what he'd say about the digital world editors live in today?
At that time, film was nitrate — the possibility of explosions could be catastrophic.
Having dual citizenship with England, I was able to work on both sides of the Atlantic. I edited for both Michael Apted and Stephen Frears early in their careers, and shuttled back to the States, where I started my own production company with my former apprentice, Bill Fucci. One of my most memorable projects was the documentary Roses in December (1982), which I directed and edited with Ana Carrigan. It dealt with the horror taking place in El Salvador, where death squads killed American nuns and union organizers. It played on PBS to very positive reviews, as well as at the London Film Festival. Time magazine listed it as one of the best films of the year.
Editing the Emmy-winning America Remembers John F. Kennedy (1983) and my work at ABC's 20/20 were also very rewarding.
Documentaries combine the reality of the human experience with the aesthetics of film. I was fortunate to fall into picture editing. On so many occasions, I'd been able to combine my love and knowledge of history with filmmaking…and maybe even pass some insight along.