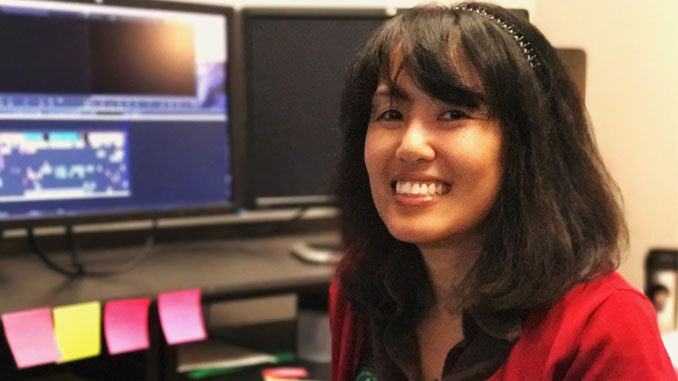 Where are you currently employed?
Disney Television Animation.
Current Project?
Big Hero 6: The Series, Disney TV's new series based on the 2014 animated theatrical feature.
Describe Your Job.
I primarily do animatics, which means I cut together the storyboards with the dialogue, time out each panel so that it simulates the desired speed of motion, and do a little bit of camera work by adding a motion effect for shots that require a pan or truck in/out. Additionally, I will add sound effects and music to help sell the specific scene, sequence or joke.
How did you first become interested in this line of work?
After working in animation for a while, I realized that my happiest moments were when I didn't have to talk to people. Thus began my pursuit to become an editor. All kidding aside, I have always been drawn to editing. Initially, it was literary editing, but then it turned into picture editing. There's something very satisfying about trimming out the excess, so you get a well-told and well-paced story.
Who gave you your first break?
Kara Vallow, who currently executive produces Family Guy, American Dad! and Cosmos: A Spacetime Odyssey. I had previously worked for Kara as a layout coordinator at Sony TV Animation. When she left to produce the third season of Family Guy, I asked her if I could come aboard as an animatic editor, instead of a coordinator. I will always be grateful to her for recognizing the hard work I had put in for her in the past and for trusting me to take on this new position.
What was your first union job?
The Cleveland Show. I'd already been editing for about 10 years, but none of the studios I worked for were union or even acknowledged animatic editors as editors. They were still great gigs, but you're given some more respect when working on a union job than on a non-union one. It's like the difference between being regarded as a "seamstress" as opposed to a "sewer" — that's a 'so-er' not a 'su-er' where you find Teenage Mutant Ninja Turtles (on which I've also worked) — but it's also nice not to be regarded as an underground waste drainage system.
The biggest challenge I faced, and continue to face, is explaining to directors that we are not supposed to be sound designing or scoring the animatics.
Which of your credits or projects have made you the most proud and why?
Of my editing credits, I'm most proud of having worked on the Nickelodeon series Avatar: The Last Airbender. The show was smart and beautiful and funny. When I meet new co-workers who tell me how much they were inspired by the show growing up, I feel really honored to have worked on it, and only a little bit gutted that it means I'm now the old fogey at work.
What was your biggest challenge in your job (or on a particular project) and how did you overcome/solve it?
The biggest challenge I faced, and continue to face, is explaining to directors that we are not supposed to be sound designing or scoring the animatics. Finding the sound of a power generator is do-able; finding the specific sound of a Black & Decker power generator is not. And I only have so much time to go through a library of fart sounds before I have to settle on one of them.
Most of the directors with whom I've worked have been great, so when the sound notes get a little ridiculous, I remind myself that these guys can be reasoned with, and I just need to explain to them the time and resource constraints with which animatic editors work.
What was the most fun you've had at work?
I don't know if this qualifies as fun, but it was pretty awesome when I got to meet Bryan Cranston while working on The Cleveland Show. He voiced a character on the show named Dr. Fist.
Jobwise, what do you hope to be doing five years from now?
Definitely still editing.
What are your outside activities, hobbies, passions?
I enjoy other eyesight-ruining activities like reading and watching movies. But, just this year, I decided to take up the art of letter writing, specifically to my senators and congresswoman.
Favorite movie(s)? Why?
The original Star Wars movie. Why? Well, it may be a cliché phrase, but "it captured my imagination." I'd also like to point out that it won the Academy Award for Best Film Editing.
Favorite TV program(s)?  Why?
I have many, many favorites, but Master of None is my current super-favorite. Genius editing — I never thought a cutaway to a bowl of ice cream would make me laugh so hard, or that juxtaposing scenes of meeting up with friends in a bar and being at prayer in a mosque would so sublimely illustrate personal religion. I don't usually wish I worked on a show that I enjoy, because then it becomes work. But I really wish I worked on this show!
Do you have an industry mentor?
I don't have an industry mentor, but my friend Monica Lee, an animatic editor on Family Guy, was like a mentor to me when I first started out. She was incredibly generous with her time and knowledge and continues to be a good friend with whom to discuss the challenges about work.
Without the Guild, the animatic editors at Fox Animation would not have been recognized as union editors.
What advice would you offer to someone interested in pursuing your line of work?
Build good working relationships by doing your best at whatever job you have. A strong work ethic can make up for any lack of experience.
Was there ever a circumstance when you had to rely on the Guild for help or assistance?
Without the Guild, the animatic editors at Fox Animation would not have been recognized as union editors. And without becoming union, I would not have been able to take a job at Disney or to feel secure that at least I had health insurance while I was in between jobs.
Is there anything you'd like to say to your fellow Guild members, some words of encouragement?
We can take back the House in 2018.
Compiled by Edward Landler 
Editor's Note: To recommend a member (including yourself) to be featured on the home page of the Editors Guild website, contact edlandler@roadrunner.com