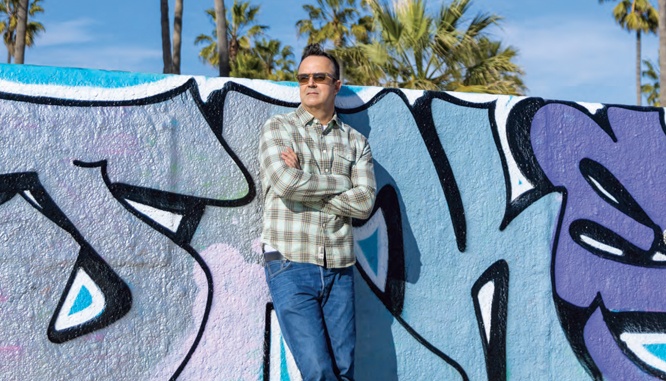 By Peter Tonguette
During the past five years, viewers of the HBO series "Insecure" cam to know its memorable set of characters intimately. The often-dramatic, sometimes-comic show focuses on longtime friends Issa (played by co-creator and executive producer Issa Rae) and Molly (Yvonne Orji), Black women who contend with career challenges, personal problems, and all manner of other crises. The show, which made vivid use of contemporary Los Angeles locations and consistently tackled tough topics, premiered in 2016 and wrapped up last fall after five acclaimed seasons.
One viewer has had a particularly close vantage point to the show: Picture editor Mark Sadlek cut the pilot, each season premiere, multiple episodes each season, and the series finale. As the supervising editor, Sadlek oversaw a team of talented editors who helped Issa and Molly's journey come to life, including picture editors Nena Erb, ACE, and Daysha Broadway, ACE (both featured in the Q3 2020 cover story of CineMontage), but he always retained a strong personal connection to the project.
"It was about a part of L.A. that was underrepresented in film and TV, and it had these amazing, three-dimensional, flawed characters that were making mistakes and learning from those mistakes—and it had some great comedy mixed in with that," said Sadlek, whose previous credits include significant tenures on the comedies "Parks and Recreation" and "Mrs. Fletcher." "I was instantly drawn to it," said Sadlek, and so he remained for the run. In a recent interview with CineMontage, Sadlek reflected on his time on "Insecure."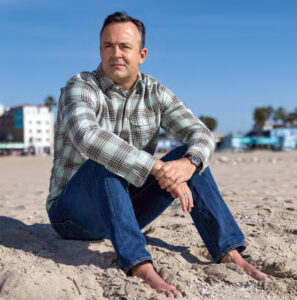 CineMontage: How did the show evolve over five seasons?
Mark Sadlek: I was fortunate to cut every premiere and every finale and see it all the way through and cut the series finale. I think the biggest challenge initially was the pilot—just these actors finding these characters, and, in the edit, finding the pacing, finding the right music. One of the best compliments we got on the series from HBO was that some of their best dramatic scenes of the year came from "Insecure." Then it was just following these storylines and the emotional journeys of the characters and how to pace that journey in the edit—who to give more time to, how they were evolving, how they were growing, which is a theme of the show.
Ultimately, we really evolved our L.A. footage, too. We ended up using more and more drone footage to tell this story of this other character in the show, L.A., and these great neighborhoods, like Baldwin Hills and Inglewood. And we loved the music so much that we wanted to use more music, which was great because then we were able to use more L.A. B-roll.
CineMontage: Los Angeles is such a character in the show. Are you from Southern California originally?
Sadlek: I've been here since '92, but I'm originally from Southern Illinois. CineMontage: You really enjoy showing off the city. Sadlek: Absolutely. Especially those parts of the city that people don't know about. There's this great shot—you see it several times, but especially at the end of Episode 8 in Season 4—where the crane shot dollies up and over these houses. You see this oil field—you see the oil derricks pumping off Fairfax in Baldwin Hills. I don't think a lot of people in L.A. even know that's even there.
CineMontage: You mentioned the comedy-drama balance earlier. How did you switch between tones?
Sadlek: It was tough. Because a scene could start out comedically, and then turn into a drama. As I found on "Parks and Recreation" and other comedies, the pacing of the comedy is usually paced up with the payoff, or there's a twist that doesn't really make a complete right turn. It's a nice smooth turn into what will be a dramatic episode.
And then hopefully there's someone like [co-star] Natasha Rothwell, as Kelli, to come in at the end and maybe alleviate some of the heaviness of the scene with a great button. Natasha is always great for a comedic button at the end of the scene. I've always believed comedy helps the drama. You've got to have this levity for the drama to work.
CineMontage: Talk about the use of music in the series.
Sadlek: We all love this music so much. Issa was also such a huge part of it in just driving what she liked. I think Issa even said, "The show is going to be good, but the music is going to be dope." We really focused on that and used as much as we could for those transitions. The beautiful part of that is the music drove everything emotionally, and we found these great parallels with tracks and using the lyrics in the track to really drive our emotional stories and the comedy, too.
Our great music supervisor, Kier Lehman, supplied these packages every week—these music dumps, which we would just salivate for. We would have this plethora of great stuff to choose from. In the pilot, a song like "Lavish" by TT the Artist was used under that first mirror montage with Issa putting on the lipstick. That really just set the tone for us.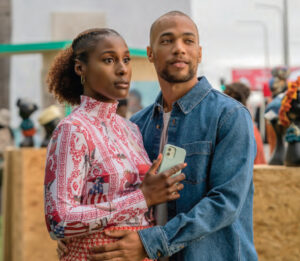 CineMontage: During Season 4, you directed an episode: "Lowkey Thankful," which was your first experience as a director.
Sadlek: It was terrifying and anxiety-driven, but it was one of the best times I've had in my life. For me, my strength was knowledge of sequences, especially sequences for "Insecure." The shot list was one of the easiest things. The harder parts were the things I didn't know as well, like the acting and lighting. I took some acting classes. I spoke to a lot of the actors about it.
I started to find this pathway from editing into the shots I like. There's a storyline where Molly is sort of separated from her father because he did something in the past that upset Molly. She wants to make up with her dad, so, at the end of the episode, she brings this piece of pie from the kitchen to the couch where he's sitting. In edit, you could cut it a couple different ways: where you shoot a piece of pie, she's looking at it, custard coming out. But with directing, I was able to think, "Wait. We can just do this all in one shot. Let's focus on the piece of pie. We don't know who's holding it. We track her across. And then that shot becomes her father, and then Molly sits down in the shot to be with her father." Emotionally, it had a bigger impact for me. That's just thinking about, "OK, what do I need to tell this story?" And then, "Can I eliminate some edits and make that work even more powerfully emotionally?"
CineMontage: As the co-creator and executive producer of the show, did Issa like to join you in the cutting room?
Sadlek: It was tough being a lead actor because time is limited. She would find that moment any time she could. I would get the call, "Okay, Issa's got ten minutes," and she would come in. One of the great joys of it is that collaboration and her thoughts and just knowing the story so well. Also, her specific thoughts on the music, too, were amazing. She loved coming to hang in the bay. It was an amazing collaboration.
CineMontage: What was it like cutting the series finale? Did you give yourself a moment to reflect on your journey that began with the pilot?
Sadlek: Of course. It was this amazing journey. It's almost like if you've ever cut an anniversary video for your family or something like a wedding video. They were family. I've known all these people for so long and worked with them. To see the character stories culminate and these actors' stories and these relationships culminate—it was very special. Every scene became like, "Well, that's the last scene there. That's the last scene here."
It was really amazing to be a part of that whole process, from beginning to end for every season, too. I'm not sure words can really justify how that feels and how satisfying it is to be there through that whole thing.