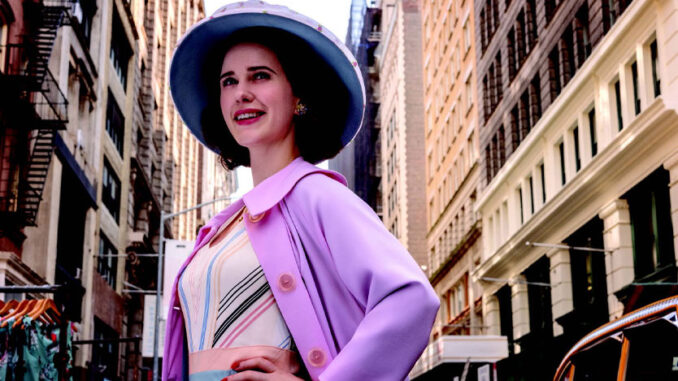 HOW TWO PICTURE EDITORS MAKE AMAZON'S COMEDY 'MARVELOUS'
By Peter Tonguette
When Midge takes the stage, she has to go it alone. But luckily, the heroine of Amazon's stylish comedy "The Marvelous Mrs. Maisel" has a talented support team in post-production.
Kate Sanford, ACE, and Tim Streeto, ACE — acclaimed picture editors each in their own right — came together as a team for HBO's "Boardwalk Empire" and "Vinyl." And recently they traded episodes on Season 3 of Amazon's "The Marvelous Mrs. Maisel," the 1960s-era comedy starring Rachel Brosnahan as Miriam "Midge" Maisel, a stay-at-home New York mother whose separation from her husband leads her to remake herself as an ahead-of-her-time stand-up comic. Created by Amy Sherman-Palladino — who also splits showrunner, writing, and directing duties with husband Daniel Palladino — "Mrs. Maisel" features a sparkling constellation of supporting players, including Michael Zegen as Midge's ex-husband, Joel Maisel; Marin Hinkle and Tony Shalhoub as Midge's parents, Rose and Abe Weissman; and Alex Borstein as Midge's manager, Susie Myerson.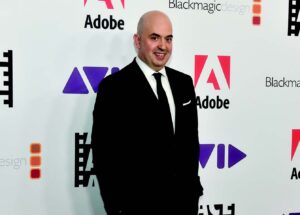 Sanford and Streeto lead an energetic and enthusiastic postproduction team working at the Steiner Studios in the Brooklyn Navy Yard in New York. The show was renewed for a fourth season prior to the coronavirus pandemic.
"We've always alternated episodes in a typical series fashion, but I think people like to hire us together because we get along well," Streeto said. "We're friends, at this point, for years. We collaborate well. We talk a lot about the show."
Sanford appreciates the ability to huddle with a colleague whose opinion she trusts. "I love having Tim in the next room, where I feel I can always ask his opinion and get an honest and nonjudgmental and critically supportive answer," Sanford said. "We will compare cuts and notes, and it's just easy to collaborate."
Coming on the heels of their previous collaborations — the edgy, tough-mind-ed dramas "Boardwalk Empire" and "Vinyl" —"The Marvelous Mrs. Maisel" is something of a departure. When producer Dhana Gilbert, who had worked with the team on their previous series, approached them about this new show, Streeto recognized that they were entering uncharted territory. "This was a different show for us," Streeto said. "It was the first real comedy that either of us had worked on, and it's a comedy in sort of every sense. It's a real classical-style comedy, and the pace of it was a really new experience for both of us."
For her part, Sanford had heard of creator Sherman-Palladino's most notable previous show, the WB's "Gilmore Girls," but realized that she wasn't among its target audience. "At the time, I thought, 'Well, "Gilmore Girls" I'm not intimately familiar with,'" Sanford said. "It's not my — I guess — demographic, but I know it's highly respected and it's really interesting." With that, Sanford and Streeto agreed to have a look at the pilot of "Mrs. Maisel," which had been edited by Brian A. Kates, ACE.
"I understood this was a show that was really unique," Sanford said. "Editorially, it looked and sounded beautiful… . The rhythm of the music was very carefully coordinated with the rhythm of the dialogue and the rhythm of the camera movement, so I could see this was something that a great deal of editorial love was already put into."
After they signed up to work on Season 1 of "The Marvelous Mrs. Maisel," Sanford and Streeto fell into a typical editorial workflow, but with one unique element: compared with most series, much more time was allotted to work on, and refine, the producers' cut. Sherman-Palladino and Palladino "give themselves a longer amount of time, probably two months at least per episode to finish," Sanford said, referring to the producers on "Mrs. Maisel." "There's a long time for post-production."
Another distinct advantage, the editors say, comes from the cutting rooms being located at Steiner Studios, where the show itself is based. "We're on the same floor with our production office, our art departments, the writers' offices," Streeto said. "People come by. Our production designer comes by all the time [and] our DP, just to hang out and look at stuff. Amy and Dan are very open about people seeing cuts in progress."
Among the most attention-grabbing attributes of the series is its lightning-fast tempo, but the editors say that it originates at the script stage. "It's written to be spoken quickly," Streeto said. "Then the performers are really performing that way… . They put those actors through their paces. They really push, push, push to keep things moving."
"When I watch dailies on other shows between seasons, things feel slow," said assistant editor Zana Bochar, the daughter of the show's supervising sound editor and re-recording mixer Ron Bochar, CAS (and, on Season 3, a co-editor with Streeto on Episode 7).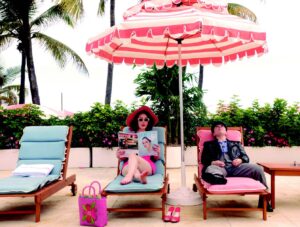 "I try to put dialogue scenes together and have them play as quick as possible without losing comprehension," Sanford said, adding that care must be taken to avoid overloading the audience. "If you simply ping-pong back and forth and have everybody on camera saying their lines as fast as possible, that rhythm gets exhausting. Part of the trick of 'Maisel' is to find ways to vary the rhythm so it's not just a 'Dragnet' kind of back-and-forth."
Over the course of three seasons, Sanford and Streeto have found that cutting from comedic hijinks to more serious scenes is one way to give audiences a bit of a breather. "We then suddenly will pump the brakes and give these dramatic beats their due," said Streeto, adding that the basic story features many elements that are grist for the dramatic mill.
"It's a story of a woman struggling in a society that's structured against her," he said. "She's going through a divorce, which is difficult. She's had relationships which are difficult for her to manage."
Sanford will press the showrunners to allow more time for a dramatic moment within what is basically a comedic scene.
Episode 5 of Season 2, "Midnight at the Concord," features a key scene in which Midge performs one of her stand-up routines in front of an audience that includes her father, Abe — the first time he has attended one of his daughter's sets. In general, Sanford said that scenes showing Midge doing stand-up are among the most challenging to get into shape simply due to the volume of coverage.
"Typically, three cameras for each take and many passes," Sanford said. For this scene, the editor lobbied for pauses in between the jokes to focus on the relationship between Midge and Abe. "Amy and I did the dance that we always do: 'How long is Midge going to stop and look at her father and have a dramatic moment before the comedy picks back up?'" Sanford said. "I tend to argue for more frames than Amy is willing to give, and we arrive somewhere in the middle — maybe closer to her side."
Of course, the much-noted speed in the show is frequently baked into the footage itself: Numerous scenes in 'The Marvelous Mrs. Maisel' unfold in so-called "one-ers": scenes that consist of single shots. "Many scenes are either shot as one-ers or shot as a series of composed shots and very carefully staged shots that require these actors to really move through and to keep that dialogue going," Streeto said. "We're not going to have in some cases the luxury of traditional editing [and] coverage to pace things up."
Assistant editor Tricia Holmes said the actors are consummate pros. "Assistants always feel like we should be keeping a gag reel, but we're like, 'They're just so professional! They don't mess up or anything,'" Holmes said.
When Sanford and Streeto sit down with the footage, they often feel compelled to make the one-ers play even faster. To do that, the editors turn to some of the tricks of the trade, including invisible jump-cuts and speed changes. "We pull up everything we possibly can," Sanford said. "If someone darts behind a doorway, that's an opportunity to cheat." Adding music to a scene also makes it play faster. "We do a lot of scoring to make the rhythm seem as quick as possible," Sanford said.
Sherman-Palladino has equally strong preferences when it comes to line readings, leading to individual words within lines being replaced during post-production; dialogue is truly sculpt-ed in post. "Making the show flow is not only making it fast but making it feel like it flows seamlessly," Sanford said. "[Sherman-Palladino] likes Rachel's voice to be as forceful and strong as possible. And all the work that Rachel Brosnahan is doing sometimes exhausts her voice… so we work hard to make sure she's projecting and she's the forceful character that has been established."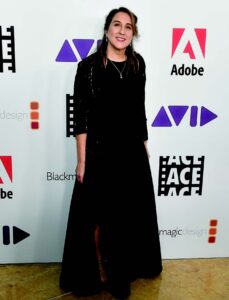 Assuring that all of that sharp, crisp dialogue comes through is the mandate of supervising sound editor and re-recording mixer Ron Bochar. "I go through and mix the dialogue first without anything else," Bochar said. "I make that the God track." Yet the showrunners — and Bochar — want the dialogue to be embedded within a rich, realistic sonic environment, full of period-accurate sounds and generalized hustle-bustle. "Amy wanted to build a world where things are happening around these people — that it's not just happening with literally what we're seeing on the screen," Bochar said. "There are general backgrounds we need to put, there is another layer of near-backgrounds that need to be involved, there are sound effects that happen both off-camera as well as on-camera."
Music editor Annette Kudrak, MPSE, describes music as being a constant, if ever-changing, element in the series.
"We don't have a composer — it's not traditional score — so we're always choosing a different song and choosing a different way to go about it," Kudrak said.
After the showrunners select a song, Kudrak must decide whether the tune can be used in an extant version or rerecorded, in whole or in part. "It's always something different," said Kudrak, who also points to the unique challenge of dealing with scenes that feature characters giving musical performances. "That music is all recorded beforehand so that the actors and the musicians who are on-camera can be playing along with that," she said. Sometimes, the musicians and singers perform live on-camera. "That's really tricky," Kudrak said. "It makes a different kind of cutting challenge."
It turns out that the Marvelous Editing Duo is really a Marvelous Editing Squad. The picture editors offer particular praise for their assistant editors, including current assistants Bochar and Holmes. "They're great in terms of just the usual responsibilities of assistants in making sure we get everything and that everything comes through and goes down the pipeline smoothly," Streeto said. "But they've also been great collaborators. They have both done some cutting for us."
For their work on the series, Sanford, Streeto, and the sound-editing team led by Bochar have each been recipients of nominations for Primetime Creative Arts Emmys, but most viewers probably don't pay too much attention to the invisible editing, subtle use of sound, and thoughtful music selection — all of which contribute to the show's unique feel.
"In terms of editing, I don't know if everyone knows exactly what we do," Sanford said. "Hopefully, it looks effortless, but it's a lot of really hard and important work. I feel really satisfied."