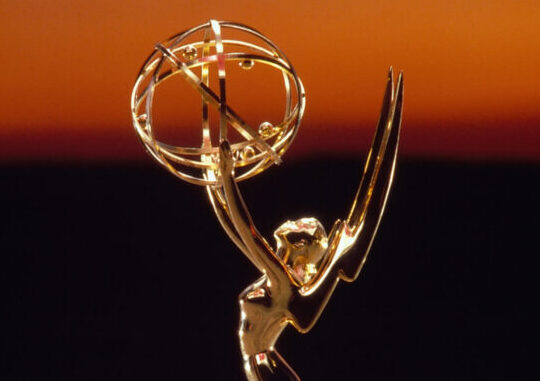 by Scott Collins and Tylene Joye
The pandemic hasn't stopped the Emmy train.
Nominations were announced Tuesday for the 72nd Primetime Emmy Awards, and once again members of the Motion Picture Editors Guild cleaned up in multiple post-production categories.
Following is a complete list of MPEG members who received nominations. The ABC telecast for the Emmys will be held on September 20, but due to the COVID-19 pandemic, the Television Academy has yet to announce the date for the Creative Arts Awards, which in recent years was divided into two ceremonies.
Congratulations to all!
PICTURE EDITORS:
MULTI-CAMERA PICTURE EDITING FOR A COMEDY SERIES
– One Day at a Time "Boundaries" | Pop TV
–Chery Campsmith, ACE, Editor
-The Conners "Slappy Holidays" | ABC
–Brian Schnuckel, ACE, Editor
-Will & Grace "We Love Lucy" | NBC
–Peter Beyt, ACE, Editor
-Will & Grace "What A Dump" | NBC
–Joseph Fulton, Editor
PICTURE EDITING FOR A NONFICTION PROGRAM
-Beastie Boys Story | Apple TV+
–Jeff Buchanan, ACE, Editor
–Zoe Schack, Editor
-McMillion$ "Episode 3" | HBO
–Jody McVeigh-Schultz, Supervising Editor
–Lane Farnham, Supervising Editor
–Scott Hanson, Editor
-Tiger King: Murder, Mayhem And Madness "Cult of Personality" | Netflix
–Doug Abel, ACE, Editor
–Geoffrey Richman, ACE, Editor
PICTURE EDITING FOR A STRUCTURED REALITY OR COMPETITION PROGRAM
-Lego Masters "Mega City Block" | FOX
–Samantha Diamond, Editor
–Dan Hancox, Editor
–Karl Kimbrough, Editor
–Ian Kaufman, Editor
–Kevin Benson, Editor
–Josh Young, Editor
–Jon Bilicki, Editor
-RuPaul's Drag Race "I'm That Bitch" | VH1
–Jamie Martin, Lead Editor
–Michael Roha, Editor
–Paul Cross, Editor
–Michael Deis, Editor
–Ryan Mallick, Editor
-Survivor "It's Like a Survivor Economy" | CBS
–Michael Greer, Supervising Editor
–Chad Bertalotto, Editor
–Evan Mediuch, Editor
–James Ciccarello, Editor
–Jacob Teixeira, Editor
-Top Chef "The Jonathan Gold Standard" | Bravo
–Matt Reynolds, Editor
PICTURE EDITING FOR AN UNSTRUCTURED REALITY PROGRAM
-Cheer "God Blessed Texas" | Netflix
–Kate Hackett, Editor
–Daniel McDonald, Editor
–Mark Morgan, Editor
–Sharon Weaver, Editor
-Life Below Zero "The New World" | National Geographic
–Jennifer Nelson, Editor
-RuPaul's Drag Race: Untucked "The Ball Ball" | VH1
–Kendra Pasker, Lead Editor
PICTURE EDITING FOR VARIETY PROGRAMMING
-Dave Chappelle: The Kennedy Center Mark Twain Prize For American Humor | PBS
–Brad Gilson, Editor
–Pi Ware, Package Editor
–Brian Forbes, Package Editor
-Last Week Tonight With John Oliver "Eat Sh!t, Bob! (segment)" | HBO
–Ryan Barger, Editor
The Daily Show With Tevor Noah "Trump's Coronavirus Address (Bloopers Included) And Trevor's Audience Tribute Song" | Comedy Central
–Elinar Westerlund, Editor
SINGLE-CAMERA PICTURE EDITING FOR A COMEDY SERIES
-Curb Your Enthusiasm "Elizabeth, Margaret And Larry" | HBO
–Steve Rasch, ACE, Editor
-Insecure "Lowkey Trying" | HBO
–Nena Erb, ACE, Editor
–Lynarion Hubbard, Additional Editor
-The Marvelous Mrs. Maisel "A Jewish Girl Walks Into The Apollo…" | Prime Video
–Kate Sanford, ACE, Editor
–Tim Streeto, ACE Editor
-What We Do In The Shadows "Resurrection" | FX Networks
–Yana Gorskaya, ACE, Editor
–Dane McMaster
SINGLE-CAMERA PICTURE EDITING FOR A DRAMA SERIES
-Ozark "Wartime" | Netflix
–Cindy Mollo, ACE, Editor
-Ozark "Fire Pink" | Netflix
–Vikash Patel, Editor
-Stranger Things "Chapter Eight: The Battle Of Starcourt" | Netflix
–Dean Zimmerman, ACE, Editor
–Katheryn Naranjo, Editor
-Succession "DC" | HBO
–Ken Eluto, ACE, Editor
-Succession "This Is Not For Tears" | HBO
–Venya Bruk, Additional Editor
-The Mandalorian "Chapter 2: The Child" | Disney+
–Andrew S. Eisen, Editor
-The Mandalorian "Chapter 4: Sanctuary" | Disney+
–Dana E. Glauberman, ACE, Editor
–Dylan Firshein, Additional Editor
-The Mandalorian "Chapter 8: Redemption" | Disney+
–Jeff Seibenick, Editor
SINGLE-CAMERA PICTURE EDITING FOR A LIMITED SERIES OR MOVIE
-El Camino: A Breaking Bad Movie | Movie
–Skip Macdonald, ACE, Editor
-Mrs. America "Phyllis" | FX Networks
–Robert Komatsu, ACE, Editor
-Watchmen "This Extraordinary Being" | HBO
–Anna Hauger, Editor
-Watchmen "A God Walks In to Abar"| HBO
–Henk Van Eeghen, ACE, Editor
-Watchmen "It's Summer And We're Running Out Of Ice" | HBO
–David Eisenberg, Editor
SOUND:
SOUND MIXING FOR A COMEDY OR DRAMA SERIES (HALF-HOUR) AND ANIMATION
-Modern Family "Finale Part 1" | ABC
–Stephen Tibbo, CAS, Production Mixer
–Brian R. Harman, CAS, Re-Recording Mixer
–Peter Bawiec, Re-Recording Mixer
–Dean Okrand, CAS, Re-Recording Mixer
-Space Force "SAVE EPSILON 6!" | Netflix
–John W. Cook II, Re-Recording Mixer
-The Mandalorian "Chapter 2: The Child" | Disney+
–Bonnie Wild, Re-Recording Mixer
–Chris Fogel, Scoring Mixer
-The Ranch "Fadeaway" | Netflix
–Kathy Oldham, Re-Recording Mixer
SOUND MIXING FOR A COMEDY OR DRAMA SERIES (ONE HOUR)
-Better Call Saul "Bagman" | AMC
–Larry Benjamin, CAS, Re-Recording Mixer
–Kevin Valentine, Re-Recording Mixer
-Ozark "All In" | Netflix
–Larry Benjamin, CAS, Re-Recording Mixer
–Kevin Valentine, Re-Recording Mixer
–Phil McGowan, CAS, Scoring Mixer
-Star Trek: Picard "Et In Arcadia Ego: Part 2" | CBS All Access
–Todd M. Grace, CAS, Re-Recording Mixer
–Edward C. Carr III, CAS, Re-Recording Mixer
-Stranger Things "Chapter Eight: The Battle of Starcour" | Netflix
–Mark Paterson, Re-Recording Mixer
–William Files, Re-Recording Mixer
–Craig Henighan, Re-Recording Mixer
-The Marvelous Mrs. Maisel "A Jewish Girl Walks Into The Apollo…" | Prime Video
–Ron Bochar, Re-Recording Mixer
–George A. Lara, Foley Mixer
-Westworld "Parce Domine" | HBO
–Keith Rogers, Re-Recording Mixer
–Benjamin L. Cook, Re-Recording Mixer
SOUND MIXING FOR A LIMITED SERIES OR MOVIE
-American Horror Story: 1984 "Camp Redwood" | FX Networks
–Joe Earle, CAS, Re-Recording Mixer
–Doug Andham, CAS, Re-Recording Mixer
–Judah Getz, CAS, ADR Mixer
-El Camino: A Breaking Bad Movie | Netflix
–Larry Benjamin, CAS, Re-Recording Mixer
–Kevin Valentine, Re-Recording Mixer
–Stacy Michaels, Foley Mixer
-Hollywood "Hooray For Hollywood" | Netflix
–Joe Earle, CAS, Re-Recording Mixer
–Doug Andham, CAS, Re-Recording Mixer
-Watchmen "This Extraordinary Being" | HBO
–Joe DeAngelis, Re-Recording Mixer
–Chris Carpenter, Re-Recording Mixer
SOUND MIXING FOR A NONFICTION OR REALITY PROGRAM (SINGLE OR MULTI-CAMERA)
-Beastie Boys Story | Apple TV+
–Martyn Zub, Re-Recording Mixer
-Laurel Canyon: A Place In Time | EPIX
–Gary A. Rizzo, CAS, Re-Recording Mixer
–Stephen Urata, Re-Recording Mixer
–Danielle Dupre, Re-Recording Mixer
–Tony Villaflor, Re-Recording Mixer
-RuPaul's Drag Race "I'm That Bitch" | VH1
–Sal Ojeda, Re-Recording Mixer
-Tiger King: Murder, Mayhem, And Madness "The Noble Thing To Do" | Netflix
–Ian Cymore, Re-Recording Mixer
SOUND MIXING FOR A VARIETY SERIES OR SPECIAL
-62nd Grammy Awards
–Thomas Holmes, Production Mixer
-The Oscars | ABC
–Tommy Vicari, Orchestra Music Mixer
SOUND EDITORS:
SOUND EDITING FOR A LIMITED SERIES, MOVIE OR SPECIAL
-American Horror Story: 1984 "Camp Redwood" | FX Networks
–Gary Megregian, MPSE, Supervising Sound Editor
–Timothy A. Cleveland, Sound Effects Editor
–Zheng Jia, MPSE, Sound Effects Editor
–Naaman Haynes, Dialogue Editor
–Patrick Hogan, Dialogue Editors
–David Klotz, Music Editor
-El Camino: A Breaking Bad Movie | Netflix
–Nick Forshager, Co-Supervising Sound Editor
–Todd Toon, Co-Supervising Sound Editor
–Kathryn Madsen, ADR Editor
–Jane Boegel, Dialogue Editor
–Luke Gibleon, Sound Effects Editor
–Jason Tregoe Newman, Music Editor
–Bryant J. Fuhrmann, Music Editor
–Gregg Barbanell, Foley Artist
–Alex Ullrich, Foley Artist
-Watchmen "This Extraordinary Being" | HBO
–Brad North, Supervising Sound Editor
–Harry Cohen, Sound Designer
–Jordan Wilby, Sound Effects Editor
–Tiffany S. Griffith, Dialogue Editor
–Antony Zeller, Foley Editor
–A.J. Shapiro, Foley Editor
–Sally Boldt, Music Editor
–Zane Bruce, Foley Artist
–Lindsay Pepper, Foley Artist
SOUND EDITING FOR A NONFICTION OR REALITY PROGRAM (SINGLE OR MULTI-CAMERA)
-Beastie Boys Story | Apple TV+
–Martyn Zub, Supervising Sound Editor
–Paul Aulicino, Sound Effects Editor
–Pernell Salinas, Sound Editor
-McMillion$ "Episode 1" | HBO
–Jody McVeigh-Schultz, Music Editor
-Tiger King: Murder, Mayhem And Madness "Cult Of Personality" | Netflix
–Ian Cymore, Sound Supervisor
–Rachel Wardell, Sound Editor
–Steve Griffen, Music Editor
SOUND EDITING FOR A COMEDY OR DRAMA SERIES (ONE HOUR)
-Better Call Saul "Bagman" | AMC
–Nick Forshager, Co-Supervising Sound Editor
–Kathryn Madsen, Co-Supervising Sound Editor
–Matt Temple, Sound Effects Editor
–Todd Toon, Sound Effects Editor
–Jane Boegel, Dialogue Editor
–Jason Newman, Music Editor
–Gregg Barbanell, Foley Artist
–Alex Ullrich, Foley Artist
-Star Trek: Picard "Et In Arcadia Ego: Part 2" | CBS All Access
–Matthew E. Taylor, Sound Supervisor
–Tim Farrell, Sound Editor
–Harry Cohen, Sound Editor
–Michael Schapiro, Sound Editor
–Sean Heissinger, Sound Editor
–Clay Weber, Sound Editor
–Moira Marquis, Music Editor
–Stan Jones, Music Editor
–Alyson Dee Moore, Foley Artist
–Chris Moriana, Foley Artist
-Stranger Things "Chapter Eight: The Battle Of Starcourt" | Netflix
–Craig Henighan, Co-Supervising Sound Editor
–William Files, Co-Supervising Sound Editor
–Ryan Cole, Sound Editor
–Kerry Dean Williams, Sound Editor
–Angelo Palazzo, Sound Editor
–Katie Halliday, Sound Editor
–David Klotz, Music Editor
-The Boys "The Name Of The Game" | Prime Video
–Wade Barnett, Sound Supervisor
–David Barbee, Sound Effects Editor
–Brian Dunlop, Dialogue Editor
–Ryan Briley, ADR Editor
–Chris Newlin, Music Editor
–Christopher Brooks, Music Editor
–Joe Sabella, Foley Artist
-Westworld "Parce Domine" | HBO
–Sue Gamsaragan Cahill, Supervising Sound Editor
–Benjamin L. Cook, MPSE, Sound Designer
–Shaughnessy Hare, Special Effects Editor
–Jane Boegel-Koch, Dialogue Editor
–Tim Tuchrello, Dialogue Editor
–Sara Bencivenga, ADR Editor
— Christopher Kaller, Music Editor
SOUND EDITING FOR A COMEDY OR DRAMA SERIES (HALF-HOUR) AND ANIMATION
-GLOW "The Libertines | Netflix
–Robb Navrides, Supervising Sound Editor/ ADR Editor
–Colette Dahanne, Sound Effects Editor
–Jason Lezama, Dialogue Editor
–David Beadle, Dialogue Editor
–Jason Krane, MPSE, Dialogue Editor
–Larry Hopkins, Foley Editor
-Silicon Valley "Exit Event" | HBO
–Bobby Mackston, Sound Supervisor
–Sean Garnhart, Sound Effects Editor
–Ryne Gierke, Dialogue Editor
–Joe Deveau, Music Editor
-Space Force "THE LAUNCH" | Netflix
–Bobby Mackston, Co-Supervising Sound Editor/ ADR Editor
–Paul Hammond, Co-Supervising Sound Editor/ Dialogue Editor
–Sean Garnhart, Sound Effects Editor
-The Mandalorian "Chapter 1: The Mandalorian" | Disney+
–David Acord, Co-Supervising Sound Editor/Sound Designer
–Matthew Wood, Co-Supervising Sound Editor
–Bonnie Wild, Sound Effects Editor
–James Spencer, Dialogue Editor
–Richard Quinn, ADR Editor
–Richard Gould, Foley Editor
–Stephanie McNally, Music Editor
–Ryan Rubin, Music Editor
-What We Do In The Shadows "The Return" | FX Networks
–Steffan Falesitch, Sound Supervisor
–David Barbee, Sound Effects Editor
–Angelina Faulkner, Dialogue Editor
–Steve Griffen, Music Editor
–Sam C. Lewis, Foley Editor
–John Guentner, Foley Editor
–Ellen Heuer, Foley Artist
TECHNICAL DIRECTION:
TECHNICAL DIRECTION, CAMERAWORK, VIDEO CONTROL FOR A SERIES
-Jimmy Kimmel Live! "Jimmy Kimmel Live in Brooklyn – Jon Stewart, Benedict Cumberbatch, Kelly Ripa, And Music From David Byrne" | ABC
–Ervin D. Hurd Jr., Technical Director
-The Voice "Live Finale" | NBC
–Allan Wells, Technical Director
TECHNICAL DIRECTION, CAMERAWORK, VIDEO CONTROL FOR A SPECIAL
-2019 American Music Awards | ABC
–Eric Becker, Technical Director
–John Pritchett, Screens Technical Director
-Live In Front Of A Studio Audience: "All In The Family" And "Good Times" | ABC
— Eric Becker, Technical Director
-The Little Mermaid Live! | ABC
— Iqbal Hans, Technical Director
-The Oscars | ABC
–Eric Becker, Technical Director
–John Pritchett, Technical Director
–Kenneth Shapiro, Technical Director