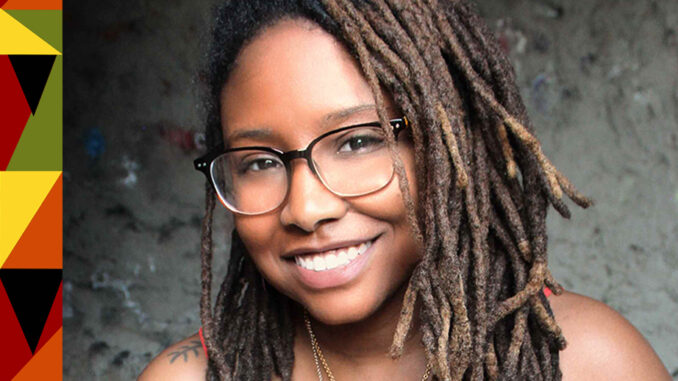 For each day in the month of February, the Committee will be highlighting African-American members, both past and present, and their accomplishments. We look forward to showing the contributions and influences African-Americans have had on the industry.
Name: A'sia Horne

What's your job?
 Assistant Editor
List the credits you're most proud of. ​I am proud of "Young Rock" because it's my first AE Union Job on a scripted show, "First Christmas" ​because it was my first Union job ever and the "The Shop," because it was my first credit on a show.
What are you working on right now? I'm currently working on "Young Rock."
Who and what are your influences and/or mentors? I absolutely love the work of Elísabet Ronaldsdóttir. Mentor wise I've learned a lot from Kat McAuley, Victoria Page and Kelly Soll. Through friendship and Kat and Kelly's programs, I've been able to become a stronger assistant for scripted editing.
What books are you reading, shows are you watching and/or movies you're excited about? I'm currently in the middle of the ​"Parable of the Sower​" by Octavia E. Butler. And my favorite shows right now are "The ​​Expanse," ​and I'm late to it, but enthralled by "The Good Place.​"
What are your Black history month memories and any cultural or historical impacts on your life? When I think of Black History Month I think of all of the community events I was raised to be a part of. The parades, the different festivals and the speeches. I often think of the plays I acted in as a kid at church and school to share the lives of historic figures in our American History.
What's the best piece of advice you've been given? The best advice I was given was to celebrate every win. It helps you reflect on how far you've come, and to be grateful for every moment. And to also be kind to yourself as you learn and grow.
If you could time travel, when would you go and why? To the future, because I would want to see what we're doing in space lol.
What's your favorite (Black) television/movie moment? Honestly it would be "Love and Basketball." For a while I just knew I'd play in the WNBA, I later found that would not happen lol. But I lived for that movie. The tape, yes the tape, lived in my bedroom so I could watch it over and over again. It's probably the film I've watched the most in my lifetime.
Was there a television show/movie that inspired you to pursue your Career? I think it was a series of films in the 2000s that pushed it. I was amazed at the storytelling of films like ​"Old Boy​" and ​"Requiem for a Dream"​ at that time, and that I think sparked my desire to work in film and television.
What's your personal/professional mantra? What God has for me is for me. Every door that's open for me I know that God has opened it for me. And no man can close what God has opened.
What's the last show/movie that left you speechless? The last show that left me speechless was "I May Destroy You," created by Michaela Coel. I absolutely loved every aspect of the show. Writing, direction, editing and acting. Everything was superb.
What would be your dream project to work on? I honestly have three! I absolutely am in love with the book ​"Children of Blood and Bone​." When I found out that it was in development, I placed it immediately on my vision board. I also added "W​ho Fears Death" to my vision board when I saw it was in development at HBO. Those two are my top ones, and a show that's current I'd say I really enjoy "The Expanse."