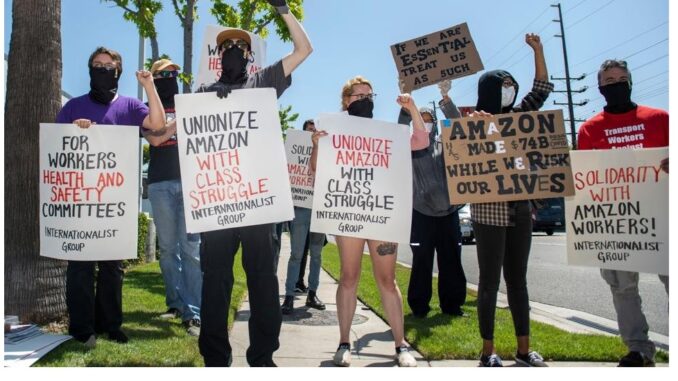 Reprinted from The Progressive by C.M. Lewis on February 20, 2021.
Workers unionizing with the Retail Workers and Wholesale Distribution Union at an Amazon distribution center in Bessemer, Alabama, have been met with a range of tactics to dissuade them from voting for a union, including frequent text messages, paid social media advertisements, and "classes" intended to warn them against unionization.
Amazon, with more than one million employees, has hired the law firm Morgan Lewis and a Koch-backed consulting group called the Center for Independent Employees to hinder the union vote.
The tactics utilized by Amazon aren't unusual. In 2017, Boeing took out a Super Bowl ad to combat an employee union effort in Charleston, South Carolina, and the governor of Tennessee led "captive audience" meetings at Volkswagen's Chattanooga facility in 2019. According to Celine McDaniels, director of government affairs and labor counsel for the Economic Policy Institute, employers illegally fire union organizers in at least a fifth of all union elections. …
Recent legislative measures seek to curb common tactics, like "captive audience" meetings, and shed light on the money spent on union avoidance. The recently reintroduced Protecting the Right to Organize Act—a labor reform bill backed by a coalition led by the International Union of Painters' and Allied Trades—includes the "Persuader Rule," which forces employers to disclose money spent on union avoidance. …