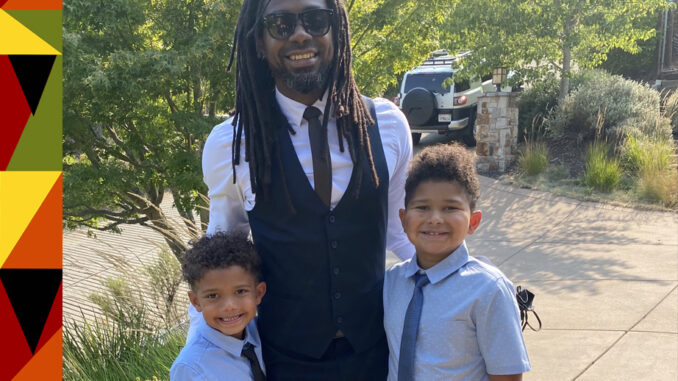 For each day in the month of February, the African American Steering Committee will be highlighting Local 700's African American members, both past and present, and their accomplishments. We look forward to showing the contributions and influences African Americans have had on the industry.
---
Name: Jouvens Exantus
What's your job? I am an Assistant Film and TV Editor.
List the credits you're most proud of. I'm honored and proud of the work and the countless teams I've been blessed enough to be a part of. I find the experience I've attained and the interactions are the most memorable to me. Throughout my journey, I've always gravitated toward compelling stories with colorful yet flawed characters who help guide the viewers into learning something about themselves. As far as credits am most proud of, number one on my list would be working as a second on King Richard: Edited by my mentor Pamela Martin, shows like "Mindhunter" from David Fincher, working with Kirk Baxter, Tyler Nelson, Grant Surmi, and the many talented people there. Proud of being a 1st on "Bliss," edited by my mentor Troy Takaki and helping pitch the Adobe Premiere platform to Amazon Studios. Am proud of my work and being nominated for an Emmy as an Editor in "Project Runway Allstars" and being one of the editors on the first Black Bachelorette. And I could never forget the amazing experience working with Lisa Henson as an editor at the Jim Henson Company Studios on LaBrea. Am thankful for the countless opportunities, the people I've worked with and honored to be in this position.
What are you working on right now? I am currently editing a psychological thriller feature film.
Who and what are your influences and/or mentors? I am influenced by life and all its complexities. It sounds broad but do I love observing life as it happens. I find that character reveals itself as stories unfold in our day-to-day lives. I'm inspired by dreams but understand the lessons are in the pursuit. I like music, Renaissance art, I like watching old movies and studying the greats. I have a lot of mentors in this industry. Am thankful and honored to be a part of a special group of like-minded people who guide me throughout. Mentors like Lilian Benson, Pamela Martin, Troy Takaki, Mark Yoshikawa, Q de Chambres, Shannon Baker Davis, Joi McMillon, and countless more. In fact, some of my mentors don't even know they're my mentors but I find a lot of inspiration from their work.
What books are you reading, shows are you watching and, or movies you're excited about? From time to time, I dive back into my film books. "Kubrick: Inside A Film Artist's Maze" by Thomas Allen Nelson. "Picture" by Lillian Ross, "Tokyo Vice" by Jake Adelstein, and whenever I overcomplicate my work in the cutting room, I always reach for, "In The Blink Of An Eye" by Walter Much. I find this book grounds me and brings me back to the basics. Currently, my work schedule has been taking up most of my free time but I do plan on catching up on some of my favorite shows and latest movies. Looking forward to the new seasons of "Ozark" and "Atlanta" and definitely excited about the Oscars Awards season. I need to catch up. I'm always looking for recommendations.
What would be your superhero name? My superhero name would be…The Creator or The Auteur. A jack-of-all-trades persona, with a magic flight ability to swoop onto any project from development, production to post, and save the day. As a writer, I always find solace in the ability to escape the ordinary world, crawl into my special place in the realm of the archetypes, and create from nothing. That's the same feeling I get as an editor in the cutting room when crafting my scenes…I never get bored.
What are your Black history month memories and any cultural or historical impacts on your life? As a Haitian-American, being born in another country, am fully aware of the sacrifices the African Americans were forced to make and the contributions they continue to make to improve the lives of generations to come. I remember sitting on the floor in my living room in South Florida, watching "Roots" with my mom and thinking about how emotionally impactful our shared experience was watching "Shaka Zulu." I watched as tears rolled down my mom's face. I stood up from the floor and joined her on the couch. She smiled and gave me a big hug. Moments like these were when I started to become more aware of the beauty and power of Cinema. Fast forward to me watching "Do the Right Thing," "Harlem Nights," and "Hollywood Shuffle" with my older brothers, which gave me a different understanding of the importance of this art-form. Not every story has to be as emotional and dramatic as "Roots," we can also have rite of passage stories about kids venturing to college and the shenanigans they're bound to face. The spectrum of characters and stories are boundless, they're Universal and as filmmakers, we are blessed to be in this position as storytellers. Through the lens of the foreigner, I saw the limitless opportunities of being a mythmaker and the joy and resolution it brings to the audience. Another memory I'll never forget; is singing "We are the World" during class in middle school and actually believing that the world was uniting and it would be "a better day, just you and me." That was so transformative to me…I actually believed it and have remained hopeful ever since.
What's the best piece of advice you've been given? I love being an artist and I love meeting people I admire and want to learn from. Throughout my path, I've taken countless steps back in my career to learn as an apprentice. For me, it's always about the journey, the connections, and the lessons I've learned along the way. So, I've heard and been given a lot of great advice. Some of the memorable ones are: Always strive for perfection. Stay in the master until you feel you need to see something else. Just do the work. Be available, show up early and…be kind.
If you could time travel, when would you go and why? Time traveling is a tricky subject that is far beyond my comprehension. I often play games with my kids where we pretend to time travel but often it involves us going back to their birthdays or holidays to get more toys. So the idea of me having the ability to time travel would leave the whole space-time continuum in total shambles.
What's a little-known fact about you? What are your hidden (or not so hidden) talents? My first languages are French and Haitian Creole. Sometimes, I still process my thoughts in other languages. Another little-known fact about me is I've gotten chased by a lion and survived to tell the tale. #NoJOKE My love of cinema is paralleled by my love of sports. I was and still am a great athlete but my destiny was always in storytelling and thinking of compelling ways to inspire the next generation.
What's your favorite (Black) television/movie moment? Loved watching "Good Times" as a kid. It reminded me of our close family unit trying to make ends meet in a strange new world. In regards to movies, I loved the poetic nature of "Boys in the Hood" and followed a lot of John Singleton's work. The Auteurist style of Spike Lee, Ava Duvernay, her vision in building a sustainable storytelling future is monumental. I was floored by Carl Franklin's style in directing "Devil in a Blue Dress." I was lucky to have an older brother attending an HBCU at Bethune Cookman University in Daytona Beach, Florida. We were introduced to a lot the films that were probably inappropriate for our age, but were instrumental non the less. Films like "School Daze," "Juice," "Fresh," "Boomerang," "Menace to Society," "Poetic Justice," "Malcolm X," "She's Gotta Have It," "House Party"…(ALL OF THEM) "New Jack City," "CB4," "NWH." Loved seeing the joy in my brother's faces when watching those films. Am so thankful to those experiences that helped shape me.
Was there a television show/movie that inspired you to pursue your career? The first film that comes to mind where my mind was blown to the possibilities of this medium was "Dune" by David Lynch. Didn't quite understand what was all happening, but I couldn't get enough of that film. Funny enough, I got a chance to meet David at Fotokem a while back. Aside from taking a picture with him, I couldn't find the words.
What's your personal/professional mantra? Trust. If I trust you and see the level of commitment you put in the work, I can run through those walls with you and hope for the same. As an editor or as any artist can attest, trusting your instincts is also a big key for me.
What's the last show/movie that left you speechless? Aside from the films I've worked on, I love the work Regina King is doing. She's an amazing filmmaker and person. "The French Dispatch" is top notch and shows like "Atlanta," "Ozark," "Reservation Dogs" and "Succession" are all great projects that left an impact on me.
What would be your dream project to work on? Considering where I came from and the moments described earlier when sitting on the living room floor, I'd say all my jobs are somewhat dream jobs. But I really like what Donald Glover is doing with "Atlanta." The creative license he has in crafting this alternate reality is brilliant and so inspiring. I'd love to work and learn from creatives like him. But, in answering this question, I also have to mention my kids want me to work on Super Hero films. So, I might have to find an opportunity in that realm, if there's any chance of me earning some cool points. Either way, am thankful, blessed, and honored to be in this position. Thank you all for your time and hard work.