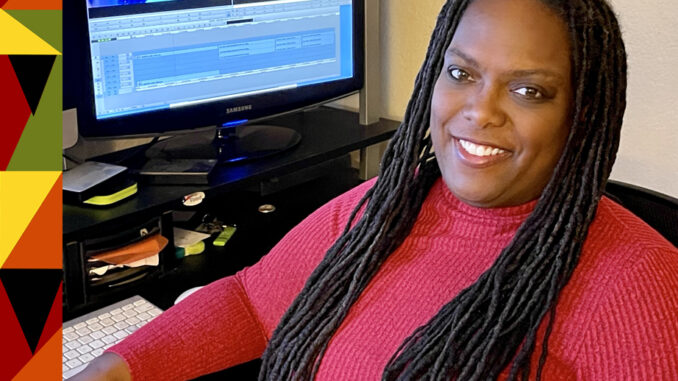 For each day in the month of February, the African American Steering Committee will be highlighting Local 700's African American members, both past and present, and their accomplishments. We look forward to showing the contributions and influences African Americans have had on the industry.
---
Name: Libya El-Amin. As an aside, people always ask me what my name means. Libya – the granddaughter of Zeus and El-Amin—Arabic name for Trustworthy
What's your job? I serve as the last line of defense to tell that amazing story. Also known as a Picture Editor
List the credits you're most proud of. "Insecure" and "The Last Ship" for somewhat similar reasons. I was a fan of both shows before I joined the post departments and got be a part of the wrap up of both television series. Another favorite is "Twin Turbo" which is a short film I cut because it has a bit of everything I love about storytelling—humor, suspense and action.
What are you working on right now? 
I just wrapped on the comedy series "Bust Down" for Peacock. It was an insane amount of work, but I'm quite happy with the end result. I'm excited for the next adventure.
Who and what are your influences and/or mentors? I am constantly being influenced by the post production teams I work with and the people in my network. But, if pressed I'd have to narrow it down to Lynne Willingham who decided she would use her network to help a reality assistant editor into scripted television. Also, Monty DeGraff who declared himself my mentor one day and when I had a freak out about my first editing interview, he took my call when he was on vacation in Italy. That's dedication!
BONUS: Sarah Reeves who passed my resume around when I first got into scripted like SHE was trying to get a job.
What books are you reading, shows are you watching and/or movies you're excited about? 
I read a lot and my go to worlds are most often Science Fiction or Fantasy. My book shelves and kindle collection are a bit insane. I am currently re-reading Book Two in the Wheel of Time series "The Great Hunt" and Book Two in the Ink Mage series "The Tattooed Duchess." I also host the TV Campfire Podcast (Link) which requires that I sample quite a bit of television. Right now I'm most excited about the end of "The Expanse," "Wolf Like Me" is a lot of fun as well; and my disturbing not-that-guilty pleasure is "Yellowjackets." I mean cannibals? Ewww.
What would be your superhero name? Wow so I spent way too long on this question. I can't believe that a super geek like me had never come up with my superhero name before. So first I needed to figure out my powers so that the name would come. Result—very fast brain functions/calculations a la Sherlock Holmes, plus the ability to rewind time 30 seconds. If my predictions are off, I can go back and fix them. This all led to the superhero name of… "Timewinder"
What are your black history month memories and any cultural or historical impacts on your life? 
My father considered himself a historian on the side (he was a chemist to pay the bills) and made sure to impart the sum of African/Black history on his children, dating back as far as he could research. I went to lectures from some of the greatest minds in African history, like Tony Browder, Dr. Ivan Van Sertima, and Dr. Francis Welsing. I listened to my father's lectures constantly. It was black history month all the time. That sounds like a complaint and as a child it was surely that as well. Now, it feels more like a rare privilege. Learning Black history as World history solidifies how you see yourself in the world and gave me the confidence to take my place in it.
What's the best piece of advice you've been given? The best advice is sometimes not spoken, but observed. I watched my mother take risks and be courageous every day. She quit her career of 20 years and went to law school at the same time me and my brothers were in college as well. She encouraged us to take risks and have confidence in ourselves. Is that advice? I don't know, but it ended up being a way of life.
If you could time travel, when would you go and why? Ignoring my superhero powers, I would travel to at least 200 or 300 years into the future. Considering all the technological advances we have made in the last 50 years, I want to see where we are going. I'm hoping it's wonderful and greater than anything I can imagine. Not a hellish landscape where we are in the apocalypse. Definitely wishing for option number one.
What's a little known fact about you? I have a Master's of Engineering degree in Chemical Engineering with a concentration on Biomedical Research. So basically, I did experiments on rats where we tested drugs to see if the rats could survive on half the blood in their body. It had the potential to save a lot of lives. Also, we learned how to catch those buggers when they escaped their cages.
What are your hidden (or not so hidden) talents? Before I made the jump to post production, it was a hobby. I used to cut my favorite tv shows to music with two VCRs. Yes, you heard that right. I'd lay down the music on a VHS tape and then cut video from my favorite shows to match lyrics and tell my own stories.
I can also throw a discus really far.
BONUS: I played trombone in North Carolina A&T State University's marching band. Aggie Pride!
What's your favorite (Black) television/movie moment? Well Black Panther seems like the obvious answer, but as I was going to write that down, I remembered that before "Black Panther," there was "Shaka Zulu." If you don't know what I'm talking about, it was a mini-series about the Zulu leader of the same name. It was the first movie that reflected my pride in my African culture. I started calling my father Baba after that and it stuck.
Was there a television show/movie that inspired you to pursue your career? The first tv series I recall being a fan of was "Star Trek." To me it was a story about inclusivity and hope. I wanted to participate in storytelling like this and be involved in affecting people's moods/lives in a similar manner.
What's your personal/professional mantra? Fear is the mind killer. No really, it is. It keeps us from reaching for goals that feel unattainable. I grew up in the Midwest and graduated with a Master's degree in chemical engineering. What am I doing in Hollywood? I had to take a leap from my engineering job and go to film school. It was terrifying, but I kept dreaming about cutting television which I wasn't going to do on the chemical manufacturing floor. Also, I am an introvert, but to make it in this business you have to be able to network. Face your fear.
What's the last show/movie that left you speechless? My favorite television show of 2021 was "Foundation." Not only is it a gorgeous science fiction masterpiece it also asks you to explore the human condition in a way that only the best science fiction can accomplish. I loved the idea of clone emperors and wondering if they have souls. Where is the moral line if the fate of civilization is in the balance?
What would be your dream project to work on? Oh, so the show "Kindred," based on the books by Octavia Butler, was picked up to series and I'm so excited. I read Octavia Butler's books when I was a kid because she was the only black author writing in science fiction at the time. Her works were so strange and brilliant. I'd love to be a part of bringing that to life. Also, the show that has always been in my top 5 science fiction tv series of all times is getting a reboot (fingers crossed), "Babylon 5." I cannot disclose how many times I've re-watched this show. Suffice it to say my dog is named "Delenn."
BONUS: Who am I kidding? Anything Marvel. I'm not crazy. You hear that Marvel? Give me a call!