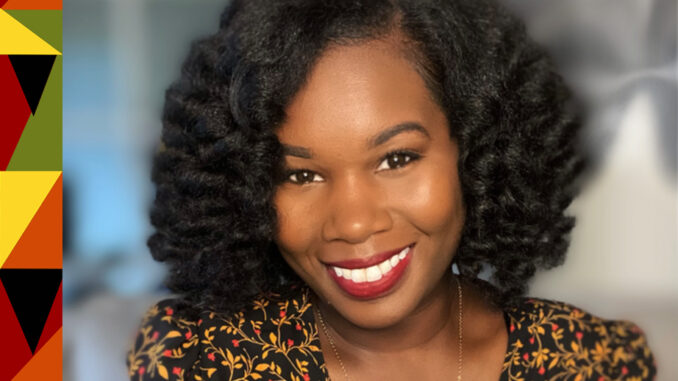 For each day in the month of February, the African American Steering Committee will be highlighting Local 700's African American members, both past and present, and their accomplishments. We look forward to showing the contributions and influences African Americans have had on the industry.
---
Name: Angela Latimer
What's your job? Picture Editor
List the credits you're most proud of. "Bel-Air" (Editor), "The Old Guard" (Assistant Editor), "Downsizing" (Assistant Editor)
What are you working on right now? "Bel-Air," a TV series streaming on Peacock.
Who and what are your influences and/or mentors? I've had the pleasure to work under and receive advice from so many talented editors. My career was most influenced by Kevin Tent, ACE, Terilyn Shropshire, ACE, and Mindy Elliott. I learned so much about editing and how to run a cutting room working with these three editors.
What books are you reading, shows are you watching and/or movies you're excited about? I watch and read some of everything. I just finished reading "Will." Over the winter hiatus, I binged "Succession." I'm currently tuning in to "Euphoria," "This is Us," and "Power Book II: Ghost."
What are your Black history month memories and any cultural or historical impacts on your life? My elementary school would put on a Black History Assembly every year, and every class had to participate. I just loved seeing the works of black poets' and playwrights performed by all students.
What's the best piece of advice you've been given? The film industry is a marathon, not a sprint and sometimes getting denied is a blessing in disguise while simultaneously opening for another opportunity that is meant for you. That advice has never been more accurate.
What are your hidden (or not so hidden) talents? Once a year, I make wine as a hobby.
What's your favorite (Black) television/movie moment? My favorite (Black) television/movie moment is the family reunion scene from "Poetic Justice." That scene gets me every time, but it also reminds me of what it's like to get together with my family.
What's your personal/professional mantra? I have two mantras that I live by actually. First, faith without works is dead. The second is, stay ready so you don't have to get ready.
What's the last show/movie that left you speechless? What would be your dream project to work on? I actually just got the opportunity to work on a dream project. I grew up watching the "Fresh Prince of Bel-Air," and I'm currently wrapping up my last episode on the dramatic version of "Bel-Air." In the future, I'd love to cut something like "Cruella." I watched the film and thought, "Who edited this? It's fantastic." When I looked up the editor, it was Tatiana S. Riegel, ACE. I love her work.