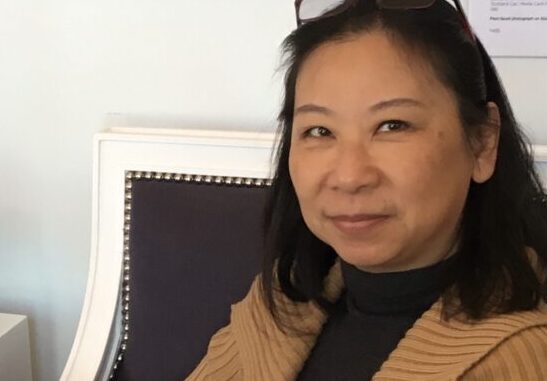 [Late last month, longtime First Assistant Editor Ofelia Yi, a Guild member since 1989, passed away after a long illness. She's remembered here by her longtime Editor and friend Joan Sobel, ACE. – Ed.] 
By Joan Sobel, ACE
There are so many reasons why I would like to write this remembrance letter directly to Ofe:  Because she was my First Assistant Editor on 11 movies; Because she was my dear friend; Because I miss her laugh; Because I miss her wise voice; Because I want this to be a letter and not an obituary.
Ofelia Yi.  What an amazing person.  Ofe was born in Cuba to parents who emigrated to Cuba from China seeking a better life.  Her parents then escaped the Cuban revolution, emigrating to the United States with Ofe as in infant and her older brothers in tow.  Ofe was raised in the ethnically diverse Cuban neighborhoods of Florida and studied film at the University of Miami.  Upon graduation, she headed to Hollywood to follow her dream and passion of making movies, joining her friends, Gladys Vega, Editor, and Vivian Valmana Rodriguez. Ofe most certainly succeeded in attaining that dream, and she and Gladys and Vivian remained best friends to this day.
Because of her dual Chinese/Cuban heritage, Ofe was fluent in Spanish.  This came in quite handy while we were working on a project where the Producers and Director would converse in Spanish whenever they didn't want us to understand anything.  What they didn't know was that Ofe understood everything that they were saying!  We did have quite a good laugh together at the end of that gig, at the moment that Ofe revealed herself by conversing in Spanish to them, and seeing their faces literally drop in….well….shock!
Ofe and I had so many wonderful filmmaking adventures together, especially on location in NYC for Paul Weitz's "Being Flynn," in Chicago for Steve McQueen's "Widows," and again in NYC for Reed Morano's "The Rhythm Section."  We gloriously ate and walked, and talked, and laughed our way through each.  Actually, we even did that while not on location, staying put in LA on both of Tom Ford's movies: "A Single Man" and "Nocturnal Animals," and many others.  Ofe truly possessed a joie de vivre!
Ofe had a prestigious career in our industry, setting the bar extremely high for subsequent First Assistant Editors.  There was no one who was better at the job, whose exquisite taste and impeccable work ethic, along with an innate ability to brilliantly manage a cutting room, set a gold standard for our industry.  Ofe's career was long and stellar:  Ofe was the First Assistant Editor on "Jerry Maguire," "Meet Joe Black," "Vanilla Sky," and "Almost Famous," all with Joe Hutshing and other great Editors, including Michael Tronick.  Ofe was the First Assistant Editor on "National Treasure," with William Goldenberg.  Ofe was the First Assistant Editor on "The Lookout" and "Flash of Genius" with Jill Savitt.
Ofe worked on many movies with her longtime dear, dear friend and colleague, Carol Littleton, including:  "Wyatt Earp," "Dreamcatcher," "In the Land of Women," "Country Strong," and "The Rum Diary."  Their relationship was very, very special.  She also worked with and was a beloved member and close friend of the Carol Littleton group of amazing Editors, including Raúl Dávalos and Suzanne Spangler.…..Which is how Ofe and I found each other.
The first time that I worked with Ofe was on "A Single Man."  I relied on her impeccable aesthetic taste and her love of movies, always.  I remember editing the scene when Colin Firth (who Ofe adored!) was sitting in a chair while receiving the news of his lover's death.  I cut that scene 31 different ways, hoping for tears from my wonderful First, but nothing.  On the 32nd try, I looked at Ofe and a tear rolled down her cheek.  I knew only then that I had done the scene the justice that it deserved.
Ofe's 30 year professional film work spanned a world of Editors and Directors and Assistant Editors and Colleagues.  This letter is a personal outreach to all of you: a martini toast, a phone chat, a break room laugh that I know Ofe would have loved to have expressed personally to each one of you, but could not.  Please know that this letter acknowledges each of you in spirit, as I know how very many in our industry were mentored by her, were touched by her, and who called her friend.
I depended on Ofe.  We all did.  She was our rock.  She took amazing care of all who surrounded her.  Our brilliant, funny, beautiful, incredibly wise and strong Ofe.  She leaves behind her gorgeous children, 21 year old Isabel and 19 year old Lucas, who she loved more than life itself, and her beloved brothers Mario, Ed, and George.  And she leaves behind all of us.  I will mourn her for as long as I live.  And I will laugh together with her forever and ever.  Goodbye my sweet Ofelia.
Joan Sobel, ACE, has edited numerous feature films including "A Single Man" and "The Rhythm Section."