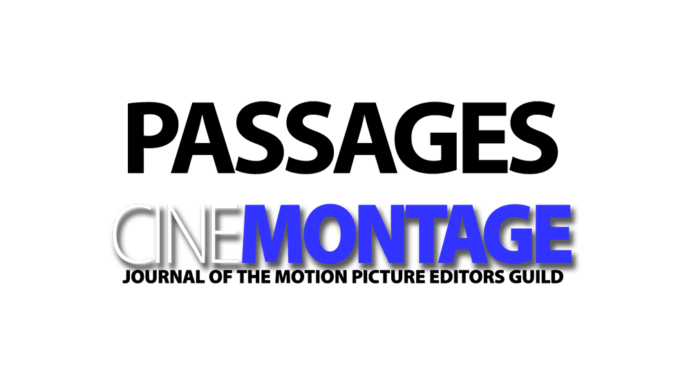 Hyman Kaufman
Picture Editor
October 11, 1927 – June 25, 2017
Hyman Kaufman passed away on June 25, 2017 of heart failure. The son of Russian immigrants, he was born in the Bronx on October 11, 1927. He married Ola in 1952 and raised two children, David and Mary.
Hyman worked in the film industry from the 1950s through the 1980s. His career as a film editor was dedicated strictly to documentaries on both the small and large screen. Things got off the ground for Hyman when he moved from New York to Los Angeles in late 1961 and soon after joined the newly formed David Wolper Productions.
Hyman's early credits include work on numerous episodes of the television series Biography (1961-1964), Hollywood and the Stars (1963-1964) and Men in Crisis (1964-1965). He may be best known for working on the National Geographic Specials (1965-present) and The Undersea World of Jacques Cousteau (1966-1976). In 1977, Cousteau himself arranged for Hyman to relocate to France to work on his latest project.
He also worked as an editor on several music-oriented motion pictures: 1970's Creedence Clearwater Revival Live in London (a documentary on the classic rock band), 1971's Soul to Soul (featuring Ike and Tina Turner and others performing in Africa), 1972's Elvis on Tour (allegedly the King's favorite movie about himself), 1973's Let the Good Times Roll (a concert film of 1950s rock and roll pioneers that also provided historical context for its subject matter) and the 1981 movie version of the Broadway show Beatlemania.
One achievement of which Hyman was particularly proud was directing the human brain segment of The Incredible Machine (1975). The accompanying photo of him was taken on that set.
Hyman spent his final 15 years in the rural Northern California town of Fortuna. Those who loved him will be happy to know that not only did he live mere miles from both a forest and an ocean, but there was a second-hand store within walking distance! Those lucky enough to partake know that he set the standard for homemade cocoa. His dry sense of humor belied an uncommon generosity.
David Kaufman