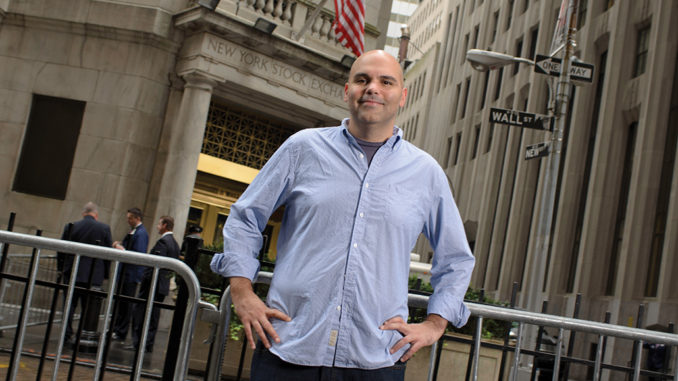 by Rob Feld • portraits by John Clifford
One of the most frustrating aspects of the creative side of the film industry is that there's no corporate ladder, per se; no set way to get from A to B.  That fact, however, can also be the most liberating, as demonstrated by picture editor Pete Beaudreau's journey to cutting J.C. Chandor's star- and tension-filled Wall Street drama, Margin Call, which just opened October 21 through Roadside Attractions and Lionsgate.
"The ironic thing about how I came to editing was that I couldn't find any work for six months when I got out of school," recalls Beaudreau from the editing room of his next project.  "I was desperately trying to assist on features but it's a fairly close-knit community of New York assistants and I couldn't break into it, so I had to come up with a different route."
Beaudreau attended SUNY Purchase's undergraduate film conservatory and found himself drawn to post for very practical reasons.  "When I was directing my own work, I never had enough money for film stock," he says.  "I would shoot the bare minimum that I could afford to get away with, and I spent a lot of time in the cutting room.  We were on Steenbecks and Moviolas, and I got into a fair amount of optical printing because you could slow footage down; you didn't have enough footage and then, all of a sudden, you did.  You could shoot stuff that didn't really match, or that you didn't have enough of and you could still make a movie.  So, I got drawn to post out of financial necessity, but realized that I really enjoyed it, and had something none of my friends had––the patience for the process."
Beaudreau then credits a string of lucky encounters, starting with the production coordinator job he finally landed at Channel 13, WNET, where he met documentary director Pete Sillen.  Sillen also directed commercials at Washington Square Films and took Beaudreau with him when his gig at WNET ended.  There, he also met director Jeff Feurzeig.  Beaudreau had very little Avid experience at the time but, at Washington Square, he was allowed to play with the system and figure it out for himself.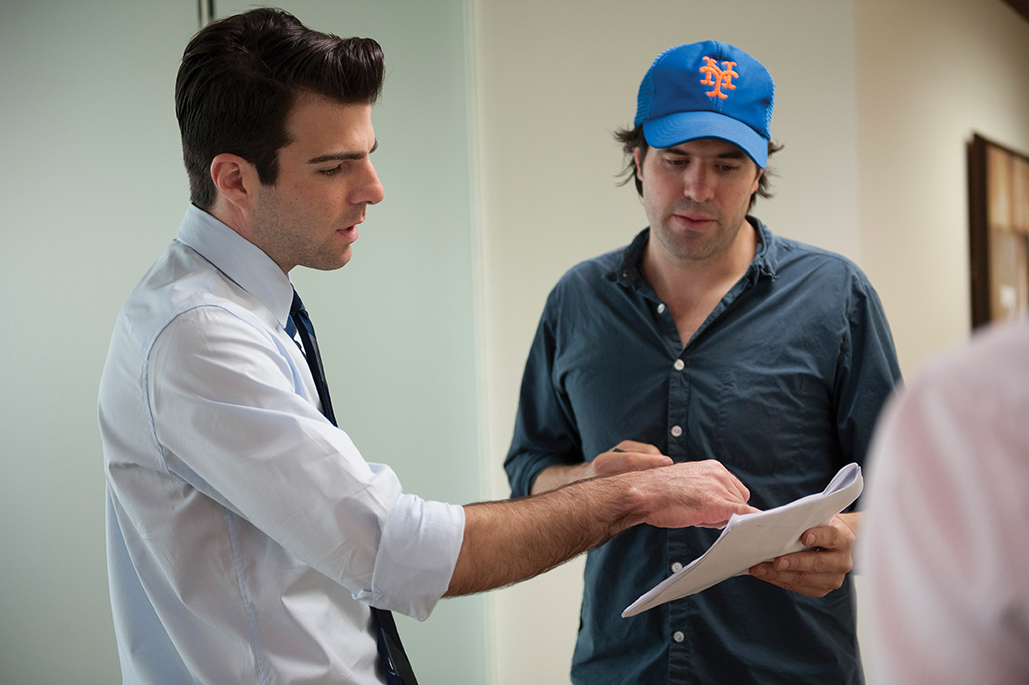 He went from cutting directors' reels to some of the company's smaller video projects, and then got lucky again.  His brother was in a band called The Billy Nayer Show, the lead singer of which, Corey McAbee, was directing and starring in an indie film, The American Astronaut (2001).  "My rate was so incredibly low that I don't think they could lose," continues Beaudreau.  "If I imploded or I was a disaster, it wouldn't really set them back."
This first feature went to Sundance in 2001, was nominated for the festival's Grand Jury Prize, and led a nice little life as a cult film thereafter.  Out of that moment, Beaudreau went on to cut indie films like Austin Chick's XX/XY (2002), August (2008) and Mark Ruffalo's directorial debut, Sympathy for Delicious (2010).  Though he's worked steadily, Margin Call seems to be a breakout for the editor.
The drama features Paul Bettany, Jeremy Irons, Demi Moore, Zachary Quinto and Stanley Tucci, and covers the brief period of time between the moment a large financial institution realizes that the formula it had been relying upon to manage its real estate credit default swap business doesn't actually work, and the next day––when it dumps it all to save itself.  The locations are few, the dialogue dense and the information complex.
Nevertheless, without talking down to its audience, the film maintains its pacing and tension, and tracks its fascinating plotline and characters in a fashion that speaks to a great director and editor collaboration.
Beaudreau spoke to CineMontage about the film and his career path.

CineMontage: Can you tell me about the influence of directors Pete Sillen and Jeff Feurzeig on your work and career?
Pete Beaudreau: I got pretty intense instruction from them.  They're both documentary directors and strict about editing things in a truthful way.  They said, "Don't fake or manipulate emotion; use the footage you have to tell the best story you can, but don't try to impose a lot onto it to make it tell a different story."  It's helped me tremendously as a narrative feature editor because when I look at performance, I'm still looking for what is truthful in it.  And that I learned before I cut anything.
CM: Not coming up as an assistant editor, what sort of working process have you developed with directors?

PB: It depends on the level of experience of the directors; I've worked with a lot of first-timers.  Ultimately, you just have to be on the same page and, if you're not, then maybe it's just not the right job.  I think a lot of editing is having good taste, as well as being sensitive to the performances that you're seeing, and to the subtleties of the script and dialogue.  And also having a sensitivity to the director.
CM: What kind of sensitivity?
PB: I work with a lot of writer/directors.  I have to keep in mind that it's very easy for me to look at things structurally, but it takes a few levels of gentle prodding to start those conversations.  I don't think any director wants someone to come in and say, "You don't need this scene" or "This doesn't belong here" or "We could cut the end of this and go directly into that."  It's about building a relationship, which happens subtly over time.
My goal is to have enough scenes assembled by the end of first week of shooting to talk the director through, and I find that after that first screening, a dialogue becomes a lot easier.  It gives the director assurance that you are not just in there with scissors, shredding up what he's shooting.

CM: Tell me how you came to Margin Call.
PB: The day I met J.C. and the producers, a cast member had fallen out and they said, essentially, "We really like you but we don't know what's happening; we'll let you know." Then they had casting issues and somehow I managed to keep the job.  So by the time they were ready to go into production, the cast was incredible and I was still on board.  J.C. and I had also both worked at Washington Square Films at different times and had close, mentorship relationships with Pete Sillen.  All of those things came together.  It was one of those magical ways that you get a job.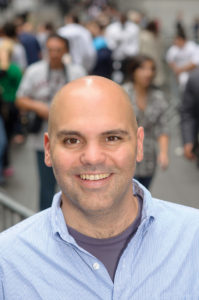 CM: What were the challenges?
PB: What I found challenging and interesting about the film was the cast.  I've never worked on a film that had so many amazing actors.  Because it is an ensemble story, there was some nervousness on my part about giving short shrift to a performance or actor, just for the sake of trying to tell the best story.  To some extent, you're always balancing narrative storytelling needs with performance needs.
EG: What did you think of the script?
PB: When I read J.C.'s script, what I thought was so amazing was how it shows an unexposed side of the industry; how the big gears of a company like that work.  We had a really good conversation about the script.  He knows a great deal about that world, and I was blown away by how that was reflected in the screenplay.
CM: Did you have any input?
PB:  What I try doing in meetings is to come up with more questions.  I like to give my honest opinion about things I think are good and things I think are weaker.  I will say, "I know it's a short schedule, and if you run out of time, consider not shooting this scene, or put it later in the schedule so if you miss it, it's not the end of the world."

CM: How did the workflow go?
PB: The script was really good, so there wasn't a lot of reordering or restructuring.  The film is incredibly linear and essentially takes place in 24 to 36 hours, and the bulk of the drama occurs in 10 hours.  In that way, it was a real treat because you could just dive into the scenes and shape the best version that you could.  I think what was difficult was making sure that we were maintaining tension, considering that the action is all verbal.  The boardroom scenes had to have tension and click along.
It was also adding lighter moments so that it didn't become unrelenting.  J.C. and I have a similar sense of humor, and I would put a look or a line into the assembly to break a moment, and get a laugh from him on the couch behind me, which was great.  Another challenge was also slowing the pacing down when we needed to, and get all the characters to come to terms with the decision they were faced with, and then ramping back up for the end.  That's essentially the structure of it: Building suspense until the plan is hatched.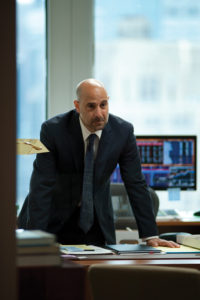 CM: This was shot on a RED camera.  How was that as far as it affected you and the data?
PB: The RED seemed very easy to work with, thanks to Eugene Yi, one of my assistant editors.  In the trans-codes, you can make it look as good as you want.  Because it was largely an office environment with ambient light, there was a mix of tungsten and fluorescent and, in some cases, not flattering color.  But as long as it's consistent for a scene, you can cut the scene and throw a correction on top of the whole thing and move on.
Eugene Yi and my other assistant, Andrew Pang, were tremendously valuable.  Eugene started the film with me and handled arranging and organizing the dailies.  He was really crucial in setting up our workflow.  We were pretty low-budget, so we weren't working with shared storage, and he had to do most of his work on his laptop.  He was able to keep multiple drives cloned and up to date so that I could worry about the cutting.  He really made the edit go smoothly.
Andrew came on toward the end of the project and handled turnover.  We worked really well together and he was great to have in the cutting room––just to be able to bounce ideas off of him.  Andy's a trained actor as well, and it was great to have him for temp voiceover when we were putting together the crucial final trading scene at the 11th hour during the edit.  He's a huge asset to have in the cutting room.
CM: Were there any technical issues?
PB: I don't think we had any technical issues––with the exception of a car-rigged shoot that we shot with hard drives mounted on the back of cameras.  A shaky camera with a shaky hard drive on it doesn't ensure great data integrity.  Luckily, we had everything we needed to tell the story in that scene, but it was terrifying.  We got the news from the lab: "Oh, there's some dropouts."  "Really, how many?" "Oh, a lot."  I think the valuable lesson I learned from that was when the camera rental house tells you to use the CompactFlash card, make sure everybody knows it!
CM: Any final thoughts about the film?
PB: I'm really excited for people to see Margin Call.  It was a great experience and I'm really looking forward to working with J.C. and the producers again.  That whole team of guys really locked in on how to tell the story, and I'm happy that I have a solid relationship with all of them.  Because they're all going to do great things.