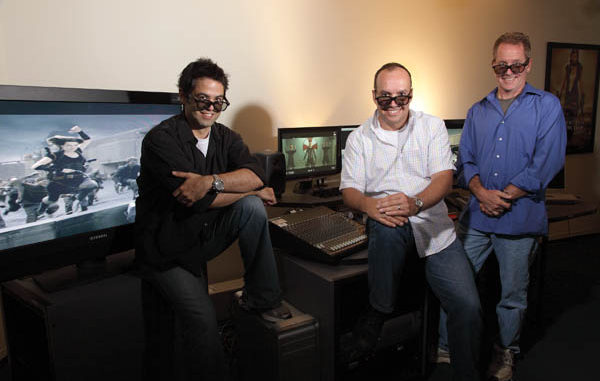 by Garrett Gilchrist • photos by Gregory Schwartz
Working in 3-D literally added a new dimension of difficulty for picture editorial on Resident Evil: Afterlife.  During the post-production process, editor Niven Howie, visual effects editor Mark Herman and first assistant Ben Howdeshell discussed how they worked stereoscopically on the film with CineMontage.  Following are excerpts from that conversation.
 Niven Howie: The 3-D is absolutely stunning.  Dave Watro from Pace—the company that developed, over several years, the Fusion 3-D camera system used for Avatar––perfected the rigs and the camera equipment further.  Everyone has benefited from what James Cameron did.  And I think we really come up to the mark.
Ben Howdeshell: You see 3-D films that were shot in 2-D, and they look like pop-up books, or paper cutouts.  It's not the same as originating in 3-D with two cameras.

NH: My picture editorial team on this film was the smallest I've ever had; it was just the three of us.  We had a very tight schedule.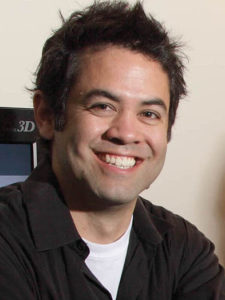 Mark Herman: That's always an issue, but it's liberating in a way.  We're not carrying any extra weight; the workflow is very streamlined.
NH: Before filming began, I explored different ways that people had tackled 3-D.  Normally, you edit in 2-D––with the Avid invisibly carrying both images––and switch to 3-D to screen it.  The week before our filming, Avid came out with Media Composer 4.0—the software able to combine left and right side-by-side rushes—and I took a gamble to beta-test it.

MH: The Avid rep said we were the first to cut in 3-D all the time.  There's been tremendous interest from the studio, and from the outside world in general.  We're not in a cocoon here anymore.  Other editors have come in to look at our process––Dennis Virkler, Bruce Green, Tatiana Riegel, Alan Bell, Andrew Dickler…  They walked away enraptured, convinced that shooting stereo adds another storytelling tool to the editorial toolkit.
You relax and get immersed in the story.  It's more engaging, more satisfying; I'm having more fun.  I don't want to watch a 2-D movie now.
BH: There haven't been many problems technically; everyone is so focused.  Pace and Dave Watro spent a lot of time getting things right by the time the media was in our Avid.  Deluxe, our lab, is very good about extracting data from our bins.  It's pretty much everyone's first time, but it's just been working.
MH: We're working with many more video layers.  But the storytelling process is still the same.  We've just got a new dimension to work with.  You write 3-D moments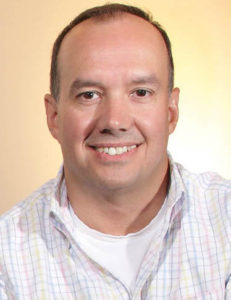 into a script now, just like you script any other moment.  Everyone had a learning curve, certainly, but the work we did in weeks one and two is still solid.
BH: Niven is a true storyteller––hard-working, very good with the Avid, and self-sufficient.  Mark and I are always shocked at how much of our job he does.
MH: Niven is also a very talented compositor.  Ben and Niven do the lion's share of the work.  I'm riding their coattails. They're so proficient at what they do, they take the pressure off my shoulders.

BH: Mark taught me to use After Effects.  He's extremely technically savvy, always looking to push his knowledge further.  He hates green screen, and he's incredibly fast at getting rid of it.
MH: I work as fast as I can so the story doesn't stop in its tracks.  That's doing temporary "slop comps" to tell a story––not when I'm compositing final.  Stereo compositing is unforgiving.  You have to composite, track and paint both right and left eyes, and check it on the 3-D monitor––and the offset isn't always right.  There's no Avid software where you can do one eye and its algorithms will do the other eye for you.  But those plug-ins are coming.
I understand Nuke is good for stereoscopic work.  Tim Dashwood's plug-in for After Effects is pretty darn good.  I can see both eyes, do a quick output and make sure my offsets are correct.  My friends at the special effects houses have been tremendously helpful in teaching me.  It's twice as much work––there's no getting around that––but it's also twice as much fun.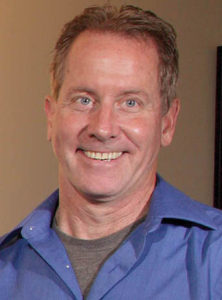 BH: More like four or five times the work.  Before, you could just throw a computer re-size on a clip and zoom in, but now you've got to split it apart and re-size both the left and right eye at the same speed, making sure you didn't cross any lines and that it's centered right.
MH: I probably did a hundred hours of reading on 3-D, but it still took four or five weeks to develop an intuitive sense of it.  I'd have to check a composite over and over.  It takes time to know what's comfortable for the eyes.
NH: We found we were cutting less, but the 3-D makes the images sustain better, because they're so three-dimensional and interesting.  There are problems, though.  You might get a reflection in one eye that's not in the other.
MH: This is our first stereo show, but we're so used to each other by now that it's very comfortable.
BH: The three of us have done Resident Evil 3, Death Race and After.Life together.  Niven was on Avid Meridian until halfway through Death Race.  We're on Adrenaline now, Avid 4.02.  My setup is the simplest since I'm a data junkie.  I have two SD monitors, my HD monitor, mixing board and speakers.
NH: We have a 46-inch Hyundai 3-D TV as our viewing monitor.  We work with the RealD glasses on, the circular polarized glasses.  My Avid setup looks like any other Avid, showing a normal 2-D image of the left eye.  We can switch the monitor to 2-D if we decide we've been watching with the glasses on for too long, but we actually got quite used to it.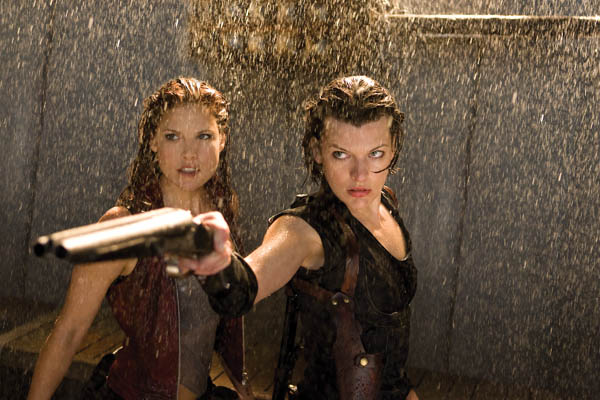 BH: We've had people drive back to their offices with the 3-D glasses on.  I had dinner with actress Milla Jovovich the other day, and my brain couldn't process, because I'd been looking at her in 3-D all day!  I've known Milla and director Paul W. S. Anderson for a long time.  Paul speaks the language of editing and visual effects.  He's very precise, very technical, a great writer and an amazing storyteller from start to finish.

MH: Paul is amazingly aware.  He sees things I miss all the time.  "There's a flag in the upper left corner of the left eye on frame 14."  How did he see that?  We're playing it in real time!  It's very difficult to have both an overview of the whole movie and a micro-view of the scene, the shot, the frame-by-frame playback.  Both Paul and Niven have that ability, to see the forest and the trees.
The reception of the film, and the stereo work, has been incredibly gratifying so far.  3-D is nothing to be afraid of.

NH: 3-D doesn't have to be things constantly flying in your face.  If you feel like you're immersed within this space in front of you and interacting with this fantasy world, that's the perfect cinema.  I really think we've pulled it off.