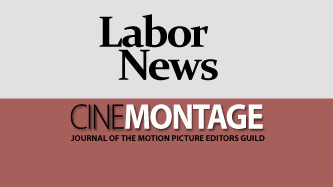 Reprinted from The Hollywood Reporter by Mike Barnes on February 6, 2021.
Robert C. Jones, the esteemed film editor who shaped such classics as Guess Who's Coming to Dinner, Love Story, The Last Detail and Bound for Glory and shared a screenplay Oscar for Coming Home, has died. He was 84.
Jones died Monday at his home in Los Angeles after a battle with Lewy body dementia, his daughter Leslie Jones, an Oscar-nominated film editor just like her dad, told The Hollywood Reporter. She called him her mentor, "a gentle and generous man and a comedic genius. He truly was the sweetest guy."
His father, Harmon Jones, was an Oscar-nominated film editor, too, honored for his work on Elia Kazan's Gentleman's Agreement (1947).
Robert Jones enjoyed regular collaborations with directors Stanley Kramer, Hal Ashby, Arthur Hiller and Warren Beatty during his career, and he was presented with a lifetime achievement award in 2014 from the American Cinema Editors. …
Born on March 30, 1936, Robert Clifford Jones dropped out of college and went to work in the shipping room at 20th Century Fox. "I grabbed it without knowing what I was getting into," he told Debra Kaufman in a 2014 interview for CineMontage magazine.
Jones rose through the ranks to apprentice film editor and assistant film editor, working on such movies as Untamed (1955) and The Long Hot Summer (1958). The job "was magic to me," he said. "It opened my eyes to what my dad had done." …