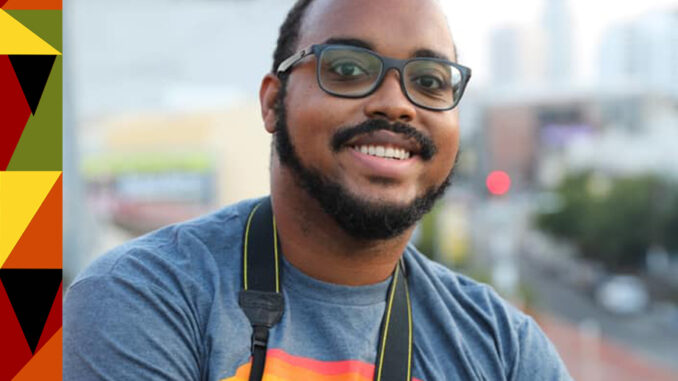 For each day in the month of February, the African American Steering Committee will be highlighting Local 700's African American members, both past and present, and their accomplishments. We look forward to showing the contributions and influences African Americans have had on the industry.
---
Name: Tyson Penrose
What's your job/classification? Assistant Editor
List the credits you're most proud of. "Iyanla Fix My Life" because it was my first AE credit
What are you working on right now? Currently I'm working on a Disney feature. Since it's my first project as a member of MPEG 700, I'm proud to get to this point in my career and can't wait to share more when it comes out.
Who and what are your influences and/or mentors? Both James Baldwin and Gordon Parks demonstrated how to hone your craft and be a catalyst for change at the same time. Their lives have inspired me and helped to inform how I, as a Black man, can thrive in spaces that have not typically been open to us. Some of the many mentors that have helped me on my editing journey are Kristin Valentine, Michael Eller, Haley Buntrock, and Justin Simien.  
What books are you reading, shows are you watching and/or movies you're excited about? Right now I'm catching up on one of my favorite TV shows, " The Expanse." I'm also reading "Excellence" by Brandon Thomas and "Neuromancer" by William Gibson
What are your black history month memories? What cultural or historical Events have impacted your life? My grandmother was a living embodiment of Black History. When I think of historical moments that have impacted me I think of her life experiences and the contributions she made to her community. She would always make sure we knew our family history and compiled info that went back 8 generations. I also had the privilege of filming her as she told her story about knowing Eleanor Roosevelt as a child to visitors at the Roosevelt Historical site in NY. This experience helped me understand the power of storytelling to expand society's understanding of Black culture. 
What's the best piece of advice you've been given? When I first moved to LA there were a few things that stuck. One was to always be working on or towards things you care about. Second is to have a clear understanding of your truth/moral compass. Third is to be well rounded and have a life outside of work. Those things are easy to forget as you're overwhelmed with the Hollywood grind, but I remind myself constantly.
What's a little known fact about you? What are your hidden (or not so hidden) talents? For me, photography's been a great pandemic hobby. While everyone else was making sourdough I was taking pictures.
What's the last show/movie that left you speechless? "Insecure" final season.  Probably because such a great show ended like "wow it's over already?" 
What would be your dream project to work on? Would love to work on something like " Into The Spiderverse." That's because it was technically and creatively innovative and helped expand our representation in a fun way.