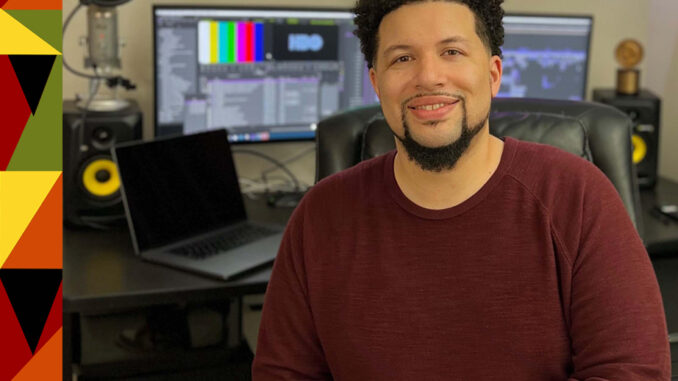 For each day in the month of February, the African American Steering Committee will be highlighting Local 700's African American members, both past and present, and their accomplishments. We look forward to showing the contributions and influences African Americans have had on the industry.
---
Name: Bradinn French
What's your job? I'm a Television/Film Editor and Producer.
List the credits you're most proud of. There are honestly so many I'm proud of for different reasons! Very proud of the work we're doing right now on "A Black Lady Sketch Show" Season 3, it's an amazing team and Robin Thede is absolutely brilliant in all the different hats she wears. I did "American Horror Story" last year, it was my first jump into a major scripted show, I got to be vigorously creative and really stretch beyond things I've done before and I learned so much. I'm very proud of "Fresh Prince Reunion" and how it was received—that was my whole childhood right there. I did a show for Netflix called "Medal of Honor" that was incredible to work on, both for the team and for the meaningfulness of the subject. I may be most proud of the documentary "Dark Girls" with Bill Duke and D. Channsin Berry. We set out to create space to have a conversation about colorism inside our own community that was not only necessary, but really overdue. And I think seeing where we are now in 2022 from where we were when we did it 10 years ago, I'd like to think we played some role in a few households pressing people to challenge themselves and challenge their friends and family to think about how we talk to one another, because it matters deeply. And to see it as an exhibit in the National Museum of African American History and Culture in DC alongside so many Black pioneers and people who have carried our culture forward, it was one of the most humbling and proud moments of my life.
What are you working on right now? "A Black Lady Sketch Show" Season 3 for HBO. You will love this season!
Who and what are your influences and/or mentors? This is always such a hard one for me because I can't ever narrow it down, I'm influenced by most things I watch! I'm influenced by people who take risks and are challenging the craft. I've always studied the cuts and the choices of shows and movies I love, but I'm also studying the storytelling by both editor and director. There's so much to learn in watching other people's work and seeing things through their creative lens. I was actually talking about this topic with Kelley Dixon, who is a monumentally talented editor and dope person I am definitely influenced by, and one of the things that came up is how—for me at least—I might love a specific editor's work on a specific project, but not necessarily follow their work from project to project the way you might with a director like Ava or Scorsese or Spike. But then I'll spot their name again on something else and it's like ok, you got me. What's the next project you're working on because I'm there. I want to see how you're approaching a completely different story, even a completely different genre. Editing can be such a subjective art form, it's very interesting to watch how any one person approaches it.
What books are you reading, shows are you watching and/or movies you're excited about? I wish I could say I'm reading a gang of books but I'm mostly reading twitter. "Sad Trombone." One day I hope to find the time to get back to that, because once you get started on a good book there's nothing that compares. As far as shows…I am loving "Abbott Elementary" right now. Can't wait for "Atlanta" to come back. "South Side" is amazing. Last year I loved "Mare of Easttown," "WandaVision," "Hacks"….."INVINCIBLE" was wild!! I'm very into horror so "Midnight Mass" is high on the list. Just getting into "Station Eleven and "Archive 81." Of course I enjoyed "Squid Game—I wouldn't have made it to the end for sure. I'm woefully behind on "Succession." And I got "Yellowjackets" on deck. If I had a rough day and need to decompress, it's always "Rick and Morty."
What would be your superhero name? Probably BIG DOG since that's what random people always call me walking around anywhere. I'll embrace it!
What are your Black history month memories and any cultural or historical impacts on your life? It's a shame that this country finds itself somehow doing worse every year than the year before it, because one of my favorite black history month memories was in grade school and it seems like some folks are bending over backwards to eliminate studying black history in an academic setting. I was in 4th or 5th grade and it was the first time I really remember learning specifically about Black history outside of the home in a setting with teachers and friends. I was glued to everything I heard and saw about Malcolm X. I'm sure it was a sanitized version, but all the same I was so gripped by this person with such a strong presence and voice who so many looked to…and then the fact that people who hated Black folks were absolutely terrified of this man. I know that's kind of a funny way to look at it, but at the time I was wrapping my head around who he was and how he commanded so much respect and spoke so masterfully. In a mostly white classroom in a mostly white city, it definitely gave me something to hold onto. To this day I find him just as compelling. Some of my favorite books are about him, and Spike Lee's film is among my all time favorites. I listen to his speeches from time to time and they still have so much truth and weight. And that seed was planted one February when I was a child. 
What's the best piece of advice you've been given? Honestly, I've probably gotten better advice, but one of the most important pieces of advice I was ever given career-wise is that "editors edit." Writers write. Directors direct. If you want to do something, you can't just watch from the sidelines waiting for it to come to you. You have to dive in and get it for yourself. Learn your craft from every direction possible, study it, talk to people doing it, find out what you have to do to be a part of it and then go do it. 
If you could time travel, when would you go and why? I'm going to the future…there is no point in history where I would have been better off. Hopefully we still exist in a couple hundred years and won't have killed each other and/or the planet through one means or another. I'm trying to get that hologram iPhone!
What's a little known fact about you? What are your hidden (or not so hidden) talents? Depending on what stage of my life you met me, you might not know how much musical background I have. My father instilled it in me young, teaching me how to play piano by ear. I'm certainly not a pianist or a great talent on piano, but I was able to take those skills and apply them to making my own music. I was doing jazz and hip hop and r&b tracks since middle school, and a lot of cross-genre experimentation. I also started rapping on a lot of my productions to have vocals to go with it, but once people started catching on and recording with me, I moved more into production and had a regular rotation of people in my homemade studio putting together projects. And I also got pretty good at sound engineering while I was at it. Early in my film career while I was still making music, I actually had a lot of music on various reality shows that I was getting royalties for. But the deeper into editing I got, the less time I had for music production and it got away from me. But a lot of the same principles and skills I used in music production have greatly informed the way I edit., and I think I'm all the better for it.

What's your favorite (Black) television/movie moment? First thing that popped in my head was Malcolm X and the brothers marching to the hospital in Spike Lee's Malcolm X. Actually just gave me goosebumps mentioning it. Gets me every time. I'll watch the whole movie just to watch that scene. From the arrival, to the inside of the police department, to Denzel making hand commands and the synchronized march off. The police officer saying that's too much power for one man, and the people in the crowd who are just absolutely floored by what they're seeing. It's probably my favorite moment of any movie ever.
Was there a television show/movie that inspired you to pursue your career? There were two that were responsible early, and they're both horror movies. "Candyman" and "The Shining." I watched both before I had any business watching movies like that, but my mom loves horror movies and she knew her son. "Candyman" gave my sister awful, terrible nightmares but it gave me the spark of knowledge that you could have an idea, put it on film, and leave that idea implanted in people for the rest of their lives. To this day, I REFUSE to say Candyman in the mirror 5 times, I won't even say it one time. Here I stand, knowing that is 100% made up by a writer, knowing Tony Todd is an actor, knowing it's a fictional movie and knowing exactly how movies are made….and yet, that idea is so powerful I have not in 30 years ever had any inclination to challenge it. The Shining did the same thing for me, but made it so beautiful and haunting, every corner Danny Torrance rounded on his bike…every moment I questioned if Jack was imagining things and going crazy or if it was real…I just realized how powerful of a hold film could have over you. Especially if you challenged the viewer to question themselves and their own perceptions and expectations. And sure, you could do this in a horror movie and make people afraid to be alone in a hotel, but you could also do this with a film about anything. A film about what being subjected to violence does to a child's mind, a film about corporations having more rights than people, a film about the lengths a father would go for his son, a film about genocide, a film about colorism. Documentary or fiction. Getting your audience to invest to the point where they absolutely have to have a conversation about it afterwards…to where they can't get it out of their mind. To where they have to do something about it. That's really an amazing thing, a profound thing. And that idea was sparked by "Candyman!"
What's your personal/professional mantra? I never hand in something I wouldn't want to put my name on. Both professionally and personally. If it's a project I'm not feeling, it still gets the same amount of work and effort as a project I'm in love with, because somebody entrusted you with it and that's your name and that means something. If it's notes and I don't like a particular note, I put every good faith effort into making it work. If you sabotage it because you don't like it or don't want to do it, what will you look like showing somebody something intentionally shameful. Or worse, what will you look like if it airs that way with your name on it? In this business it's really hard to make something great, there's so many different people who have to do so many things right and in harmony to achieve greatness….so chances are you're going to do some projects at some point that you're not head over heels in love with, but you can at least stand behind the fact that you did your best with it and oftentimes that still shows. The effort and the care always mean something.
What's the last show/movie that left you speechless? What would be your dream project to work on? Speechless? Oh gosh. I remember being speechless at a few things in the last year but I honestly can't draw them up at the moment. "King Richard" may have had a couple moments that I took in for a while. "Mare of Easttown" had that scene—everybody knows which scene. I couldn't form a word that was family friendly for a long while. Actually Will Smith's "Welcome to Earth" doc series has had several moments that completely awed me. There's a particular sketch in "A Black Lady Sketch Show" this season that…does it count as speechless if I never caught my breath from laughing for the entire thing? As far as dream projects, I have a few. I've really been wanting to work on a mystery suspense thriller series. Something that has everybody on the absolute edge of their seat every week, talking about it in the group chats. I think that would be really fun. I'm also loving the dramatic comedy space right now. I'm dying to work on "Atlanta." Or something like "The Watchmen" series that grabs you with the action element, but is really a much, much deeper story about unwinding traumas and exploring characters and settings and the things that haunt them and move them forward. Something that really sticks to you for a long time. My real dream project is going to be when this script my wife Nicole French wrote gets produced. Honestly and without bias, one of my favorite scripts I've read in a very long time. It will be a dream and a privilege to be a part of bringing it to fruition for people to watch and discuss for a long time. Isn't that the real dream? A lasting legacy that makes a mark on people.