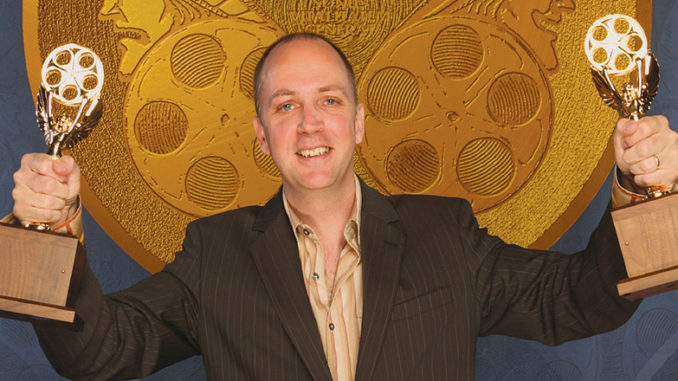 by Sharon Benoit
Capturing annual film editing, music editing, sound mixing and sound design awards can be quite awe-inspiring to those who've never won. However, not every winner feels that taking home an acclaimed award from the Academy of Arts and Sciences (AMPAS), the American Cinema Editors (ACE), the Cinema Audio Society (CAS), or the Motion Picture Sound Editors (MPSE) leads to a mega-job. Most recent award victors queried actually admitted, that if you're good at what you do, you'll get work––award winner or not.
That pretty much sums up the feelings of Academy Award winner Richard King, who has worked as a sound designer since 1985. Last year's award for Best Sound Editing for Master and Commander: The Far Side of the World was King's first-ever top honor, and he agrees that winning the coveted Oscar "was quite an experience."
However, King wasn't too sure his workload changed as a result of receiving such a pinnacle honor. "It's hard to know if the things that happened [to me] since would have happened anyway," surmised King. "I'd have to say that the changes have been mostly internal. I've always felt my work was good, and that I could make a contribution to a film, but it's a terrific validation to find that other people share that feeling."
Soon after winning the Oscar, King started working on the December 2004 release of Lemony Snicket's A Series of Unfortunate Events starring Jim Carrey and Meryl Streep. He also worked last November and December on a movie entitled Serenity, directed by Joss Whedon. In 2005, King begins working on War of the Worlds for Steven Spielberg.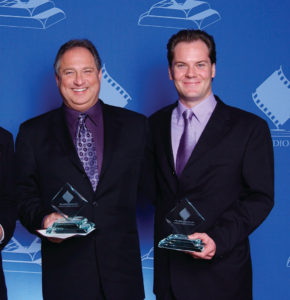 King's summation of what it was like winning an Oscar was echoed by nearly everyone interviewed for this story. Fernand Bos, a music editor, took home two coveted MPSE Golden Reel honors last year for Best Music Editing in Feature Film for A Mighty Wind and Cold Mountain.
He doesn't believe his work pattern has really changed much. "I can't get any busier," he said, adding, "I was already getting great projects. I don't know how it could get any better." Bos does admit, however, that, "It's great to get this kind of positive recognition from my peers." Bos had won MPSE Golden Reel Awards in the past for his television accomplishments on the TV series The Big Easy in 1996 and Buffy The Vampire Slayer a few years later.
"However, winning for a feature film was very exciting," Bos said. "Right after I won for A Mighty Wind, I gave my acceptance speech, and then was directed backstage. The ushers suggested that I wait near the stage entrance since I was nominated for Cold Mountain, too. When they told me I had won again, it was surreal!"
Shortly after, Bos worked with executive music producer T-Bone Burnett on the Coen brothers' The Ladykillers, which starred Tom Hanks and was directed by Joel Coen. "We did some very different things with music. For instance, we worked with composer Carter Burwell and combined old church gospel music with hip-hop and a Renaissance score…and at one point all three played at the same time. It was a very unique sound, thanks to gospel artist Donnie McClurkin and hip-hop artist Nappy Roots." Then late last year, Bos worked on a feature project for 20th Century Fox––Elektra, starring Jennifer Garner.
Among those capturing top honors from the 2004 ACE Eddie Awards were picture editors Craig Wood, Stephen Rivkin, ACE, and Arthur Schmidt for Best Edited Feature Film (Comedy or Musical) for Pirates of the Caribbean: The Curse of the Black Pearl. All three agreed they have not really noticed a change in their job schedules after winning the awards. In fact, Wood owned up to taking a substantial amount of time off after Pirates to settle into his newly built home in Los Angeles.
"To be honest, I really needed some nice time off," he said, adding, "The pat on the back from peers is important and very rewarding. Also, it was a great thing for my parents to be proud of…that's really the best part of winning an award."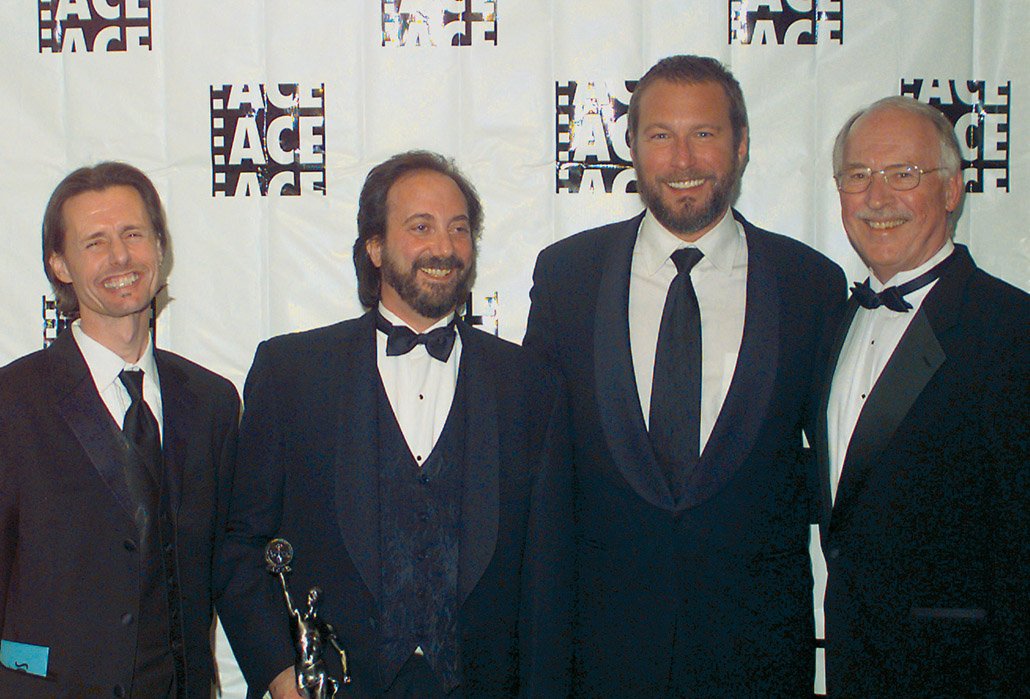 Wood has worked with Pirates director Gore Verbinsky on numerous films. He also recently was hired by Verbinsky to edit The Weather Man, which will be released in the first quarter of the year. Wood indicated that he and Rivkin will work back-to-back on two Pirates sequels starting in spring 2005.
Rivkin admitted, "It was great to have the recognition for winning the Eddie for Pirates," but added that his career was in a changing mode way before that film.
"My career seems to be on an uphill curve. I had an opportunity to work with director Norman Jewison on four films. The best-known of those was The Hurricane starring Denzel Washington, and that led to other possibilities, including Ali with Michael Mann. Then came Pirates.
"Currently, I'm working on a big-budget action movie for Sony called Stealth. It was directed by Rob Cohen and stars Josh Lucas, Jamie Foxx and Jessica Biel. The film will be released in July 2005."
The third picture editor of the Pirates team, Arthur Schmidt, a multiple award winner, says his career has hardly changed since winning the recent Eddie. "I'm in the process of practicing retirement," he confessed. "When the phone rings about a job, I either accept it or reject it, depending on the project and my personal plans at the moment."
Schmidt added that he's more interested in taking on short-term jobs. "Right now, I'm back working on a low-budget, first-time director's movie, which is going to be released in March 2005. It will be screened at the Sundance Film Festival in January.
Last year's CAS Awards for Sound Mixing for a Television Variety, Music Series or Special honored Gary Bourgeois, CAS, and Tateum Kohut for their work on The Blues: The Road to Memphis. Bourgeois says he's been mixing for 35 years. "So, winning one award hasn't changed my clientele. It always helps to have more of a profile when you win awards" And Kohut added that he hasn't seen any difference in the jobs offered him, at least "not yet."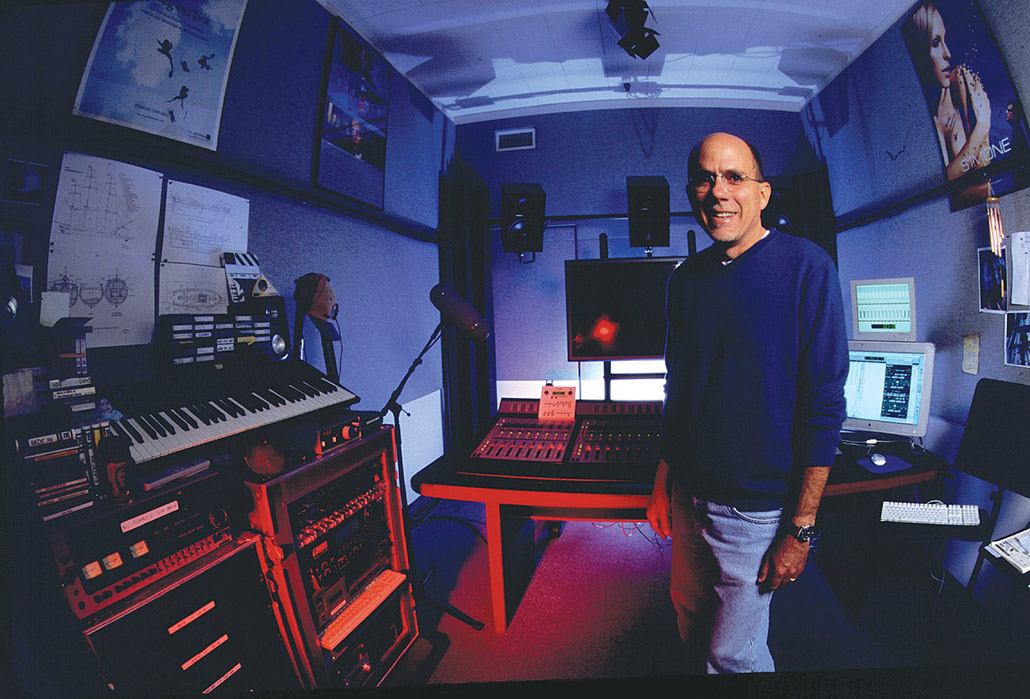 Shortly after capturing the award, Bourgeois worked on Steve Brill's Without a Paddle and also Team America from Matt Stone and Trey Parker. He just finished Are We There Yet, which was directed by Brian LeVant. "In February 2005, I'll be mixing Monster-in-Law, starring Jane Fonda and Jennifer Lopez, for director Robert Luketic. It should be released in April. I'll also be doing All the King's Men, directed by Steve Zallian, sometime in August," he noted.
Kohut was busy this past summer working on Spider-Man 2 and National Treasure with Nicolas Cage. He just finished a small, independent movie, The Keeper, which was directed by Kayvan Mashayekh. As for 2005, he said, "I'm not too sure yet. The slate is open."
Trend Spotting
Each of the 2004 award winners sees a slightly different trend emerging in the industry. For instance, in recent years, King says there's been a splintering in the traditional way of producing soundtracks, particularly as ProTools evolved and became more sophisticated. He feels there are "good reasons and bad reasons" for this trend.
"It's fantastic to have mixing capabilities in the editorial environment. However, if it's being done to save money, it just heaps more work on the back of the sound editor," King noted. "There is a trend to accomplish the work faster and cheaper, partly due to the misconception that the process can be radically sped up due to working in a digital world. However, most of my time as a sound designer is spent experimenting and coming up with ideas, and I can't seem to make my brain work any faster. I think we all have to fight this tendency in whatever small ways we can to shorten schedules and lower budgets. There are still a number of people doing great work despite this."
Bos believes the use of temp scores does not add to the originality of a final film. Getting the composer involved early is a trend he would like to encourage because he feels a lot of time is spent creating a perfect temp score and it becomes very difficult to make something different. "This means that a lot of film scores sound similar to things we're already heard before," he explained. "I try to limit the use of temp scores in films. Originality always stands out and it proves that the good projects with original music do win awards and are critically acclaimed."
Arthur Schmidt, a multiple award winner, says his career has hardly changed since winning the recent Eddie.
Film editor Wood also sees a trend toward using digital intermediate on most films. "We don't have film dailies anymore," he said. "We get our dailies on hi-def videotape now. One of the biggest changes and the worst trends is that training a crew has changed dramatically. There's no longer a close editor/assistant relationship because we're working in separate rooms now. The apprentice position has traditionally been a film apprentice. My Avid first assistant and I have been talking about making the apprentice an Avid apprentice rather than a film apprentice."
Rivkin agrees with Wood. He's also seen hi-def dailies taking the place of work prints and believes that, "It has unfortunately reduced editorial crew sizes." According to him, "There have been a lot of jobs eliminated––in particular film assistants––and they're having to retrain or sometimes even change careers altogether, which is very disturbing. This has happened very quickly and it's had a dramatic effect on the editorial process."
Rivkin also says there's an upside to not using film anymore. "Besides the other advantages, video projections have advanced to the point where we can screen out of the Avid with pretty good results. In addition, hi-def previews also eliminate the need to conform work picture."
Schmidt adds, "Technology keeps advancing, enabling us to work with greater ease. It also means we are expected to do more. We cut in temporary sound effects and music tracks to dress up the editor's and director's cut. I used to do this as much as possible when cutting on film, but now we can be much more elaborate and sophisticated."
In the sound mixing arena, Bourgeois sees "a greater melding of editors and mixer functions now happening. It's definitely the way it's going to go more and more." And, Kohut believes, "Mixers are now having to adapt to ProTools…It's been an evolving trend and now it's more popular. We've also been using digital picture more and more, especially on temp dubs and the pre-dubbing process…as it helps give us more time to mix the material and we're able to move more quickly."
"It's fantastic to have mixing capabilities in the editorial environment. However, if it's being done to save money, it just heaps more work on the back of the sound editor," – Richard King
This Year's Contenders?
Do these top award winners have any idea who might get nominated this year? Most were reluctant to make predictions. However, they did admit to seeing what they believe were quality films this past year. King, for example, has a five-year-old boy, so he tended to see more kid's films, like Shrek 2, and The SpongeBob SquarePants Movie. He also saw The Incredibles and said, "I've always been a fan of [sound designer] Randy Thom's work. It's one of those movies that kids and adults can enjoy. It was very amusing, clever and well done."
Bos sided with King on The Incredibles, opining, "I was impressed by the music. It's a fantastic movie. It's not just a kid's movie; it's for everyone. Another movie that has a good opportunity to win a musical award is Ray. I saw pieces while they were mixing that movie and they were really well done. Knowing how much work was done, they really deserve an award."
Wood's favorite movie is Eternal Sunshine of the Spotless Mind. "It's a highly creative film," he said. Before the holidays, Rivkin saw Finding Neverland, which he thought was a beautiful film. While Schmidt preferred not to say who he thought would be nominated for an award this year, he had liked Ray, The Passion of the Christ, Maria Full of Grace, The Motorcycle Diaries, Vera Drake, The Polar Express and Sideways.
On the other hand, Bourgeois hadn't seen many films but felt, "From the peer group perspective, it's always a matter of respecting others' work as a whole.
Consistency and excellence are what one must strive for," he said, adding, "I don't care about individual jobs. I love what Mike Minkler does; also Andy Nelson, Terry Porter, Scott Millan, and a small handful of others. When they work on something, they deserve to be honored."
Kohut interjected, "I really appreciate the jobs done on The Passion of the Christ, as well as the dynamic soundtrack of Spider-Man 2.
All told, those interviewed certainly have achieved sufficient expertise to comment on what is and what should be in this creative industry.