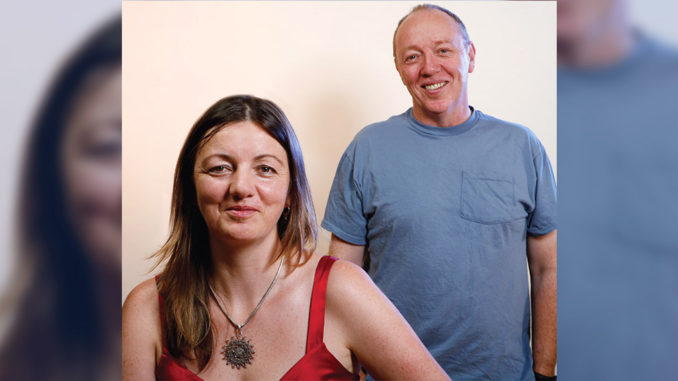 by Rob Feld • Photo by Kfir Ziv
Naomi Geraghty started life in Dublin, Ireland, fighting an uphill battle to be a filmmaker in a community without a film school or much of a film industry to speak of. She studied communications and made some films on her own, however, which piqued her interest in the editing process. Self-motivated sort that she was, in 1992 she found the editors who were there and started apprenticing on indie films.
Eventually, Geraghty wrangled a green card and made her way to New York. She'd heard about the kind of films being made there, and the New York directors impressed her, so she thought she'd find a more creative home there than in Los Angeles. Her hustle finally bore fruit when she landed an assistant job in a documentary editing room, working on Mandela, a documentary that Jonathan Demme was producing.
From there, Geraghty worked her way to a full editorship, cutting for the likes of Jim Sheridan on In America, Neil Burger on The Illusionist and most often for Terry George on Hotel Rwanda, The District and the just-released Reservation Road, a film about a tragic car accident that changes the lives of two men and their families. In talking to Geraghty, and to those who work with her, CineMontage learned of the editor's appreciation for collaboration—be it with her mentors, directors or assistants.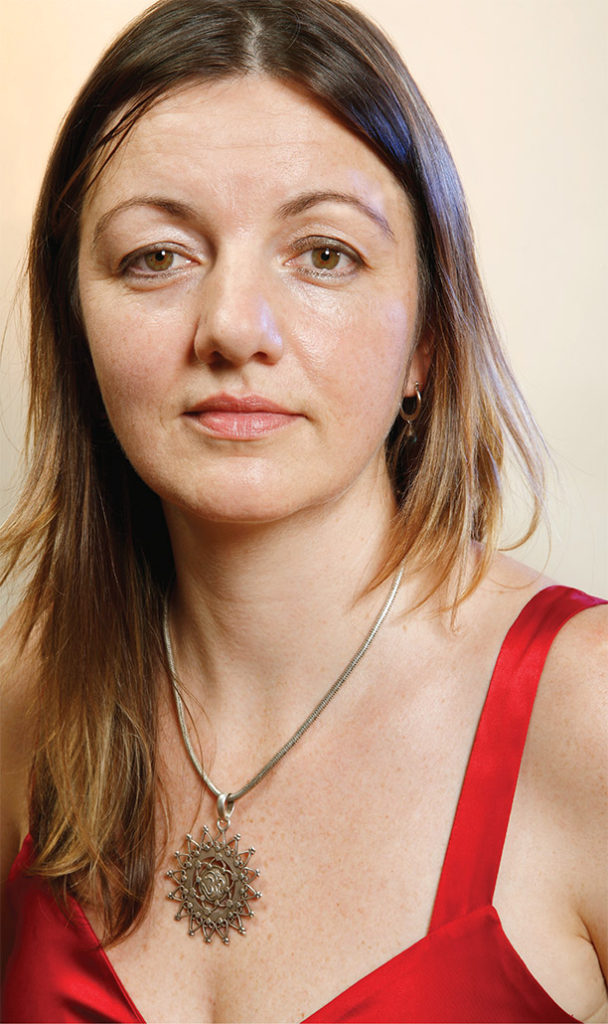 CineMontage: Once you got to an editing room in New York, was there someone in particular who took you under his wing?
Naomi Geraghty: I wound up meeting Jonathan Demme's editor, Craig McKay, who became a great mentor to me. I became his first assistant. At the time, he was learning the Avid and things came together in a really fortunate way. He was thinking about moving over to digital from film, and had just gotten a script from Terry George, who at the time was making Some Mother's Son. So, my very first feature project brought me back to Dublin––two years after I left—where I met my future husband, Joseph Landauer, who was Terry's assistant [now also an editor].
I worked with Craig for five years. He's an amazing editor and teacher. Working side by side with him was like being in an editing master class. That was how I first met Terry. We cut that movie in New York and I found a way to become an editor in my own right. The first real thing I did solo was the TV show Terry did, The District. I had worked with Craig for about five years but toward the end of that time he was trying to direct projects himself, so he would start a project and I would finish it. We were co-editors on stuff like that.
CM: That also led to work with Jim Sheridan.
NG: I had met Jim back then when I started with Terry in 1995—Jim had produced Some Mother's Son in Ireland and had been involved in post. I kept in touch with him over the years. When I was working on The District, I heard about Jim's project, In America, a really personal story for him. I knew he was looking for an editor, spoke to Terry about it, and Terry recommended me to Jim. I ended up getting the movie with Jim and going to Ireland for a year on that movie.
CM: How did you find the differences in the way they worked?
NG: In some ways, Jim and Terry have similar styles. They're both writers/directors and have a particular sense of drama. I have a similar working method with both in the sense that I would talk to them a lot about the script beforehand and try to get a sense of what they were after. Then we would talk a lot during the shoot about the dailies.
Terry is different in that he would come in and talk about cuts a lot during shooting, which is not something Jim would do. Particularly with Terry, I feel I have a sense of what he wants. I'll implement it and then he'll come look at it with me, but he won't stick around while I do the changes unless there's something very particular that he's after. Jim was a little like that, too. In America was a different kind of project, though, because it was a very fluid story and script. That structure was much more flexible. We really had to work out a structure in the cutting room. He was very, very involved in that part of it.
CM: You worked with Neil Burger on The Illusionist and just finished a second project with him, The Lucky Ones.
NG: He's another writer/director, but very different than the others. I feel I've been very fortunate to work with so many. When they've written it themselves, you're dealing with one perspective on the piece. It tends to have a coherence that's really beautiful; it's a real vision and clear voice that that director is coming up with. They also have a deep sense of the structure of their own stories, so you can really get in there and manipulate it in ways that are interesting––and realize the best possible movie you can make. You can also make bold structural changes and, because the director is so in tune with the structure of his own work, you can work through it together.
Neil's scripts are very precise. There are threads that run through the scripts that he's pursuing, so he has particular ideas of what he wants. He tends to work very closely with me in the room, going through the takes. He likes to be there for every part of that process, which is very a different working relationship than with Terry and Jim, who don't want to be in the cutting room every hour of the day.
"You have to pass on the craft of editing, and the way to do that is make your assistants as much a part of the creative process as you can" – Naomi Geraghty
CM: You had a very specific experience making Reservation Road that made some incredible use of available technology…
NG: Terry had to go to Northern Ireland for a while—he has a house on the sea outside of Belfast. He's really comfortable with technology; he maintains an iDisk where I would post cuts for him to download. We'd go over them together on the phone and I would make the changes and post another cut. At a certain point, though, it felt like we had to be in the same room together. I heard about Avid's Media Composer software and thought, "Wow, maybe I can just go to Ireland with the cutting room?"
We loaded a Mac laptop with the media mirrored on a hard drive, and a larger screen and speakers into a suitcase, and two days later I was in a little cottage on the Irish Sea. In 15 to 20 minutes I was set up and it was the best view from a cutting room I'd ever had. Terry was thrilled. We were able to work for about a week and wound up coming home after that. I then e-mailed my sequence in a bin to my assistant, Arturo Sosa.
CM: What sorts of duties do you give to your assistants and how do you see your working relationship with them, having come from that position yourself?
NG: They do all the regular assistant things—inputting, managing the project, helping with screenings, visual effects, inputting all the different media we do these days. But years of working with Craig taught me a philosophy that being an assistant should give you an overview of the cutting process. I tend to work with assistants who have ambitions to be editors in their own right. I think for an editor, as the leader of an editorial crew, it's important to have your assistants feel that they're an integral part of the crew because they really are. For me, it's important to get creative feedback from my assistants.
I think one thing Craig taught me is that you have to pass on the craft of editing, and the way to do that is make your assistants as much a part of the creative process as you can––which isn't as easy as it used to be because we are working in separate rooms. But I try to compensate for that as much as I can by keeping them very involved on all levels of the post-production.
"Neil Burger's scripts are very precise. There are threads that run through the scripts that he's pursuing, so he has particular ideas of what he wants. He tends to work very closely with me in the room, going through the takes." – Naomi Geraghty
CM: Is that because schedules are so compressed now that you really have to delegate?
NG: Yes, but I think that's a good part of the process, too. I'm very confident in the abilities of the assistants I work with. I'll give the apprentice a project to see through from start to finish, and then report back to me on it. They consult me but I think it's important to do that. In some ways, post for an assistant has gotten very complicated and highly skilled in terms of managing media and databases for visual effects and opticals, or organizing the process for a digital intermediary. Even as the digital media has progressed, their jobs have become more interesting—it's not just about inputting and outputting, as it was in the early digital days, because now the files arrive on a drive and you can just copy them over. The process itself has gotten technically more complex.
But, in addition to the creative element, the first assistant is crucial in helping me with the administration and organization of the project––especially with following through on the communication with all of the different parties we are dealing with: the lab and production during shooting, the visual effects house, DI facility, lab, music and sound departments. This allows me to concentrate on the creative process of cutting. Arturo, my first assistant, has been a great partner on my last four movies.
CM: If the assistants have more responsibility, does that make it harder to do some of the teaching you'd like to do?
NG: Sure, but I think it's still possible and important for assistants to be part of that process. It's important to hear what the assistants are saying, especially when you have a creative trust with them. We had a great experience when we did Hotel Rwanda with a number of trainees from a South African film school, mostly kids from the townships. We had one kid come in who got shot over the weekend! We ended up developing this great relationship with him, though it took a lot of work to teach him what it meant to be part of a crew. By the end of the shoot, he was an integral part and we brought him back to London with us to finish post.
CM: You said you like working with assistants who have ambitions in their own right. Do you find that mentality gives them a level of interest or drive that works better for you?
NG: In terms of getting the creative feedback that I really value from an assistant, when they have their own ambitions to cut, they're always challenging themselves creatively and want to be part of that process. They are driven more to give creative feedback.