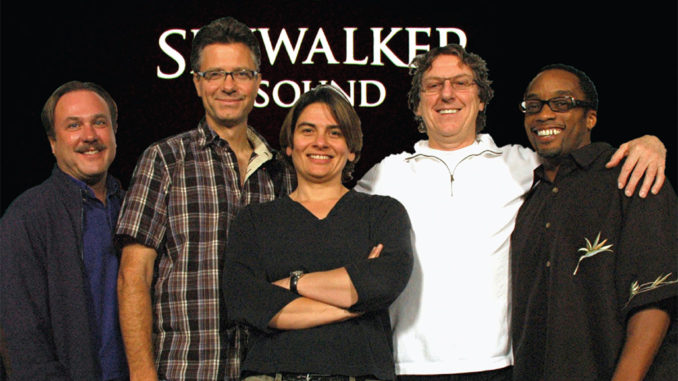 by Robin Rowe • photos by David Klein
I'm fascinated by what I call the 'Redford factor,'" says Richard Hymns, supervising sound editor for Lions for Lambs, his fifth film for director Robert Redford. "When I first see the film, it's not there. But sometime during the post process this evocative, sad, sense of loss comes into the film. With each film I try to pinpoint where it comes in and why, but I'm still baffled." Hymns is busy working on the film with assistant supervising sound editor Andre Fenley and sound designer Frank Eulner at Skywalker Sound in Marin County, California when Editors Guild Magazine spoke with them in late September.
"We had a spotting session with the editor, director and producer," recalls Hymns. "And eight or nine weeks later, we began the final mix [with re-recording mixers Christopher Boyes and Lora Hirschberg]. The final went very smoothly, with very few sound effects changes despite picture changes still going on. Nine days later, we screened the final mix in a theatre and then did two days of mix tweaks. We're print-mastering right now. Mix-out and English is tomorrow."
Mix-out and English is the process of mixing out the English dialogue for foreign distribution. Print-mastering is creating 5.1, Dolby stereo, and left channel/right channel soundtracks for US and foreign distribution. There are multiple sound systems because not all theatres have 5.1 or Dolby, especially festival theatres. For foreign distribution, any sound effects recorded during performance––and therefore mixed with English dialogue––must be removed and replaced with Foley.
"Golden ears are everything," claims Hymns. "The talent of all sound editors is in their creativity, not their ability to operate a machine. All the Lions for Lambs sound editors were selected with that in mind. Give me the right door close, the right ADR line, the perfect dialogue alternate take, the best Foley. I could care less if you can cut 16 door choices in five minutes; I want the right door sound, edited correctly. Hymns "absolutely insists" on having a great time on every film. "If the sound editing process ever gets to where we all work from home alone and communicate by e-mail, I'll retire," he exclaims. "Until then, I'll keep editing till I drop."
"For me, ProTools is just that, another set of tools, Moviola, Steenbeck, Picsync, PostPro, EditDroid, StudioFrame, whatever––they're all means to the same end. Ultimately, all that counts is good taste." – Richard Hymns
Hymns, who has won Oscars for Best Sound Effects Editing for Saving Private Ryan, Jurassic Park and Indiana Jones and the Last Crusade, started his career as a tea boy at Elstree studios in England at age 16. He worked his way up through second assistant picture editor, music assistant, sound assistant and first assistant picture editor. After working in Australia editing sound and picture, Hymns moved to California and decided he wanted to stay in the San Francisco Bay area and focus on sound editing.
"I've worked in edit rooms all over the world," says Hymns. "It usually means the basement, with curly linoleum and no windows. Skywalker Ranch is the only facility where the best offices––with stunning views overlooking a willow-lined lake––are all editing rooms. George Lucas is an editor and made sure the sound editors were taken care of when he built this place."
Skywalker Sound boasts 80 ProTools digital audio editing systems connected by fibre channel, six dubbing stages for sound mixers, and a proprietary library of more than 100,000 unique sound effects. Founded in 1975 by Lucas and Gary Kurtz, Skywalker Sound was to implement the soundtrack for a low-budget science fiction adventure called Star Wars (1977). Originally known as Sprocket Systems and sharing space with Industrial Light & Magic (ILM) in nearby San Rafael, it became Skywalker Sound in 1987 when the company moved to the newly completed Skywalker Ranch in Marin.
Members of Skywalker's staff of 100 employees have either won or been nominated for the Best Sound or Best Sound Editing Academy Awards every year since Star Wars in 1977. They've collected 18 Academy Awards. Like ILM, Skywalker Sound works on projects of all sizes, from shorts to blockbusters. Pirates of the Caribbean 2 and 3, Cars, Jarhead, Ice Age 2, War of the Worlds, Finding Neverland and many more were sound edited and mixed there.
"If the sound editing process ever gets to where we all work from home alone and communicate by e-mail, I'll retire," – Richard Hymns
Sound designer Eulner found working on the helicopter, tent and ridge scenes in Lions for Lambs rather daunting. "The challenge was to create the illusion that all the action was taking place during the same hour," he explains. "The weather on the ridge was visually going to get more severe during the film. The sound of the storm had to get more severe."
Eulner won the Motion Picture Sound Editors' Golden Reel Award for Best Sound Editing, Sound Effects and Foley for Saving Private Ryan and was nominated four times for the award. He also sound supervised Redford's The Horse Whisperer with Hymns. Eulner got his start as assistant sound supervisor and assistant sound editor on Blue Velvet. He also served as sound editor and designer on Backdraft, supervising sound designer on Lilo & Stitch and supervising sound editor on Hellboy.
"The greatest challenge with Lions for Lambs for me was keeping the workflow and communication between the various departments within our crew streamlined," says assistant supervising sound editor Fenley. "The day-to-day procedures of working with the director is to assure that everything is where it is supposed to be, when it is supposed to be working and how it is supposed to work––to simply assist in the process of the track sounding great. By the time we get to the final mix, the director is very hands-on. This is the time to place the finishing touches on the film."
Fenley, when fresh out of San Francisco State Film School, joined Hymns as an apprentice for the film The Meteor Man. "The early turning point in my career was being offered a position on the crew for Jurassic Park, says Fenley.
"Things have changed significantly over the years––the most obvious being the switch from tape to digital media," he adds. "All our specs were fairly standard for Lions for Lambs. We just worked with our usual Skywalker fibre network, which allows us to work seamlessly within all elements of the project."
"For me, ProTools is just that, another set of tools," says Hymns. "Moviola, Steenbeck, Picsync, PostPro, EditDroid, StudioFrame, whatever––they're all means to the same end. Ultimately, all that counts is good taste. Good taste in selection of sounds from the library or recorded. Good taste in synchronizing those sounds to the picture. Good taste in knowing when to pay extreme attention to detail and when to be lighter and broader with sound."