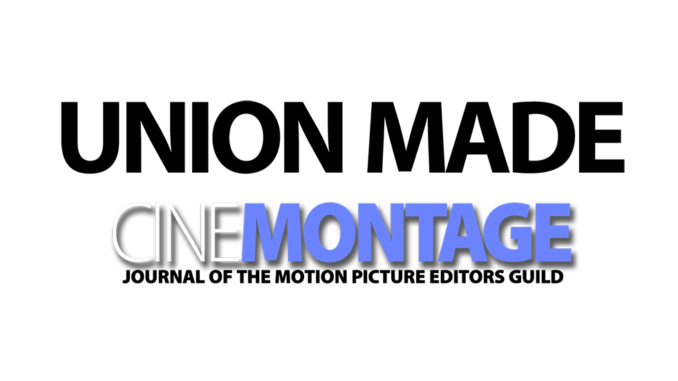 by Randy Roberts, ACE
After a year and a half of college with a fraternity major, I concluded that I really wanted to be a film editor like my uncle, Sam O'Steen, rather than the research chemist my father wanted me to be. One of the hardest days of my life was when I went to my father, who was head of casting at Warner Bros. Studio, and asked him to help me get a job. I had been an extra and bit actor since I was ten years old and was in love with the idea of working on a studio lot. Thank you, Dad, for listening to me.
From that first day at work in the Warner Bros. studio mailroom––February 25, 1965––all I wanted was to get that very-seldom-open job as an apprentice film editor in Rudi Fehr's post-production empire. Fehr had come from Germany in the 1930s and, after editing more than 30 movies including Key Largo and Dial M for Murder, Jack Warner made him head of the editorial department.
I spent every free minute in the cutting rooms of some of Hollywood's most famous editors: William Ziegler (cutting My Fair Lady), Gene Milford (who had cut Lost Horizon and On the Waterfront,) Frank Keller (cutting Bullitt) and Uncle Sam (cutting Cool Hand Luke and Who's Afraid of Virginia Woolf?). And after three and a half years in the mailroom, I got the apprentice job. This allowed me to join the IATSE and the Editors Guild.
I couldn't believe it––an apprentice editor at a major studio making $134 a week, plus tons of overtime!  After a year of delivering film, winding prints and learning to sync, Milford hired me to assist him on There Was a Crooked Man.
The great thing about "the old days" of being an assistant was that you were in the same room with your editor so you got to learn a lot. Besides synching and breaking down dailies, we had those damn trim cards to hang on the trim bin so you knew where to put each trim, and we had envelopes filled with the short one-to-ten-frame-long trims––which can drive an assistant crazy.
Directing can give you the highest of highs on the few days everything goes just right.
For the next seven years, I was lucky enough to assist editors like O'Steen, Frank Brock, Sam Robert Simpson, Fritz Steinkamp and Dann Cahn, who mentored me and let me start cutting scenes.  My first editing screen credit came on a film called Greased Lightning, directed by Michael Schultz. I was the second editor and cut most of the car races for Bob Wyman. Action scenes are a great learning tool because that darn dialogue doesn't keep getting in your way while trying to tell a story!
My next break came as co-editor on a movie called Straight Time, starring Dustin Hoffman. I spent the next ten years editing features. It was Francis Coppola, during One from the Heart, who first introduced me to video editing. I then cut two 3D films (please try to remember if you ever catch Jaws 3D on television that those shots that look like they should be about five seconds shorter were floating in your face when the 3D version was screened!)
When Chris Crowe hired me to edit the new Alfred Hitchcock Presents television series, I asked for an outrageous amount of money. He said no, so I asked if I could direct an episode, figuring he'd decline and just give me the money to edit. But, he said yes! This led to three years of directing TV shows like Miami Vice, Quantum Leap and others.
I soon discovered that an episodic TV director has no say in the final show. Basically, it's 1) shoot your script in the least amount of hours possible, 2) give the editor your notes, and 3) get the hell out of Dodge. Directing can give you the highest of highs on the few days everything goes just right, but the low days––when you're shooting a bad script with prima donna actors and a less-than-enthusiastic crew––made me long for that old cutting room where you can shape the film from beginning to end.
This led me back to editing. On LA Law, Chicago Hope and Early Addition, I was editing and directing, which was a totally different experience. I wasn't a hired gun, I was part of the family. And the crew and actors were there to help, not just to put up with "this week's new director."
Now I'm a supervising producer on Law and Order SVU, working with people who want to use my experience. I get to work with the editors, composer, sound and video house. That and being vice-president of the American Cinema Editors (ACE) make the ups and downs of the last 51 years in this business (remember, I was only ten when I started), the greatest ride anyone could have.