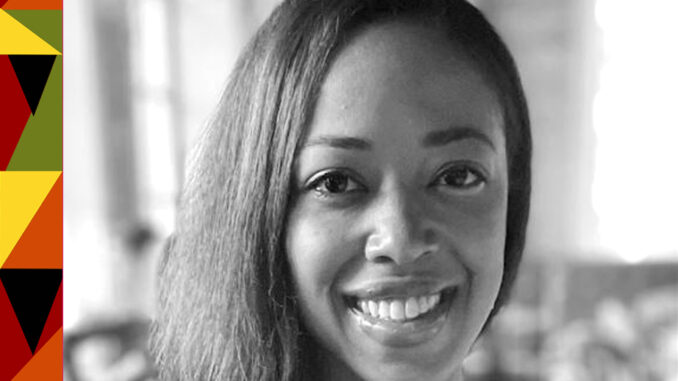 For each day in the month of February, the African American Steering Committee will be highlighting Local 700's African American members, both past and present, and their accomplishments. We look forward to showing the contributions and influences African Americans have had on the industry.
---
Name: Antonia de Barros
What's your job? Picture Editor
List the credits you're most proud of. "What We Do in the Shadows" – My first co-editing credit, "None of the Above" – My first pilot, "Shining Vale" – My first solo editing credit.
What are you working on right now? I was recently hired to edit episodes of the "Grease" prequel "Rise of the Pink Ladies." When I tell you I got chills…
Who and what are your influences and/or mentors? Editor/Director Yana Gorskaya is my mentor and my biggest influence. I hope to one day be half as talented and inspiring as she is!
What books are you reading, shows are you watching and/or movies you're excited about? So much! "Reservation Dogs" and "Blindspotting" were two of my favorite shows of the last year, and I can't wait for their second seasons. And I was so blown away by the movie "Dune," edited by Joe Walker, that I immediately read the book, which in turn made me even more excited for the second film. Great films based on books always have me running to read the source material!
What would be your superhero name? Super-Guuuurl
What's the best piece of advice you've been given? "Never cut your own bangs"- my mom taught me that. Also, "Trust the process"- wise words from editor Dane McMaster. I think about this every time I get back 7 pages of notes on a cut!
What's a little known fact about you? What are your hidden (or not so hidden) talents? I danced ballet, tap and jazz from childhood all the way through college. When I was 17 I flew to New York to audition for the Rockettes and (thankfully) did not make the cut. I could have had a very different career trajectory!
What's your favorite (Black) television/movie moment? The end of "Insecure" had me in tears! I've been a huge fan of Issa Rae since her Awkward Black Girl days. I'm going to miss that show so much.
What's your personal/professional mantra? "Just keep going. You can do this. You're almost finished." I basically start telling myself this at the beginning of the day and continue to say it all the way until I go to bed.
What would be your dream project to work on? The "True Blood" reboot would be a dream to work on. I started my film career on YouTube, reviewing episodes of the original "True Blood" series with my little brother. I used that review show to get into film school and all of that led me to where I am now. It would be very poetic to come full circle and work on the reboot.