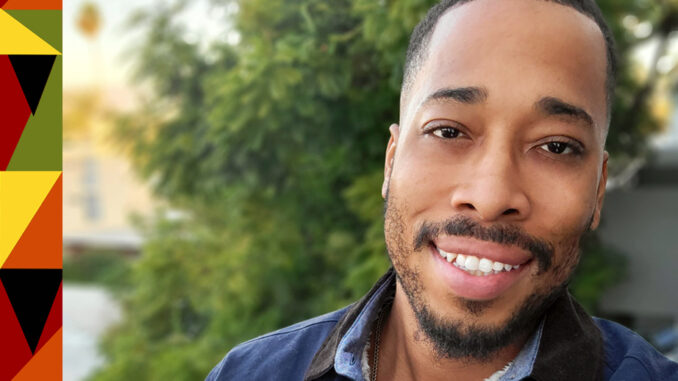 For each day in the month of February, the African American Steering Committee will be highlighting Local 700's African American members, both past and present, and their accomplishments. We look forward to showing the contributions and influences African Americans have had on the industry.
---
What's your job? I'm an Assistant Editor and emerging Editor
What books are you reading, shows are you watching and/or movies you're excited about? Looking forward to the new season of "Godfather of Harlem", "Don't Look Up" was a fantastic film, "Euphoria" is groundbreaking, and "True Story" also was an amazing series! Currently reading Will, Blood at the Root, and a favorite is Listen Liberal by Thomas Frank
What are your black history month memories and any cultural or historical impacts on your life? Black History should of course be celebrated everyday as it is American History. Black History Month has evolved for me over the recent years, leaning more into the untold and unfamiliar stories than what I grew up learning in school and discovering a much more complex American history that should be taught with a lot to be proud of and realities we should not. I try to highlight those stories during this month.
What's the best piece of advice you've been given? About 9 years ago at my first internship, in Philadelphia, I was told if Post Production was really what I wanted to do, I needed to come to LA. A year and a half later (and a lot of saving) made the drive across country and was the best bit of advice I have received to date.
If you could time travel, when would you go and why? I'd want to experience the future and see what's ahead. Come back and fight for the issues I learned were to come
What's a little known fact about you? What are your hidden (or not so hidden) talents? My name means Friend or Governor in Arabic
What's your favorite (Black) television/movie moment? I'll have to go the "Double or Nothing" moment on Love and Basketball with the accompanied "Fool of Me" by Meshell Ndegeocello dropping! Classic!
Was there a television show/movie that inspired you to pursue your career? I would point to an era. 90's into early 2000's. Black Television and Film, even music, felt like it was at an all time creative high and I loved seeing the representation on screen. Classic work from the late John Singleton, to Spike Lee, the Wayans family's impact, Martin, all the way to WB/UPN sitcoms. Aspiring to cut these type of cultural classics is what drew to me to this industry.
What's your personal/professional mantra? Always be the best you that you can be
What's the last show/movie that left you speechless? "Black Mirror." Great series!
What would be your dream project to work on? A dream would be working on a Will Smith production. Working with the biggest entertainment professional to come out of Philly would be an honor and for sure a check off the bucket list