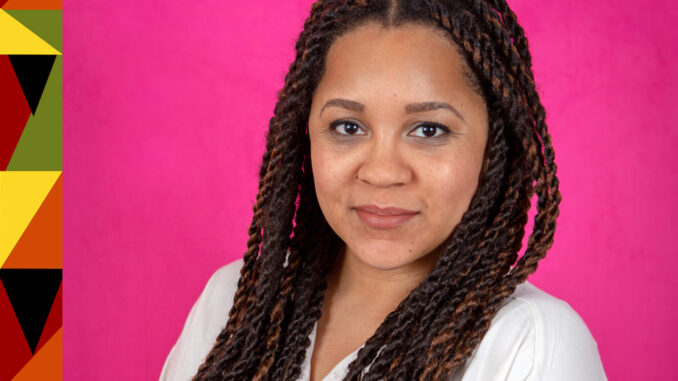 For each day in the month of February, the African American Steering Committee will be highlighting Local 700's African American members, both past and present, and their accomplishments. We look forward to showing the contributions and influences African Americans have had on the industry.
---
Name: Leigh Gaston
What's your job/classification? Assistant Editor
List the credits you're most proud of.
"The Good Doctor" – Assistant Editor
"The Voice" – Digital Editor
What are you working on right now? I am currently assisting on "The Good Doctor, working towards becoming an editor.
Who and what are your influences and/or mentors? I am lucky to currently have four amazing mentors through the ACE Diversity Mentorship: Lillian Benson, Jacques Gravitt, Susan E. Kim, Rosanne Tan. Also, my current editor Aaron Rottinghaus has been a great influence and supporter.
What books are you reading, shows are you watching and/or movies you're excited about? I am currently reading "Dune," and have seen the 2021 film version about ten times now.
What are your Black history month memories? I am reminded that Black history is American history and we should know more than what is being taught.
What cultural or historical Events have impacted your life? I can tell you exactly where I was and what I was doing the moment I found out Obama was elected President. It gave me so much hope for the future.
What's the best piece of advice you've been given? Don't take anything personally. I take that advice with me into the workplace because some things can feel real personal, but they aren't at the end of the day. Everyone is worried about themselves.
If you could time travel, when would you go and why? I would travel to the 1970s to enjoy the movements and the music.
What's a little known fact about you? What are your hidden (or not so hidden) talents? I'm a somewhat accomplished pianist.
What's your favorite (Black) television/movie moment? "The Last Black Man in San Francisco" touched me very deeply and is a beautiful film.
Was there a television show/movie that inspired you to pursue your career? After watching "The Empire Strikes Back" I 100% knew I wanted to work in motion pictures. I was thirteen.
What's the last show/movie that left you speechless? "Euphoria"
What would be your dream project to work on? "The Mandalorian," or really anything from the "Star Wars" universe!