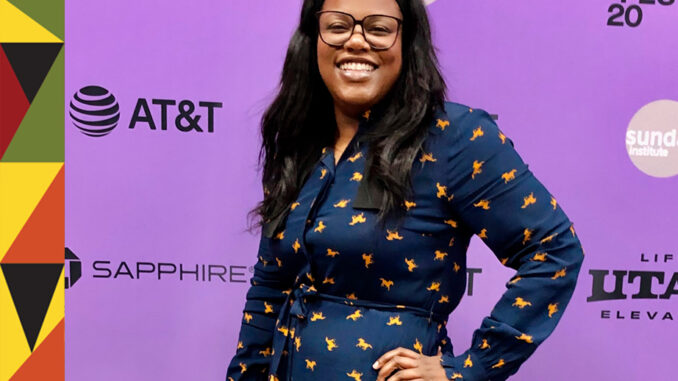 For each day in the month of February, the Committee will be highlighting African-American members, both past and present, and their accomplishments. We look forward to showing the contributions and influences African-Americans have had on the industry.
Name: Joi McMillon
What's your job? Picture Editor
List the credits you're most proud of. "Moonlight," "Lemon," "If Beale Street Could Talk," and "American Woman"
What are you working on right now? I recently finished a film, "Zola," directed by Janicza Bravo that just premiered at Sundance. And I am currently working with Barry Jenkins on his latest project, "The Underground Railroad," a limited series adaptation of Colson Whitehead's Pulitzer Prize winning novel for Amazon.
Who and what are your influences and/or mentors? That's a tough one to summarize, I feel like I've been influenced by all the editors I've had the pleasure to work for including Terilyn Shropshire, Maysie Hoy, Nancy Richardson, Curtiss Clayton and Jake Pushinsky to name a few. As for the films that have impacted my style of filmmaking, there are so many, but I would say "Three Colors: Blue" by Kieslowski is probably the one that stands out the most to me. It opened my eyes to the power of story telling and the importance of having a true collaboration between cinematography, editing, and sound design.
What books are you reading, shows are you watching and/or movies you're excited about? I am currently reading "A Gentleman in Moscow" and thoroughly enjoying it. For shows, I am watching "The Crown," "Peaky Blinders," "Project Runway," and I am always watching reruns of the original "Law and Order." The film I am most excited about is "Macbeth" by the Coen brothers.
What would be your superhero name? Night Owl
What are your Black History Month memories, and what cultural or historical impacts have they had on your life? I remember in third grade for black history month I had to do a report on Josephine Baker. Researching her really showed me how hard it was to exist at the period of time as a black woman. It taught me to appreciate the road that each of these individuals paved for us and to never take the opportunities I am afforded for granted.
What's the best piece of advice you've been given? To live in the present, for tomorrow is not promised to us.
If you could time travel, when would you go and why? Being an avid viewer of the Syfy channel, I fully understand that time traveling is messy, so I would stay put.
What's a little known fact about you? What are your hidden (or not so hidden) talents? I love puzzles. I am pretty good at the woody puzzle games on your iPhone.
What would be your dream project to work on? I grew up with older siblings watching films like "Die Hard," "Lethal Weapon" and "Mission Impossible" with my dad in the living room. I was too young to watch, but I could faintly hear the sound from my bedroom, and I'd try to imagine what was happening on screen. Therefore, I've always been a fan of a really good action movie and think it would be fun to edit one someday.
-