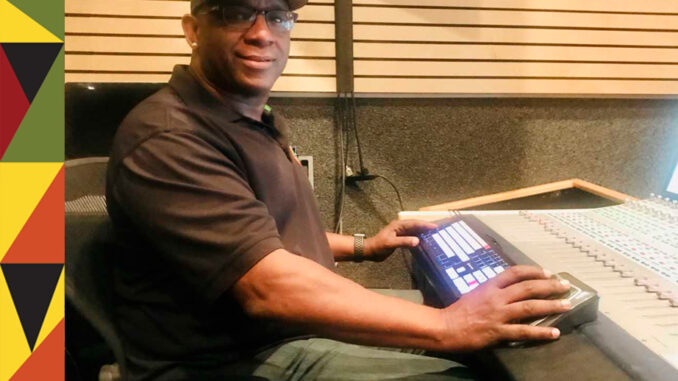 Name: Kenneth L. Johnson, CAS
What's your job? Supervising Sound Editor/Re-Recording Mixer
List the credits you're most proud of. I am extremely proud of the work I did on the mini series "John Adams," which earned me my 3rd Emmy Award. I also have 5 Emmy nominations, 2 Golden Reel Awards, 12 Golden Reel nominations and 1 International Monitor Award.
What are you working on right now? I am presently finishing Audio Post on "American Soul S2" for Jesse Collins Entertainment/BET. I am also the Supervising Sound Editor for the CW's "Black Lightning" television series, produced by Salim and Mara Akil. I am about to start Audio Post on "The Family Business" for Tri-Destined Studios/BET, as well as "Nocturne" for Blumhouse/Amazon.
What books are you reading, shows are you watching and/or movies you're excited about? I recently finished watching "Watchmen," starring the very talented Regina King. I am also looking forward to seeing "Ford vs Ferrari."
What would be your superhero name? My superhero name would be Sound Canon.
Who and what are your influences and/or mentors? Coming up in the industry, I was fortunate to work with some fantastic Sound Supervisors, such as Mark Stoeckinger, Victor Ennis and Stephen Hunter Flick. I learned a great deal from my time spent on their teams.
What are your Black History Month memories, and what cultural or historical impacts have they had on your life? When I think of Black History Month, the first thing that comes to mind is the adoption of the 13th Amendment to the Constitution which abolished slavery and protected the rights of newly freed people.
If you could time-travel, when would you go and why? If I could travel back in time, I would travel back to Memphis Tennessee on April 4th, 1968. I would try and prevent the assassination on Dr. Martin Luther King. I know that if he had survived, he would have done amazing things to help unite all people.
What's a little known fact about you? What are your hidden (or not so hidden) talents? My hidden talent or talent that I am not know for these days is that I am also a bass player and played locally and traveled abroad as a touring musician in my earlier years.
What would be your dream project to work on? My dream project would be anything that Oprah Winfrey is producing. I admire her and have wanted to work with her forever.