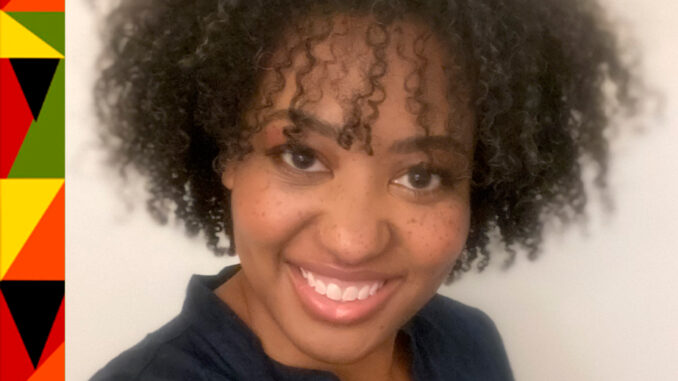 For each day in the month of February, the Committee will be highlighting African-American members, both past and present, and their accomplishments. We look forward to showing the contributions and influences African-Americans have had on the industry.
Name:  Shannon Baker Davis, ACE
What's your job?  Picture Editor
List the credits you're most proud of. I'm proud of all of my work and treasure the experiences and lessons learned from every project. Some of my credits are  "The Photograph," "The Weekend," "Insecure," "Grown-ish," "Queen Sugar," my first indie movie, "Armstrong," "Project Runway," and  "Top Chef."
What are you working on right now? A new show for Netflix called "#BlackExcellence," created by Kenya Barris. I have a movie that will be in theaters on Valentine's Day, called "The Photograph," that stars Issa Rae and LaKeith Stanfield.
Who and what are your influences and/or mentors? When I was in undergrad at Howard University, and I decided I wanted to be an editor, I got the best advice from Bill Duke, who was our dean at the time, to go to AFI. That's really what launched me into the field of Post Production. I met Terilyn Shropshire, ACE at a seminar at AFI and that was the first time I saw a black woman editor, and she happened to be the editor of one of my favorite movies, "Love and Basketball." She became my mentor and is still a person I go to immediately for advice. I also met another black woman editor, Lillian Benson, ACE while I was at AFI and she ended up inviting me, a young girl new to LA who knew no one in the business, to her house for a Meet-the-Black-Editors-in-LA party. She didn't call it that, but that's how I remember it! I was in awe to see a community of black editors that were super successful and cutting major movies! That was when I knew I had a place in this industry.
What books are you reading, shows are you watching and/or movies you're excited about? The only books I read are children's books to my daughter and son. (Shout out to "Pinkalicious!") Shows I love right now are "Fleabag," "The Morning Show," "Watchmen" (So sad there won't be a second season) and guilty pleasures like "Pose" and "You." There are so many TV series to catch up on, and yet there's movies like "Goodfellas," "Dances with Wolves" and any of the "Aliens" movies that I will stop and watch whenever they're on, even though I've seen them a million times. I'm always down for a Marvel movie, a creature movie (no matter how campy) or a 90s black romantic comedy.  I also loved and was super in my feelings over "Marriage Story." You could say I have pretty eclectic tastes!
What would be your superhero name? The Multi-tasker
What are your Black History Month memories, and what cultural or historical impacts have they had on your life? When I was in middle and high school, I would always participate in my church's Black History Bowl, where we would have to learn an insane amount of trivia about our history and compete against other church groups. The African diaspora is amazingly full of so many inventors, activists, artists, heroes, and icons. That was when I learned that there is no area of the world, science, art, or culture that we haven't touched and made an impact on. It humbled me and inspired me. Even now, I still have random Black history facts in my head. Did you know a man named Henry "Box" Brown mailed himself in a crate to escape from slavery? Well, now you do.
What's the best piece of advice you've been given? Anna Wintour said in a documentary called "The September Issue," that she thought her best trait is that she is decisive. As an editor, I think that's a trait I want to maintain. I always say we make a thousand decisions a day. Some right, some wrong. But you have to be able to at least make a choice and head in a direction. Years ago, Teri also told me when you're cutting, always just do what feels right. I still have that in my head.
If you could time travel, when would you go and why? The future of course! I'd love to be able to see if all the hard work I'm putting in now actually paid off. I'd also come back with some lottery numbers.
What's a little known fact about you? What are your hidden (or not so hidden) talents? I danced throughout high school and college. All types: ballet, jazz, tap, and lyrical.  I played the viola and took four years of Japanese. I also write. I've written a horror-comedy feature and a half-hour comedy pilot, and I'm working on more!
What would be your dream project to work on? I like so many genres, so I've never been picky. I would love to work on a big budget action-thriller or action-comedy. Call me, Will Smith!