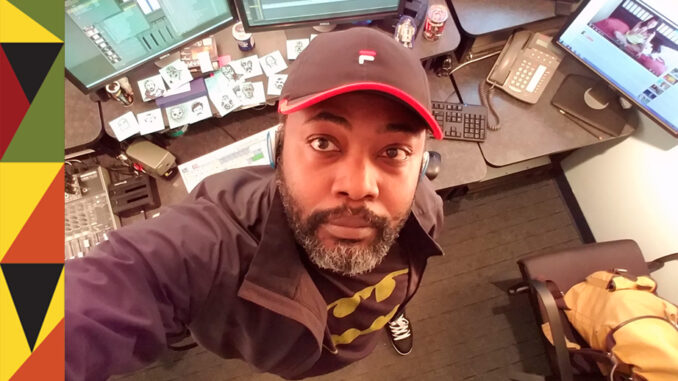 Name: Kimmy Gorden
Job: Video Editor for VICE News Tonight and NBC Weekend Nightly News
Credits I'm most proud of. I've been cutting for a long time… and I've done a lot of work that I'm proud of: "The Maury Show," "Inside Edition," "Dateline"… all of that experience shaped the work I'm most proud of here at VICE News Tonight.
My favorite pieces are: "Year of the Dog," "Spelling Bee," "Opioid Silver Lining," "Philippine Drug War"… There's a lot. I hope you check them out though.
What are you working on now? Currently cutting more pieces to be proud of for VNT. Seriously. I have a couple in the chamber that I'm really happy to be on.
Who and what are your influences and /or mentors? Uh… Music? Playing/listening to music has given me a good feel for pacing. And equally, cutting "The Maury Show taught me how to watch people and see emotion. That's been a big influence on my work.
What books are you reading, shows are you watching and/or movies you're excited about? 
"A Boy and His Dog at the End of the World" by Charlie Fletcher is the last book I read, and I'm excited to read "The Nickel Boys" by Colson Whitehead. I'm a big HBO guy, so… "Curb," "McMillions," "Real Time," "The Watchmen" – all that is on my radar. Also binged the "Who Killed Malcom X" documentary on Netflix. I don't get to watch much, so I have a backlog of shows to see, like everyone else. I STILL haven't seen "Parasite"… I know, I know. And I heard Wes Anderson has something coming out that I'm excited for.
What would be your Superhero name? 
Kimethius. I'd have super strength, flight, and an uncanny ability to know exactly how long a piece of video is just by seeing it.
What Are Your Black History Month Memories and Cultural or historical impacts on your life? I don't know, really. But I DO like the rise in black editors that's starting to happen.
What's the best piece of advice you've been given? "Don't worry."
If You could time travel when would you go and why? I think I would like to go forward in time like a hundred years because I'm curious where the technology will go. There are eras of the past I'd be curious to see, but only if I could just SEE them… Black people don't need to be time traveling. LOL.
What's a little known fact about you? Okay… I KNOW what they are and I know how the game works… but I really enjoy the Minions. I'm not going to wear a shirt or buy a doll or nothing… but I like the movies. I know… I know…
What would be your dream project to work on? I have a couple of really cool scripted ideas I would like to do (for HBO), and I would like to cut a feature documentary.