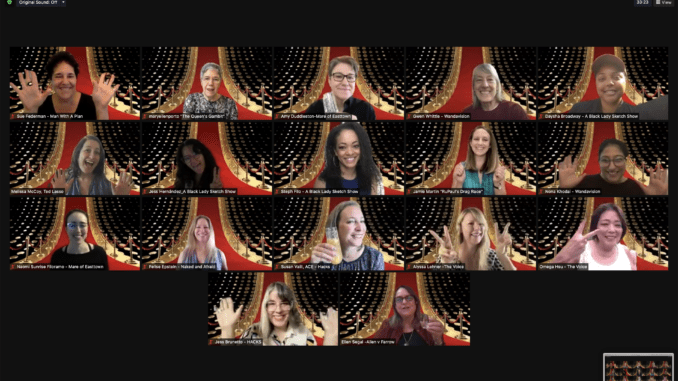 By Kristin Marguerite Doidge
It was all champagne and roses—er, champagne and Cheez-Its—for the Women's Steering Committee (WSC) as it hosted its fourth annual Emmy celebration on August 22. The festive event, which was held virtually again this year, brought together members from all over the country to celebrate, honor, and mingle with female picture editors, sound editors, sound mixers, and Foley artists who have been nominated for Emmy Awards.
"Every woman who does well in her craft paves the way, and inspires more women to enter and, more importantly, stay in our field," Josie Azzam, who co-chairs the committee alongside Dorian Harris, ACE, said in her opening remarks. "So take a minute to grab the libation of your choice. Congratulations nominees. Cheers!"
As some of the women considered what they'd snack on during the upcoming televised ceremony, a cutting room favorite emerged: Cheez-it crackers, along with granola bars, string cheese, and turkey jerky.
But the discussion quickly turned from "crafty"-services to craft—as members floated back and forth between cleverly-named breakout rooms, such as Recap, Cold Open, Teaser and Main Titles (as conceived by assistant editor Ivonne Loyola, who returned as DJ). Karen Goffred again provided the festive red carpet Zoom virtual background for the nominees. To wrap up the event, members got to move to the Hop In website for a speed dating-style networking function made popular at ACE events.
Fifty female nominees were toasted across numerous categories and genres, including: Outstanding Picture Editing for Variety Programming; Outstanding Picture Editing for a Structure Reality or Competition Program; Outstanding Single-Camera Picture Editing for a Limited or Anthology Series/Movie; Outstanding Sound Editing for a Comedy or Drama Series; Outstanding Sound Mixing for a Limited Anthology Series or Movie.
"This tradition was started three years ago by Women's Steering Committee member Katherine Griffin," Azzam continued. "Katherine had been nominated for 'American Ninja Warrior' and had noticed when scanning through the nominations how few women were being recognized for their work. We learned from the recent survey of our guild that only 28% are women and that number drops significantly when you look at women of color. We will have to keep working to get to 50/50, but what we can do now is recognize each other and come together to celebrate the women nominees from our Guild this year."
Griffin, who was nominated for "The Amazing Race" this year, said she's currently directing a new Disney+ series in Mexico City, Mexico—a project she said she can attribute to the power of networking with other members.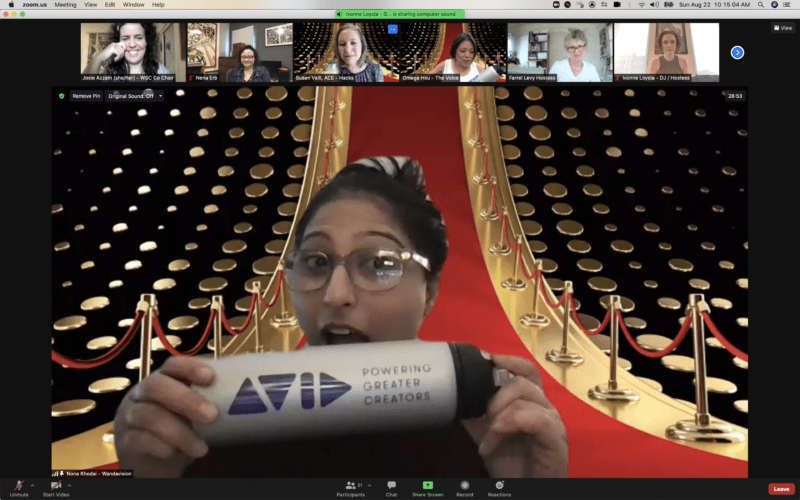 One of the nominees in attendance was Ellen Segal, who served as music editor on HBO's "Allen v. Farrow"documentary, and was nominated alongside the team of sound editors for Outstanding Sound Editing For A Nonfiction Or Reality Program (Single Or Multi-Camera), along with Omega Hsu, ACE, editor for "The Voice," who was nominated for Outstanding Picture Editing For A Structured Reality Or Competition Program. Another attendee was Ronni Pitman, a San Francisco-based Foley artist, who was nominated for three Emmy awards this year for her work on "The Mandalorian," "The Falcon and the Winter Soldier" and "WandaVision," as well as Stephanie Filo Jones, who was nominated for Outstanding Picture Editing For Variety Programming for "A Black Lady Sketch Show."
Also joining was Emmy nominee Melissa McCoy, ACE, editor for 'Ted Lasso,' the sleeper hit comedy from Apple TV+, who said it's been "a wild ride" since the success of the show took off over the last year. She recently won the ACE Eddie Award for her work on the show, and McCoy was also selected as the raffle winner of a one-year subscription to Avid Media Composer following the event.
"[Season one] was a lot of work," she told her fellow nominees and colleagues. "Episodes would come in at 45 minutes. And then they were like, 'we gotta get them down to 20 minutes, and then they weren't feeling right…it was a lot of questioning. And eventually, [series star] Jason [Sudeikis] was just like, 'let's just put it out there. Let's put it out there now and see what people say.'"
Another Emmy-nominated show that seemed to benefit from premiering during the pandemic was HBO's "Mare of Easttown," whose devoted fans (including Stephen King) helped build momentum on social media as they tried to solve the mystery each week. Naomi Sunrise Filoramo, who served as additional/co-editor and is nominated along with double-nominee and editor Amy Duddleston, ACE, for Outstanding Outstanding Single-Camera Picture Editing For A Limited Or Anthology Series Or Movie, shared how the reception of the show elevated everyone who had worked hard to produce their best work.
"When you're working with someone like [Emmy nominee] Kate Winslet, you have a phenomenal performance, and we had a phenomenal cast across the board in this series," Filoramo said. "There was something about the character of Mare that I think that people really needed. There was something about her rawness and her messiness that really resonated with people after a really tough (at that point) 15 months of the pandemic. I think there was something that just connected in a way that I don't know that we could have predicted."
This was the largest virtual gathering yet to show support and recognition for all of the women's achievements across all categories and genres.
To ensure the celebration would continue regardless of where the nominees are based, the WSC members braved the summer heat and L.A. traffic to hand-deliver gold gift boxes to local nominees in Los Angeles, and packed and shipped them to New York and San Francisco-based nominees. Returning donors' goodies for this year's gift boxes included fluffy vegan sugar cookies with raspberry, matcha, and lavender vanilla frosting donated by Sweets by Jocelyn, as well as a water bottle and notebook donated by Avid. Newly added this year were Lip Therapy Lip Treatments donated by Goldfaden MD.
"Our event is a large group effort and we'd like to thank the MPEG staff—Adriana [Iglesias-Dietl] and Tracy [Pacio]—who organized the event and packed your beautiful gift boxes," Azzam concluded. "We'd also like to thank Shanda [Zuniga] and board member Mary DeChambres [ACE] for their help with this event."
This year's Creative Arts Emmy Awards presentations will take place on Sept. 11 and 12 and will be televised on Sept. 18 at 8 p.m. PT.
The 73rd Emmy Awards (hosted by Cedric the Entertainer) will be televised live on Sept. 19 at 5 p.m. PT on CBS and on the Paramount+ app. The live ceremony will be televised from the Event Deck at LA Live, and the Television Academy is hosting a viewing party at The Jonathan Club in downtown Los Angeles.
Kristin Marguerite Doidge is a freelance writer who contributes frequently to CineMontage. Her book "Nora Ephron: A Life" will be published in 2022.