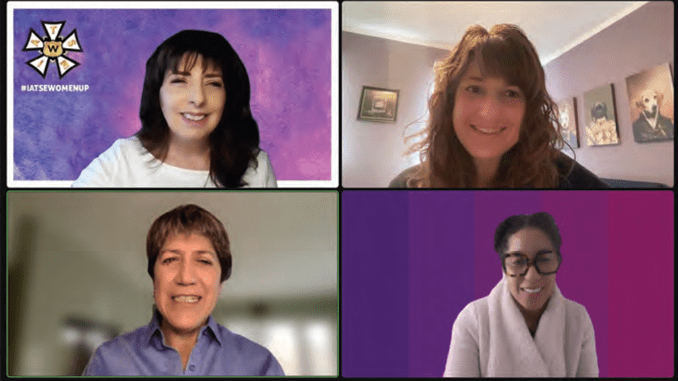 By Kristin Marguerite Doidge
Many of us may have resolved to make positive changes in our lives for the new year, but for the Women's Steering Committee (WSC), the first event for 2023 focused on how a resolution to build more confidence is often best achieved by looking within.
In an interactive two-hour webinar on Jan. 8, nearly 130 attendees from more than 15 other IATSE local guilds, including members who work in animation, art direction and set design, came together to hear IATSE Women's Committee District 10 Coordinator Lucia Aloi deliver "Words Matter: Activate Your Confidence," a spirited, research-based presentation she's offered all over North America for the past two years. Aloi covered how gender plays a role in a number of facets in the workplace, provided historical examples of women who defied the odds and expectations to achieve greatness in various fields (such as NASA's Mary Jackson), and shared practical tips on how to apply these learnings backstage, on set, and in the editing room.
After WSC Co-chair Aimee Jennings welcomed everyone, National Executive Director Cathy Repola shared a few words about how she and Aloi initially connected. "It means a lot to be presenting this," Repola said, noting how Aloi was one of the people who stood by her during some of the most challenging times in her career. It was that notion of support and solidarity that became a running theme throughout the presentation.
"I was moved by the number of attendees who were willing to talk about their personal experiences and observations," Repola said after the event. "It reminded me how powerful a group can feel when everyone is together working toward a common goal."
Women have been socialized to speak and behave in a certain way.
When a woman is uplifted by her peers, "other women are watching," Aloi said, adding that research shows women have been socialized as children to speak and behave in a certain way that can create barriers to success in the workplace as adults. "But knowing that you are on the right side of history and helping yourself and future women is tremendously uplifting, giving a woman true confidence," she added.
Aloi went on to detail several key components to help activate a more confident inner voice, such as shifting how women handle failure or mistakes—and the importance of creating recovery plans—as well as how posture and eye contact can convey outer confidence and promote greater self-esteem and self-efficacy. She also spoke about how many women may have also been socialized to have an aversion to risk-taking, or may be inclined to minimize knowledge, accomplishments, and aptitude.
"It's heartbreaking to hear how difficult some workplaces make it for women who try to lead, serve, or just work in a non-hostile, even-playing field environment," Aloi said after the event. "It is my sincere hope that by bringing this information to them, [attendees] will begin to understand some of the feelings they have about themselves—some of the 'whys'— for example, why they are frightened or hesitant to speak up at meetings."
Importantly, she pointed out, "words do matter—and not just in our professional lives." For example, Aloi said that overuse of words such as "just" or "sorry" can sometimes derail otherwise effective communication and undermine a person's authority. But she also noted that research on vulnerability, such as the work of author Brene Brown and that of feminist scholar and writer Chimamanda Ngozi Adichie regarding authentic, diverse storytelling has proven that using a so-called 'feminine' sensibility makes for better leaders of all genders.
After sharing a special 52-card deck of printable "confidence cards" courtesy of the Los Angeles-based career resource site, Career Contessa, Aloi opened up the floor to questions and conversation. Attendees spoke about specific challenges they've faced in supervising or managing teams and implementing effective communication skills. As some of the women shared their stories, others showed support and offered solutions, and many specifically emphasized the importance of forming connections with other diversity committees.
Heading into 2023, Repola said she hopes attendees will continue to "build alliances, provide a safe place for gathering together, network with one another, and support each other."
Kristin Marguertie Doidge is a freelance writer.