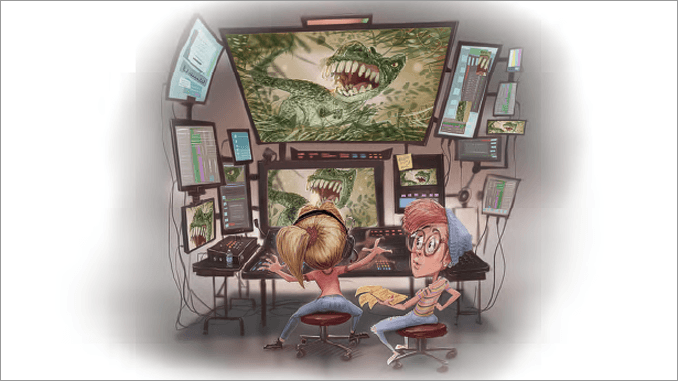 By Kristin Marguerite Doidge
In a virtual event held on Jan. 21, the Guild's apprenticeship and growth committee presented an inspiring and insightful panel discussion about the reinvigorated apprentice editor pilot program. Current and former apprentice editors who've come up through the program shared their experience, tips, and wisdom with the nearly 60 attendees who participated via Zoom.
Gavin Segall-Abrams, assistant editor board member and committee co-chair, explained that the focus of the presentation was on picture editor apprentices, but noted that other classifications, such as sound and music editor apprentices, can also participate in the pilot program.
"Before it started two years ago, the apprentice editor (or, in New York, the editing room assistant) classification was infrequently utilized, and there was a sentiment among the membership that the classification had all but died out," he added. "Thanks to the pilot program's expansion of apprentice editor job duties, in addition to multiple employers' utilization of the pilot program to hire individuals from underrepresented groups, it has been revitalized and is thriving again."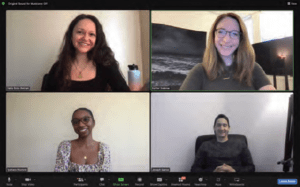 Segall-Abrams and his committee co-chairs — Joshua Kirchmer, Aziza Ngozi, and Jerry Ross — hoped attendees would come away from the event with more knowledge about how the program works. For example, the Guild's contract language for employers contains limitations, such as maintaining current staffing levels and who can assign work, while allowing an apprentice editor to be trained into a future assistant editor position.
Most important, the pilot program is not something that can be applied to like an internship, and employers are responsible for determining who they would like to hire under the apprentice editor classification (subject to roster requirements in Los Angeles). It's "most successful when assistant editors put in the effort to train the apprentice editor employed on their project," he added.
Three individuals who've recently benefited from the program include event panelists Tyshana Richard, Dalia Soto-Beltrán, and Joseph Santos. The event was moderated by Esther Sokolow, a Los Angeles-based assistant editor who secured her first union job as the apprentice editor on Paramount's "Whiskey Tango Foxtrot" in 2015. Since then, she's served as second and first assistant editor on several feature films, and is currently working on DC Studios' upcoming film, "The Flash."
"I think the most important people who need to know that the pilot program exists are the cutting room teams working right now," Sokolow said. "If you have the space to bring an apprentice on and the capacity to teach, you should be leveraging this program to your advantage to bring new talent into the fold."
Soto-Beltrán, an assistant editor, shared that she landed her first job in television as an apprentice editor for the Apple Original bilingual comedy series, "Acapulco." She's passionate about creating pathways of access for underrepresented talent in Hollywood and credits the pilot program for helping her get her start in an industry that she said can be, at times, challenging. "It's a beautiful way to open the door to so many people who have not found access into this industry," she said. "That's why I'm here, because I want to create that awareness, and if I can help any other apprentices, I will do it."
Santos, who's been working primarily in unscripted television on shows like NBCUniversal's "The Voice," was able to move up quickly after working as an apprentice on a union project in 2021. He spoke about "failing gracefully," being able to make small mistakes as he got started, and how he feels a responsibility to "pay it forward" after having such a positive experience.
For Richard, an apprentice editor also based in Los Angeles, her first opportunity arrived on the Netflix feature film "Senior Year," when editor Sarah Lucky asked her to come on board as an apprentice editor in 2021. The former production assistant said she'd already taught herself Premiere Pro, but her introduction to Avid was through the mentorship of Lucky and her first assistant editor, Ken Woodburn. She was then able to "expand upon those skills in Avid with the guidance of her wonderful team of mentors at Marvel Studios."
"It's been a very nurturing environment, and it's nice to be around people who are your mentors," Richard added. "For the other PAs on our shows, I pass along whatever information about the pilot program I can and just encourage them: if I could do it, you could do it, too."
Ross, an editor and board member who was also in attendance, closed the event by sharing how encouraged he was by the discussion and the shared desire to continue to bring more awareness about the program to more Guild members. "I love all your stories, and I love the different types of ways you all came in," he told the panelists. "What's really inspiring is you represent the future of what this Guild can look like, and that's amazing."
To learn more about becoming a mentor or to participate in the Apprentice Editor Pilot Program, members can visit Editors Guild – IATSE Local 700 > Apprentice Editor Pilot Program.
Kristin Marguerite Doidge is a freelance writer whose work appears frequently in CineMontage.