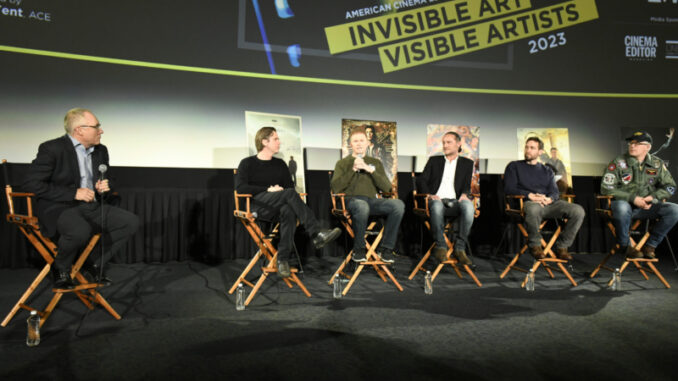 By Kristin Marguerite Doidge
Each year, American Cinema Editors (ACE) presents its "Invisible Art/Visible Artists" (IAVA) event to highlight the achievements of the Oscar-nominated editors in front of an eager and enthusiastic crowd. This year's event, held on last Saturday at the Regal Sherman Oaks in Los Angeles, was sold out, with a large group of attendees present in person and hundreds more attending via livestream. The Guild sponsored a special luncheon following the panel discussion for members and invited guests.
Guild President Alan Heim, ACE, introduced this year's panel, which was moderated by ACE President and Academy Award-nominated editor Kevin Tent, ACE, and featured this year's honored film editors: Paul Rogers (the eventual Oscars winner) for "Everything Everywhere All at Once," and nominees Mikkel E.G. Nielsen, ACE, for "The Banshees of Inisherin," Matt Villa, ACE, and Jonathan Redmond for "Elvis," and Eddie Hamilton, ACE for "Top Gun: Maverick." Monika Willi, nominated for "Tár," was unable to attend.
Each of the editors discussed their passion for the movies, how they first came to be interested in film editing, and how they became connected to each of these acclaimed films, as well as shared clips to show how they helped shape their respective stories. They also showed great enthusiasm for one another's work and deep reverence for their craft.
For Nielsen ("Banshees"), he began his career in sound engineering for short films and commercials before attending film school in his native Denmark. While he previously won the Oscar for best film editing in 2020 for "Sound of Metal," his work on this year's critically-acclaimed film came about through a connection with director Martin McDonagh's late editor Jon Gregory, whom Nielsen called "a huge inspiration."
When it came to editing "Banshees," which is dedicated to Gregory's memory, Nielsen said that it "really felt almost like a piece of music or a ballet" in terms of its rhythm. "It was really interesting for me to try and find that balance between light and dark comedy and drama," he added.
As for Villa ("Elvis"), who was born and raised in Sydney, Australia, he relied on an existing relationship with the film's director, Baz Luhrmann, and his fellow editors. They previously worked together on "Moulin Rouge!" (2001), when Villa served as an assistant editor and visual effects editor, and later when he served as a film editor on "The Great Gatsby" (2013) alongside editors Redmond and Jason Ballantine.
But it was initially the work of director George Lucas that inspired Villa to get into film at a young age. "I was very much a child of the original 'Star Wars' era, as I'm sure all of us were," he said. "And as a young boy, seeing what picture and sound and music could do in a darkened room just inspired me."
In editing "Elvis," the sound and music became paramount to bringing to life the late musical legend Elvis Presley. For Redmond, it was the movie's lead, Austin Butler, who became the key to solving almost any creative challenge, including choosing the best take or best performance.
"He's a force of nature," he said. "There's a line in 'Moulin Rouge!': 'Too much is never enough,' and that's pretty much Baz's mantra…so when we're working on sequences, we've learned through trial and error different forms of compression when it might involve four or five scenes cut together."
Villa said coming up in the field with his "dear friend and colleague Jon" [Redmond] made the work on this film that much more special. Redmond agreed, adding "we've worked together for 23 years now in various capacities on projects. We have a tremendous level of trust between each other."
Rogers, who ended up taking home the statue for his work on "Everything Everywhere All at Once" at the 95th Academy Awards ceremony on March 12, said he first came to love film through his parents before heading to film school at the College of Santa Fe. "My father would go to Blockbuster and pick out a random foreign film," he said. "And I would always go see films with my Mom. One of the first times I was aware of editing was Christopher Nolan's 'Memento.' I was just blown away by the structure of that film."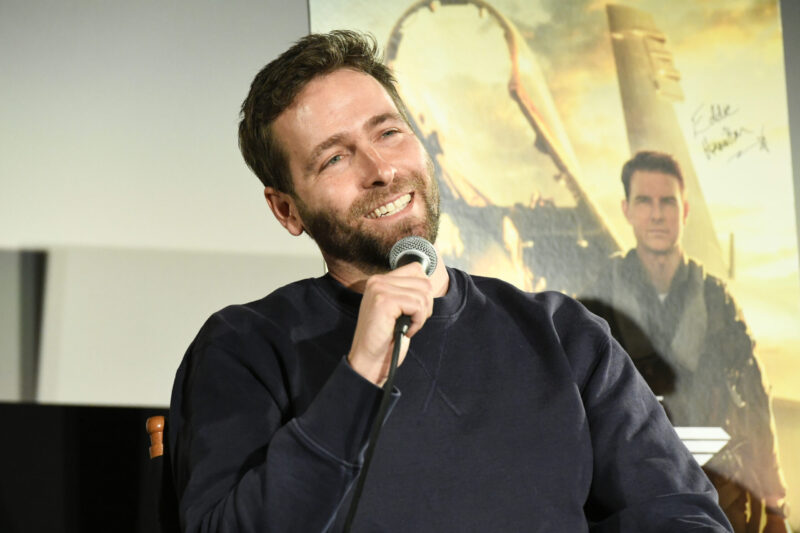 For "Everything," he said he relied on his prior work editing student music videos with writer-directors Daniel Kwan and Daniel Scheinert as well as his memory of the film's script – which was "just as insane as the movie" – when making cuts. "There's a lot of freedom they give," he added. "They love to be surprised."
Though Willi wasn't able to attend the event in person, her clip from "Tár" sparked praise from the other panelists.
Hamilton ("Top Gun: Maverick") rounded out the discussion by sharing a similar lifelong passion for filmmaking. "Since the age of 8, I've been obsessed with films. As a kid from the south of England, Hollywood felt like Oz or Neverland."
He came to work on "Top Gun: Maverick" after he'd previously edited two "Mission: Impossible" films, and also shared that he's currently at work editing two more right now.
As far as his work on "Maverick," Hamilton said the sheer amount of footage – including moments where 27 cameras were rolling at once – made the work both thrilling and challenging. "I'd come in and have 24 hours of dailies in a single day," he said, adding that two editors came on to help. "Also, Tom Cruise is heavily involved in post-production on his movies, so it was a team effort."
That kind of commitment and dedication to their craft, and their shared love for one another and their respective directors, casts, and crews – not to mention their families – made this year's win for Rogers even more memorable. "We're here because you guys [Kwan and Scheinert] are incredible, kind, generous, strange, sexy people," he said in his Oscars acceptance speech. "If all of this goes away, we'll still be here with you."
Kristin Marguerite Doidge is a freelance writer and educator.