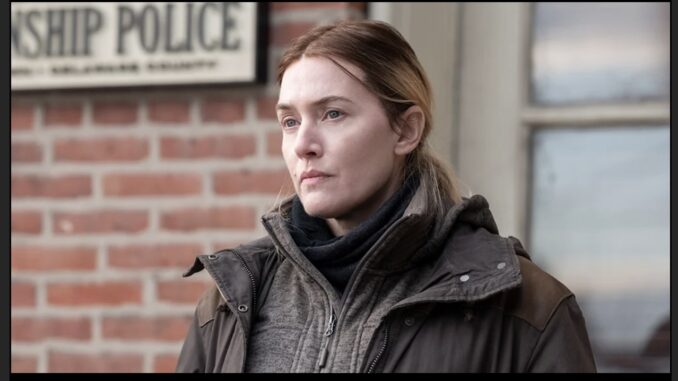 By Kristin Marguerite Doidge
There are some television shows that simply grab us and force us to pay attention. The best ones also make us think, cry, and perhaps even laugh.
But after the year our global community just had, achieving such a feat somehow feels even more special. From the script, to the acting, to the score, cinematography, and of course, the editing, the limited series drama "Mare of Easttown" (HBO Max) has been a standout this spring as a record number of viewers returned week after week to not only solve the central mystery, but to see the humanity of the characters unfold along the way.
In "Mare of Easttown," a small-town Pennsylvania detective, Mare Sheehan (Kate Winslet), investigates a gruesome murder while dealing with the effects of trauma in her own life, and features an ensemble cast, including Julianne Nicholson, Jean Smart, Guy Pearce, Evan Peters, Sosie Bacon, and Angourie Rice.
On June 6, the Women's Steering Committee (WSC) hosted a panel discussion with some of the members of the "Mare" post-production team to find out how the popular series came together while balancing the challenges of a remote working environment and the vigor of a first-time showrunner. The panelists included Amy Duddleston, ACE, who served as editor on the series, Naomi Sunrise Filoramo, additional/co-editor, Emilio Luc Castillo, apprentice editor, and Stephanie Lowry, music editor. The event was moderated by Julia Grove who recently received an ACE Eddie nomination for her work on "This Is Us," and who serves as a member of the WSC.
Duddleston and Castillo—in addition to assistant editor Génesis Henriquez—were the first to join the production in Oct. 2019, but by the end of February of 2020, travel to Pennsylvania to visit the set and meet with the director, Craig Zobel, was halted, and by Mar. 13, production was completely shut down for what they thought would be six weeks. Instead, it ended up being six months.
Duddleston and her crew went to work recutting what had been shot of all of the seven episodes, taking each one through a director's and a producer's cut remotely from home in Los Angeles, considering everything from script changes to pandemic concerns in terms of building larger scenes. "We were very lucky because it shaped the show," she said.
By October, production started back up to finish the show, and she brought on Filoramo as an additional editor to help with the dailies as well as Jimmy (James) Durante, who served as assistant editor/visual effects editor. Lowry came on after Thanksgiving to work with the composer Lele Marchitelli, who was based in Rome, Italy. She and Duddleston had both previously worked on the Gus Van Sant film "Psycho" in 1998.
"As a music editor, I feel a huge sense of loyalty to the composer and I also feel a huge sense of loyalty to the director, and the producer/showrunner," Lowry said, noting that the language barrier and remote work environment sometimes meant she was playing middlewoman to ensure the show's sound remained true and consistent.
Filoramo started her work with Zobel on the second episode of "Mare"—but what she didn't know was that Co-producer Pam Fitzgerald and Duddleston had her bumped up to co-editor on three of the episodes.
"They surprised me with it at the mixed playback for [episodes] one or two, so that was kind of a moment because I had no idea," she said. "To have these women stand up and champion me and try to help me get into this next phase was just fantastic, and I'm so grateful."
Duddleston noted that the promotion of Castillo didn't come as easily, since the job description of apprentice editor is a relic of the old film days—but ultimately, she was able to bump him up by explaining how valuable it is to have up-and-coming talent learn on the job, and how helpful it can be to have an extra set of capable hands in the cutting room.
In one of the clips shown during the event, Mare (Winslet) goes to see a pediatrician in a scene that—based on the strength of the acting performance alone—needed little editing and no music, the panelists said. "You just kind of follow her lead when you work with an actor like Kate," Duddleston said. "It's a tremendous experience, and so this scene, I was just like 'wow.'"
In this case, Lowry said, "the performance is the music."
Still, the "embarrassment of riches" meant that tough decisions had to be made since a number of takes each told their own story. "It was this scene where I was just like 'this woman is extraordinary,' but also just in terms of Mare, this is the first time we see her being vulnerable, and it's a big deal," Duddleston explained.
The comedic elements of the show came through in a number of moments, especially those with Smart, a veteran comedic actress, and in a particular montage scene with the local kids in their various interviews with the police. Filoramo and Castillo were especially proud of how that sequence came together, but shared how getting the tone just right was a challenge.
"We kind of leaned into 'this is a hilarious thing that happened on that day, and then also on that day, this really heavy thing happens,'" Filoramo said. "And that is true to the way most of us move through the world."
That authenticity has been critical to the show's success—and Winslet, in particular, took to mastering the Delaware County "Delco" accent and embraced the Wawa convenience store goodies as a way of showing appreciation for the local culture. She also asked for no filters or beauty fixes that might conceal her real age, and played a key role in how the show ultimately came together.
For Duddleston, this made the work that much more appealing, as did working with Brad Ingelsby (creator and writer), who she said came to her "incredibly prepared" with a great deal of notes and ideas, and with Zobel (director for the entire series), who she said helped make it feel like they were working on a big movie.
But it was the mutual trust and respect the team shared that helped bring the project to completion prior to its premiere in April, Filoramo said: "Whether it's with a first time showrunner or a veteran showrunner, you have to just build that trust and make it clear that your first priority is always the show—and always making it the best version of itself that it can be."
Kristin Marguerite Doidge is a freelance writer and the author of "Nora Ephron: A Life," to be published in 2022 by Chicago Review Press. 
NOTE: This story was updated from an earlier version first published June 17, 2021.