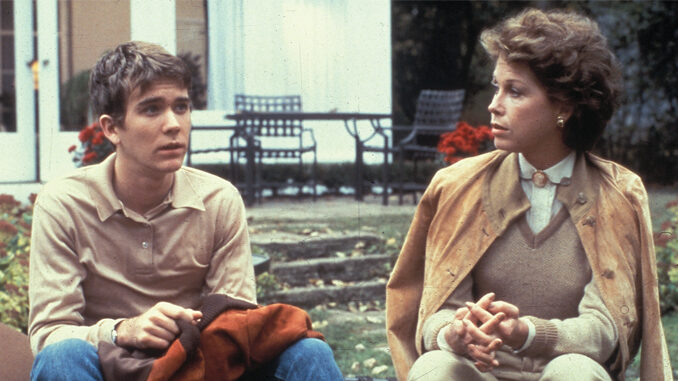 by Alan Ehrlich
It was March 31, 1981. I was celebrating my second anniversary of becoming a union story analyst by watching the 53rd Academy Awards. The host was Johnny Carson and the field of films was perhaps the strongest it had been in decades. There was The Empire Strikes Back, The Great Santini, Melvin and Howard, Breaker Morant, Brubaker, Fame, Tribute, The Stunt Man, Resurrection and Gloria — and those hadn't even been nominated. There was also Raging Bull, Tess, The Elephant Man and Coal Miner's Daughter, which had. And there was Ordinary People, which won. To this day, it remains one of my all-time favorites. But how in the world did first-time director Robert Redford, working for DGA scale, beat out Martin Scorsese, Roman Polanski, David Lynch and Michael Apted?
What made Ordinary People stick with me all these years when other, flashier, more high-concept movies didn't? If I had to describe the movie in one word, it would be Haunting — beginning with its opening frames and music. The beautifully simple melody of the Pachelbel Canon plays six times, each heralding or punctuating a major plot movement. When I hear it today, I still think of the film.
In addition to the music, the main characters, themselves, are haunted — by the tragic drowning a year earlier of a teenaged first-born. The mother (Mary Tyler Moore) is compelled to enter the unaltered bedroom of her deceased son. Photographs, awards, memorabilia trigger memories. The father (Donald Sutherland) sits in his commuter train, recalling happier times when his two boys' minor sibling squabbles got easily rectified. And then, of course, there's the second son, Conrad Jarrett (Timothy Hutton), who is at the center of the story, despite his Oscar nomination (and win) in the supporting actor category. Conrad, who attempted suicide following his brother Buck's drowning, ended up in a mental institution for almost a year. After being home several months, he finally makes his appointment to see therapist Judd Hirsch in hopes of finally gaining control over his nightmares.
In Sutherland, Moore, Hutton, Hirsch and Elizabeth McGovern, Redford put together what would become perhaps the most effective assemblage of principal players in years. Of his established actors, none was his first choice. Hutton and McGovern were first-timers too young to vote. Moore was one of the finest actors of her generation — in sit-coms — but this film was 180 degrees from the pratfalls of Dick Van Dyke. Hirsch was known primarily for sit-coms as well (Taxi), and Sutherland got his first major career bump in Robert Altman's M*A*S*H, a dark comedy that inspired one of the most-watched sit-coms of all time. Redford took a major risk by casting, in a modern domestic tragedy, three leading actors who were known to their 1980 audience primarily for their comedy.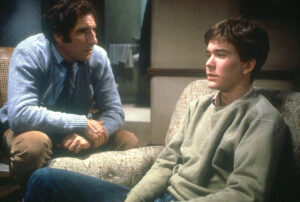 If I had to add a second word, it would be Simple — in the best sense of the word. Alvin Sargent's award-winning screenplay best exemplifies this. His scenes are all perfectly constructed with the characters speaking seemingly simple, everyday words and phrases. These are "ordinary people"who speak ordinary dialogue that at times resonates through direct communication, but more frequently resonates by having characters talking around issues, as family members will, rather than about them. The resulting scenes build emotionally and the closing two might be some of the most emotionally evocative in all of cinema.
Expertly edited by Jeff Kanew, Ordinary People is ironically the last time that a movie won Best Picture without even being nominated in the editing category — a disconnect that is perhaps more a function of its genre and style than of the voters. As tragic drama executed at a slower, more deliberate, pre-MTV/video game pace, the no-nonsense editing, like the writing and the film itself, is stripped down to essentials: deceptively simple, yet superb.
Everything in the movie resonates; nothing is forced. Everything is understated, simple and effective. I personally have been haunted by the memory of the film for decades, for this is intense domestic drama at its finest. Just as the opening piano notes build from single notes to strings, orchestra and, finally, a full chorus, Redford builds from this simplicity shot by shot, moment by moment, and molds it into a finished product bigger and greater than the sum of its parts.
As a story analyst, it gave me a greater appreciation of the small things that sometimes go unnoticed in a cursory reading of a screenplay. It's a reminder that great writing utilizes everything, and to analyze a screenplay effectively, one must first read and think about every word, and then leave time to put everything, even the silences, together again. Ordinary People made me realize just how complex simplicity can be.