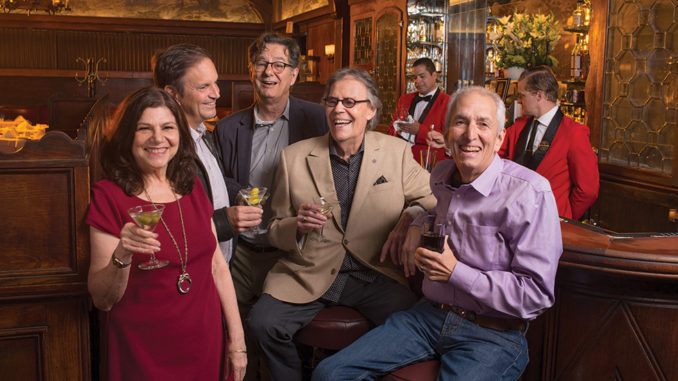 by Peter Tonguette • portraits by Martin Cohen
For the last century, the Musso & Frank Grill has been the preferred dining and drinking destination for innumerable movie stars, literary legends and other notables. Even sports heroes have been known to walk through its doors.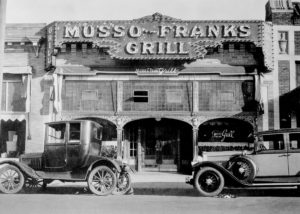 Just ask picture editor Billy Weber, ACE, who, during one of his many visits to the famed restaurant and bar at 6667 Hollywood Boulevard in Los Angeles, found himself in the same room as former Cleveland Browns running back Jim Brown.
"I saw him come in with a big party of about eight people; I was at dinner and said, 'Just excuse me for one second,'" remembers Weber, who, as a youth in Southern California, had seen the running back play when the Browns faced off against the Los Angeles Rams at the LA Memorial Coliseum. "I got up, went over and introduced myself to him. He was incredibly sweet and charming and said, 'I'm honored that you came over to say hello.'"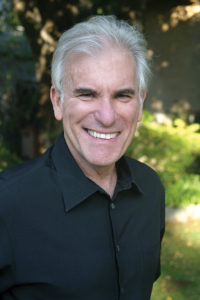 Brown was far from the only recognizable face Weber has encountered at Musso's through the decades. "I've seen famous people there, and when I see them, I don't hesitate to walk up to them and say hello," comments the editor, whose credits include Terrence Malick's Days of Heaven (1978) and Warren Beatty's Bulworth (1998).
Yet Weber himself is a member of a prized constituency at Musso's: post-production professionals. For the majority of its existence, the establishment has been a hangout spot and lunch-break destination for many members of the Motion Picture Editors Guild — and its predecessor, the Society of Motion Picture Film Editors (1937-1944) — especially editors like Weber.
"We at Musso's have got an appreciation for that behind-the-scenes talent," says Mark Echeverria, the present proprietor of the restaurant that turns 100 years old this September. "The line we give is: 'We treat regulars like celebrities, and celebrities like regulars.' When you come to Musso's, everyone is sort of that star."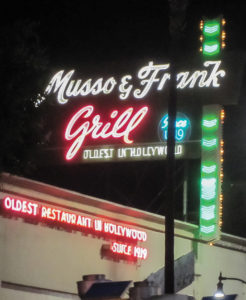 Of course, those who consider themselves Musso's regulars would contend that the place itself is the featured attraction. With its hearty menu of steak and potatoes, as well as its oodles of ambience, Musso's has long been a desired location for movies and shows seeking to evoke the elegance of Hollywood's Golden Age. Scenes in Steven Soderbergh's Ocean's Eleven (2001), the AMC series Mad Men (2007-2015) and Quentin Tarantino's new Once Upon a Time in Hollywood have been shot in, or in front of, the restaurant.
"In the spirit of the Ocean's movies, and the interest in a certain kind of Hollywood movie-star glamour, having a scene at Musso & Frank was a no-brainer," Soderbergh (who in his capacity as a picture editor is also a member of the Editors Guild) told The Hollywood Reporter last year. "Obviously, filming there was a great opportunity to memorialize my good feelings about Musso & Frank."
In years past, Los Angeles was home to other iconic restaurants where Guild members dined, drank and gabbed. Picture editor Michael Tronick, ACE, points to the now-defunct Nickodell Restaurant and Oblath's as favorites of sound editors and re-recording mixers — but even then, few had the cachet of Musso's.
"Going to Musso's was always a feeling of being deeply in a part of the whole business," comments picture editor and former Guild President (1991-2002) Donn Cambern, ACE. "I remember walking in and looking at the menu that they used to have up from the 1920s, where a filet mignon was like 25 cents or something like that. It always gave you a wonderful feeling."
The Guild itself maintains a longstanding relationship with Musso's, too. For example, following the American Cinema Editors' yearly Invisible Art/Visible Artists event, a panel discussion featuring the Oscar-nominated picture editors at the Egyptian Theatre less than a block away, the nominees and members of ACE and the Guild are invited to attend a luncheon at the restaurant.
"We have sponsored the post-IA/VA luncheon for the past several years," says Adriana Iglesias-Dietl, the Guild's Special Events Manager. "It's a chance for us to celebrate our Academy Award-nominated editors' outstanding achievement and, with this in mind, we chose the iconic Hollywood restaurant, Musso & Frank. It was a perfect symbiotic relationship right from the start; Musso's union staff has always been a joy to work with and caters to our members with the ultimate respect. We are proud to work with union facilities, and Musso & Frank always delivers."
Lifelong Customers
Native Los Angelenos like Weber and Cambern can attest that the magic of Musso's was present from its early days. As the former tells it, he was nine years old when his father took him and his family to the restaurant for the first time. "He loved it," the editor recounts. "And I loved it, literally, from the time I was that age."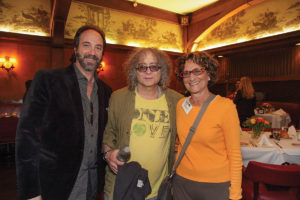 Years later, once he had established himself in the film business, Weber found himself frequenting the restaurant as both a spot to do business and socialize. "My agent wants to have lunch with me, and I say, 'OK, meet me at Musso's,'" he explains. "[Editor] Paul Hirsch, who's an old friend, says, 'Let's have lunch.' I say, 'OK, meet me at Musso's.'"
Weber adds: "Actually, I don't think I know anyone who doesn't know of Musso's."
Cambern recalls first visiting the restaurant while still a toddler. "My grandfather took me to Musso's, put me up on his shoulders and introduced me to the maître d', who took me around to the famous charcoal grill and introduced me to the steak charcoal master," he says. "I had the run of the place when I was four years old."
Like Weber, Cambern returned to Musso's as an adult after he gained a foothold in the film business. While working as a music editor on such classic series as The Andy Griffith Show (1960-68), Cambern got into the habit of occasionally stopping by Musso's during lunch on Fridays. "Of course, their famous martinis came into play on those Fridays," he recalls. "There was work that had to be done, and I wanted to get it done properly, so one martini was my limit on those days — for the simple reason I really wanted to make use of that afternoon."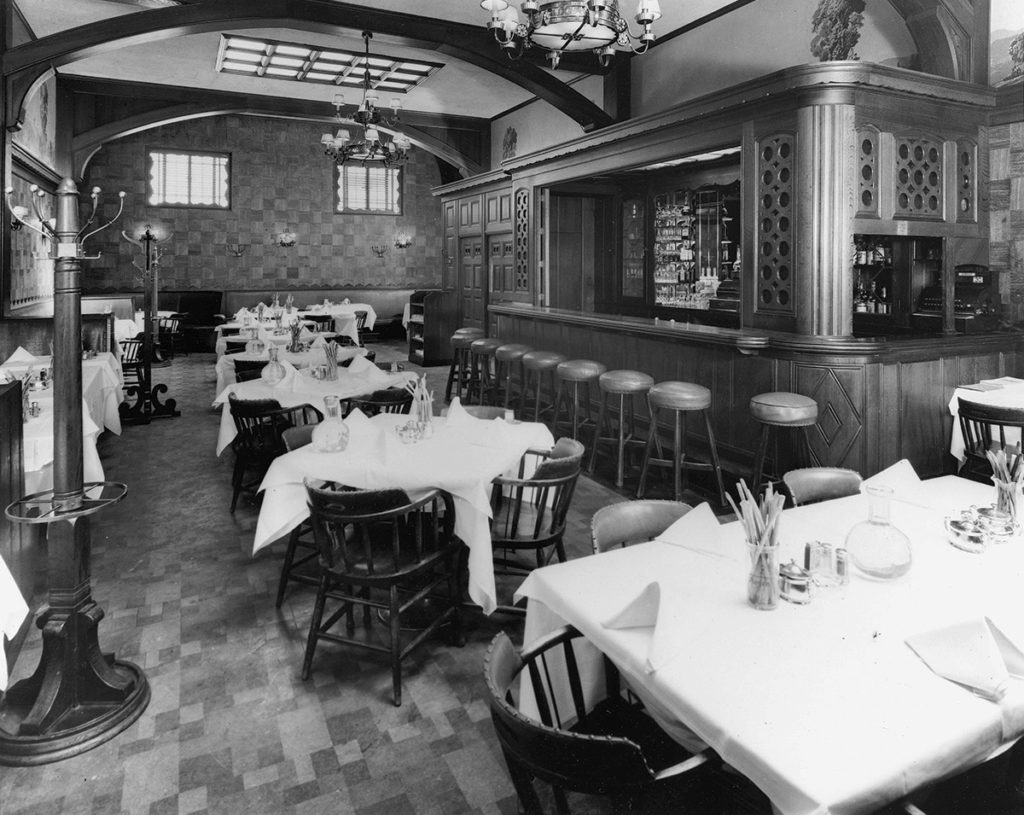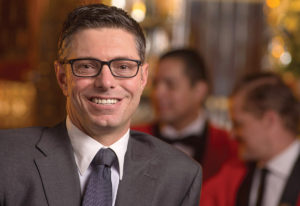 Later, when Cambern began working as a picture editor on the cutting-edge films made by BBS Productions, based at Columbia Pictures — including Dennis Hopper's Easy Rider (1969) and Jack Nicholson's Drive, He Said (1971) — the meals at Musso's continued. "That was usually on a Friday afternoon, and usually after we'd had a few tokes from a joint outside," the editor says with a laugh. "So we'd be ravishingly hungry. We'd eat everything in sight. Baskets of sourdough bread with tons of butter would disappear."
In the 1960s and '70s, picture editor Nancy Frazen recalls piling into Musso's with her brother, picture editor Robert Frazen, ACE, and their father, picture editor and former Editors Guild President (1979-80) Stanley Frazen, ACE. Their dish of choice? Flannel cakes. "It was always a special occasion for us when Dad would suggest, usually spontaneously, 'Let's go to Musso's; let's get some flannel cakes,'" she remembers.
But it wasn't just the breakfast treat that appealed to brother and sister. "It was the going to Musso's and either sitting in a booth or frequently sitting at the counter," Frazen adds. "It was not only a special treat, but you felt like you were somewhere else outside of the norm of Los Angeles."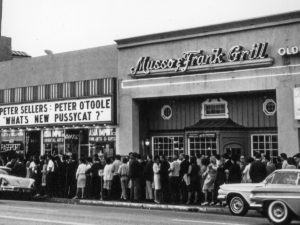 An Old-School Vibe
Frazen was not the only member of the film community to observe that Musso & Frank set itself apart from other restaurants in LA. When picture editor Maryann Brandon, ACE, relocated from New York in the late 1980s, Musso's was one of the few area restaurants to remind her of home. "My grandfather used to take us out every Sunday night to some place in Brooklyn — red vinyl seats and old-world style," she remarks. "I came to understand Musso's has this sort of Hollywood legacy, but for me, it was just like this New York-style, old-fashioned, Brooklyn…like, you could have a mafia meeting or you could have a script meeting!"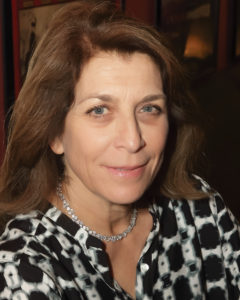 In the mid-1970s, British-born picture editor Robert Leighton, ACE, moved to Los Angeles, where he was dismayed by the lack of nightlife. "London was full of stuff," he says. "New York was full of art crowds, club scenes. Here, there was nothing — nothing. People used to go home." But there was Musso's, whose sign beckoned to the expat Brit long before he could afford to dine there in style. "I saw that big sign on Hollywood Boulevard — 'Oldest Restaurant in Hollywood' — above the building," he remembers. "But I was dirt poor at that time, and all I could do was walk by and stick my nose up against the window and look in with a girlfriend."
A few years later he was able to muster his first meal at Musso's — scrambled eggs for breakfast in one of the restaurant's best booths — but, soon enough, Leighton was a regular. At the time, he wasn't a martini drinker, but he became one thanks to a favorite bartender named Nick. "From sitting and drinking so many martinis there, I learnt how to make a martini from him," the editor recounts.
By the time Leighton was in the midst of his multi-year collaboration with director Rob Reiner, including Stand by Me (1986) and Misery (1990), late-day jaunts to Musso's had become a sort of ritual. "I could go down at like eight o'clock," he recalls. "During that period of Rob's films, we were editing in a little cutting room about five minutes away from Musso's."
Business and Pleasure
The restaurant is often a place where work relationships are forged. "Business is conducted there, as well as personal affairs," says Tronick, who began going to Musso's in the mid-1970s.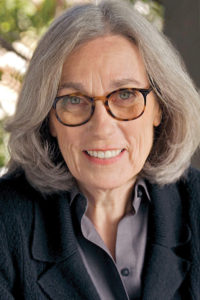 During that period, while cutting Robert Wise's The Hindenburg (1975), Cambern remembers being invited to share a meal there with the director — the ultimate compliment. "He took me to lunch there one time during The Hindenburg," the editor comments. "That was really a mark for me because Bob was such a highly regarded director and he was such a gentleman. He was fun to talk to because he had started as an editor himself at RKO Studios and had edited Citizen Kane [1941] and The Magnificent Ambersons [1942]."
In 1982, picture editor and past Guild President (1988-1991) Carol Littleton, ACE, had just finished cutting Steven Spielberg's E.T. the Extra-Terrestrial when she went to Musso's for a celebratory lunch with assistant editors Bruce Cannon (now an ACE editor) and Kathleen Korth. Then she ran into her boss from her previous job at Grey Advertising, Fred Schiller. "He asked what I'd been doing since I quit Grey some six years before to become a film editor," she remembers. "I said that we had just finished E.T. and had been viewing prints for a screening that evening. Fred was not familiar with the film and said pointedly, 'What a lousy name for a film — who directed it and what did you do on the film?'"
Littleton told Schiller that Spielberg was the director, that she was the editor and that the film had received a standing ovation when it was shown at the Cannes Film Festival. "Fred, as I suspected, had not heard me and rejoined as he walked toward the exit, 'Oh, so you were the assistant, right?'" she continues. "He had warned me when I quit that I was unbearably naïve and would never make it as an editor in this cutthroat business." The editor — who was nominated for an Oscar for her work on E.T. — considers this Musso's memory to be "the best example of selective hearing" she has encountered in her decades in the industry.
In an interview with The Hollywood Reporter, director David Lynch (also a Guild picture editor) revealed that Twin Peaks: The Return (2017) originated with a lunch at Musso's with co-creator Mark Frost in 2012. "I love the restaurant, the booths on the old side," Lynch offers. "It's the real-deal Hollywood."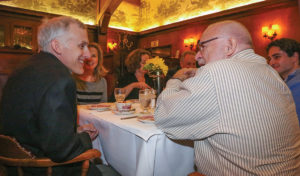 Yet many of the Musso's mainstays emphasize that they go to the restaurant for personal reasons — to celebrate a milestone, send off a colleague or mourn a friend. "When somebody is leaving to go on location, or they're moving somewhere, I can't even tell you how many times it's like, 'Well, let's go to Musso's,'" Frazen observes. "In my mind, there is no place that supersedes it in being special."
In 2011, after attending a memorial service for an assistant editor with whom he had worked, Tronick called his wife on the drive home. "I called her — and obviously, it was very impactful and it was very emotional — and she just said to me, 'I'll meet you at Musso's.' And we did," he recalls. On that sad day, the comfort food — a filet, a baked potato and a glass of bourbon — was just what was needed.
"I don't know if 'spiritual' is right, but it's just affirming," Tronick continues. "Honestly, I just feel very comfortable there, regardless of where we're sitting. We like the little 'twosies' booths in the room on the west side, but if it's all crowded, wherever there's availability; I'm not that particular — just to be in the restaurant."
The Carnivore Club
In fact, one group of film professionals — including picture editors, storyboard artists and a screenwriter — found themselves so drawn to Musso's that they established a dinner club that gathers the first Tuesday of each month at the restaurant. Dubbed the Carnivore Club, the group currently includes several post-production professionals, among them picture editors Alan Bell, ACE, and Steven Nevius, and assistant editor Andrew Blustain.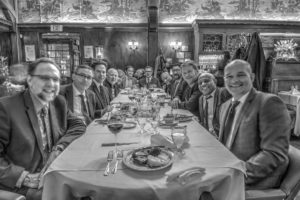 In the late 1980s, Nevius — along with Blustain, a founding member of the club — had just joined the Editors Guild when he was hired as an assistant on The Princess Bride (1987), edited by Leighton and directed by Reiner. While on the film, he fell into the routine of going to lunch at Musso's. "The schedules were slower, and computer editing hadn't taken over yet," the editor remembers. "It didn't matter if you were behind, or there was a mountain of work. While we were sitting there, having a drink or something after lunch, it would be like, 'You know, this and that would be better in the cut…'"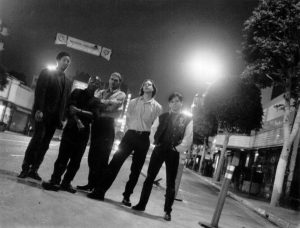 Cottoning to the idea of hanging out at old-school restaurants like Musso's or the Nickodell, Nevius got together with four friends — Blustain, storyboard artists Richard Newsome and Eric Ramsey, and effects animator Marlon West — to establish what became the Carnivore Club. "It started out as five guys, and very quickly all the closest friends we had wanted to come," he recalls, adding that new initiates had to start as guests before they could become members. And one rule was observed above all others: No vegetarians. "This dinner club is for eating meat, drinking alcohol and having forthright conversation," Nevius declares.
Bell — also an assistant editor under Leighton who soon joined the Carnivore Club — said that in the early days of the group, members helped other members pay for the sometimes-expensive bill at Musso's. "We were just basically kind of week-to-week, paycheck-to-paycheck," he recalls. "We even had a kitty where we would all throw in five bucks every month so that if you weren't working, you could actually afford to go there."
Books and current events are regular topics of club conversation, but movies are always the focus. "It really is a bunch of creative film geeks, getting together and eating steak and drinking martinis and talking about movies," Bell adds. At each meeting, film industry giants who had passed away the previous month would be toasted.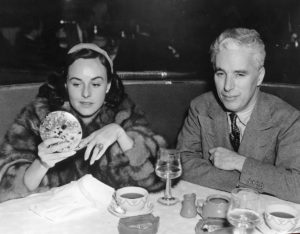 In the time he has been frequenting Musso's, Bell has seen the popularity of the restaurant ebb and flow, and says the quality of the steaks has also gone up and down, too. He judges the period from 1993 to 2005 to be "hit or miss," but overall feels Musso's remains the same then and now. "Unfortunately, we just lost two waiters recently — it was actually really kind of a shock that Sergio [Gonzalez] passed away right after Ruben [Rueda]," the editor reflects. "Both of those guys — those were our waiters."
But you don't have to be a Carnivore Club member to get the royal treatment at the Musso & Frank Grill. You don't have to be a movie star or a sports hero, either — or even a member of a famous rock 'n' roll band.
Earlier this year, to celebrate his birthday, Weber went to Musso's with his wife and a group of friends. The couple went back and forth as they debated where to sit on the big day. "I said, 'Let's see if we can get a reservation at the corner booth in the specific corner of the new room,'" he recounts. "We got it…and the waiter came over and told us, 'You know what booth this is?' And we said, 'No.' He said, 'Well, this is where the Rolling Stones sat.'"
On that night, however, the booth belonged to Billy Weber. And it was no Beggar's Banquet.