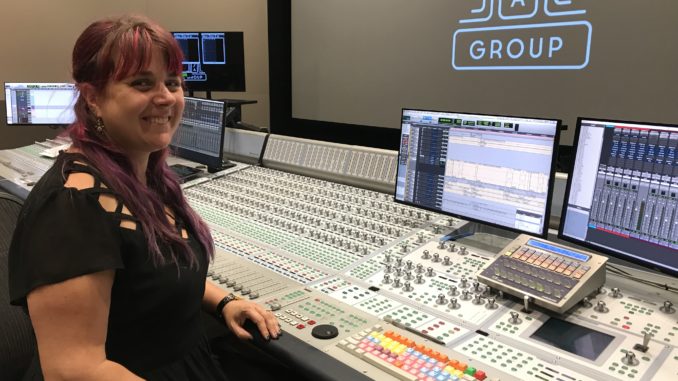 Where are you currently employed?
I'm generally independent but I just finished a busy pilot season working for Mind Meld Arts and recently signed with Incite Management who will be representing me going forward.
Current Project? 
I worked on 5 pilots with Mind Meld, while also working on two ongoing series, "The Kids Are Alright" and "Virgin River."
Describe Your Job. 
As music editor, I help the music tell its story and portray emotion, in a musical yet unobtrusive way, while also trying to keep the composer's best intention. Whether it's creating a temp track, adding in source music, editing original score written for a particular scene, or conforming old cues to a new cut, I always edit the music based on the specific needs of the picture editors and producers. We work together to ensure proper placement and musical correctness while mindful of dialogue and story. When colleagues lack the knowledge to articulate their needs in musical terms, I interpret the direction and translate it musically.
How did you first become interested in this line of work?
I initially wanted to learn music recording which was why I learned Pro Tools. I loved sound editing but mainly worked in recording studios. I started working post-production in 2004 when Thomas Chan introduced me to sound design editorial. We worked on animated series as well as some non-scripted material. After that, I transitioned to dialogue editing at Bang Zoom Studios and was a sound editor at Margarita Mix Hollywood, working with Hunter Curra on animated series and non-scripted shows.
Who gave you your first break?
Jenny Barak gave me my first real break in music editing. I got to know her and Carli Barber at Todd AO, where I worked in client services. Jenny hired me as an assistant music editor at Pitch n Sync and later as a music editor. She taught me a mathematical approach to music editing. She told me, "It's like a fun puzzle you have to solve."
What was your first union job?
At Pitch n Sync, we worked on several union shows including "Private Practice," "Mad Men," "Grey's Anatomy" and a few pilots.
Which of your credits or projects have made you the most proud and why?
"Deadwood: The Movie" was a very proud moment for me. I even cried at the end of playback because I loved the TV series from more than 10 years ago. It was a real thrill to see the music go through so many stages and ultimately hear it mixed on the dub stage instead of just watching the final product at home. And add to that the thrill of the show getting a Prime Time Emmy nomination for Outstanding Sound Editing for a Limited Series, Movie or Special, with Micha Liberman and me as music editors and assistant music editor Stephanie Gangal all part of the wonderful sound editing team.
I also feel proud about "Crazy Ex-Girlfriend." It was four years of work on a fun show with great songs that got stuck in our heads for days. When we were all done with the last season it felt like a graduation. That crew was like family.
What was your biggest challenge in your job (or on a particular project) and how did you overcome/solve it?
My biggest challenge is navigating the dynamics between producers and mixers. I watch the mixers to see exactly what they're doing and why, even when it doesn't pertain to music. A lot of times the producer gives a note and the mixer simply plays back to hear where to address that change, and the producer, moving on to another note, is confused about hearing it played back before the mixer had a chance to correct it. I can politely step in and diffuse the situation. I pay attention to the mixers and always try to have their back.
What was the most fun you've had at work?
I looked forward to every mix day on "Crazy Ex-Girlfriend." We mixed at Formosa Group which is a great facility. We worked hard but we enjoyed our time and had a bunch of laughs. We had a spotting session on Halloween once and I dressed up as a unicorn; one of my producers said it wasn't really a costume because I look like a unicorn every day!
Jobwise, what do you hope to be doing five years from now?
I hope to continue music editing. I've been fortunate to work on cool shows that I enjoy so I'd love to keep doing that. Most of my work has been in television, but I hope for more opportunities to work on features. One of my favorite parts of music editing is creating temp scores and finding source cues. I'd like to expand on that skill and learn more about music supervision.
What are your outside activities, hobbies, passions?
I'm a musician. I sing and play the piano and accordion. I write songs and record them with friends. It's my passion. I've sung and played in many local bands over the years, as well as singing and playing on recording sessions. I write music for myself, taking from life's experiences and writing it all down in song form. It's a way to process emotions; I'm not trying to "make it" as a musician, it's a creative release for me.
Favorite movie(s)? Why?
I love Jane Campion's "The Piano" so much that I even learned how to play a lot of the songs from Michael Nyman's score on the piano. These songs speak for Holly Hunter, who plays a mute woman who expresses herself playing the piano. Holly Hunter actually plays piano herself and that really comes across when you watch her on screen.
Favorite TV program(s)?  Why?
With some of the best writing on television, my favorite show is "BoJack Horseman." It makes fun of Hollywood in a great way and also pokes fun at itself. Sometimes we take ourselves too seriously in this industry and it's good to laugh at ourselves. Other favorite shows are "Lost," "Breaking Bad" and "Game of Thrones."
Do you have an industry mentor?
Music editor Moira Marquis has been an important mentor to me. She is a pure pleasure to work with. We've worked together on a few shows, including all four seasons of "Crazy Ex-Girlfriend." She comes up with good ideas for music, finds solutions quickly and always has the show's best interest at heart. She taught me how to be easy-going under huge pressure and time constraints. She says, "Don't worry, it's not rocket surgery!"
What advice would you offer to someone interested in pursuing your line of work?
Learn about all the different aspects of post-production. It's good to know what everyone's jobs are in production. You can be great at your particular job, but if you don't know the roles of the crew or their process and schedule, it makes you seem like less of a team player.
Was there ever a circumstance when you had to rely on the Guild for help or assistance?
Yes. I worked for a company that hired me on a union show, gave me union hours, but didn't pay me weekly union wages. This violation went on for an entire season and my union rep gave me the courage to face it head on.
Is there anything you'd like to say to your fellow Guild members, some words of encouragement?
There are a lot of people looking to get into editorial. If you can, be a mentor to someone. There aren't many options for people trying to break into our industry and the best way people can learn is from us. I would not be where I am today without all of the people I learned from.
Compiled by Edward Landler      
Editor's Note: To recommend a member (including yourself) to be featured on CineMontage.org and the home page of the Editors Guild website, please contact davidnbruskin@gmail.com