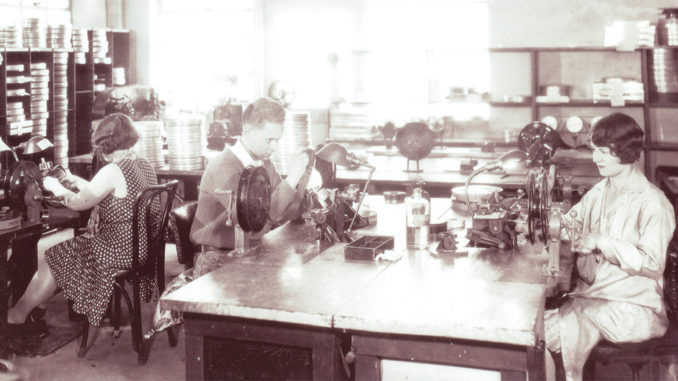 Moviola Memories
When I opened to the centerfold of the current Editors Guild Magazine (MAR-APR 06), I almost fainted. Not just because of "The Moviola Mavens and the Moguls" by Kevin Lewis, but because of seeing the Moviola! Remembering what it was like threading that thing up…praying I wouldn't miss a notch––or that the film would rip to shreds. Steven Spielberg watched me…I tried not to shake…I acted calmly…I did it, without a mistake! I was cool and confident, but I still have nightmares of the "monster" Moviola.
Thank you for honoring and remembering these three women: Anne Bauchens, Barbara McLean and Margaret Booth. Reading this article empowered me. As for the old editing machines, we can visit the Hollywood Entertainment Museum. You are to be congratulated for such a well-done magazine.
Bett Brezner, Picture Editor
I read your fine article on the women editors with great interest, having known all those lovely ladies. I was surprised to see the picture of Margaret Booth as a lovely young lady. When I worked for her in 1952, she had grey hair and a stern appearance––brought on by working with too many editors.
It is always such a pleasure to read articles about editors who make our craft interesting and educational.
Congratulations on a job well done!
James Blakeley, ACE, Picture Editor
Snapshot of the Past
Enclosed, you will find an old picture (see accompanying photo) for your files. It was taken in the "splicing room" at Paramount Studios, presumably sometime in the late 1930s.
The gentleman seated and looking very intently at the film is my late father, John L. Wheeler (aka Jack). He started in the Paramount mailroom and moved into the film end of the business. He was a sound editor, music editor and film editor during his many years in the industry. Perhaps someone might recognize the other people in the photo.
John W. Wheeler (aka Jack), ACE,
Picture Editor (retired)
"I still have nightmares of the 'monster' Moviola." – Bett Brezner
Random Thoughts on Kahn, Film and Docs…
It's late at night and I am buried in preparation for my first class at New York University this term. Michael Kahn's words of wisdom are underlined ("The Michael Kahn Interview," Editors Guild Magazine JAN-FEB 06). I especially like what he has to say about editing on film.
Yes, I'm a veteran…a charter member of the Local. Not suffering from nostalgia, just facing the realities of today––the speed at which we are forced to work. Too much footage shot. It's cheap, so why not? Working with film gave us time to think, to sort out problems. Also, we had assistants––a great way to learn the craft. There's been some progress, especially in the documentary field––the recognition that it can be something more than (yawn) "educational." Possibly even sexy…
I think the reason I'm in such good shape physically at my ripe old age is because I carried 35mm cans, stood for endless hours at the Moviola, rewound many reels of film… I edited pilots, series, three terrible features and a network special, and for years now bear the label of documentary editor––until recently as attractive as being a leper. Because I seem to be computer illiterate, I work with a teammate, which means I have the luxury of exchanging thoughts with a novice in the field; a good learning experience for the past ten years.
At NYU, our weekly guests are the top editors in the field. They work in features, commercials, TV series and documentaries. No one lectures. We screen, discuss problems and enjoy the variety of points of view. If Michael Kahn ever comes to New York, I think he'd enjoy spending a couple of hours with us…
Lora Hays, Picture Editor (retired)