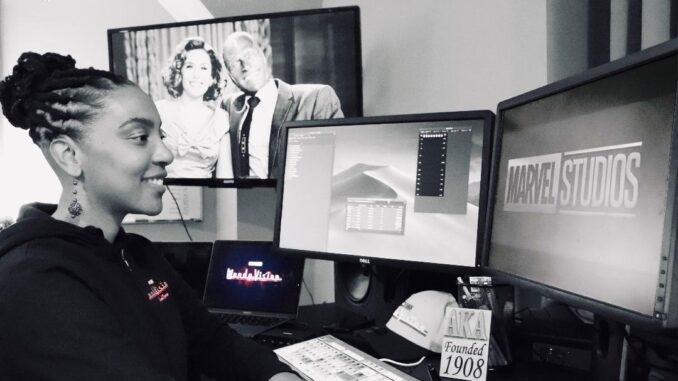 Where are you currently employed?
Marvel Studios and ABC Studios.
Current projects?
I recently finished the Marvel Studios series "WandaVision" and will start another Marvel Studios production at the end of this year. I will also be a part of an ABC pilot that will start post production later this spring.
Describe your job.
As a visual effects editor directly employed by the production, I'm often the link between picture editorial and our producing team for visual effects needs. I facilitate the process of getting assets back and forth between the visual effects studios/vendors and the production. When working with picture editorial, I collaborate with them — similar to a visual effects artist — to create temp visual effects when fleshing out ideas for look, timing, etc. I'm also often in the driver seat for spotting when effects are needed and maintaining their continuity. Tracking visual effects shots also falls under my duties; I keep track of which visual effects shots are in the cut, which version is used, and I maintain the current status of shots from our visual effects vendors as they create the final product. I have a number of other responsibilities, but the examples I've given here cover the gist of it.
How did you first become interested in this line of work?
My passion for editing sparked in high school when my mother bought me my first video camera, and my teachers would let me do video projects for my assignments. Of course, I was a complete novice at the time and Windows Movie Maker was all the rage, but it was enough to light a fire inside me that fueled my interest in this art. When I got to college, my school of choice, Dickinson College, would allow students only to minor in film, so I pursued the film minor along with a Bachelor of Arts degree in International Business. While a student, I was still discovering all the positions in film and TV production, so at the time, I thought I wanted to be a TV producer. However, through internships with large studios such as BET Networks and NBCUniversal and my work as a TV production assistant, I quickly decided that my career path would be in editorial.
I'm originally from Washington, DC, so after college, I started to work at my local news station — WRC-TV, which is NBC4 in Washington – as an editor and associate producer in the News Promotions and Advertising department. I also edited freelance on the side. Because of the heavy documentary and news market in DC, an editor acquires a highly diverse skillset. Part of the wide variety of content on our reels includes visual effects, and my background in news, reality tv, and commercials provided me with strong skills in motion graphics and small-scale compositing. After I received my Master of Fine Arts degree in Film & Electronic Media from American University, I moved to Los Angeles where, because of my diverse background, it was a natural progression for me to move into the visual effects world for scripted editorial.
Who gave you your first break?
I've had several first breaks. Every phase of my editing journey has required help to make that "first step." I'll list the three that I think were the most important. My first break into professional editing was my position at NBC4 Washington News as the editor in the Promotions and Advertising department. My first break into scripted editorial was my position as an assistant editor on season 2 of the HBO comedy "Crashing." A mentor of mine, Joi McMillon, ACE, sent my name to several of her colleagues at HBO when they were in search of available assistant editors. I worked with an amazing editor on "Crashing", Tim Roche, whom I worked with again doing visual effects for "WandaVision." My first break into visual effects editorial was the DC Comics superhero show on The CW Network, "Black Lightning." Executive producers Salim Akil and Charles Holland were extremely supportive of me joining the show and allowed me to grow with the series. I started as visual effects assistant editor for seasons 1 and 2 and moved up to visual effects editor by season 3.
What was your first union job?
Assistant editor on the reality show "Naked and Afraid" on Discovery Channel.
What credits or projects are you proudest of, and why?
I am most proud of my visual effects work with superhero content. Working with "Black Lightning" on The CW was so rewarding because of the impact of the character as an African-American superhero with his family. I saw many of my own friends, relatives, and even myself in the series characters. I am also proud of my work on Marvel's "WandaVision." It's the first MCU content among my credits. There were a lot of challenges to get the show out the door, the biggest of which involved working from home during the COVID-19 pandemic. Audience reception for the show has been awesome and made the tough times worth it. I also learned a lot on the show in terms of different types of pipelines and workflows.
What was your biggest challenge in your job (or on a particular project) and how did you overcome/solve it?
One of my biggest professional challenges has been making the jump from reality tv to scripted in editorial. When I first moved to Los Angeles, I continued to work in reality tv as a night assistant editor for the company World of Wonder Productions. During the day, I hustled to network and to shadow editors and their assistants in scripted. I joined several mentorship programs that help editors and assistants of color further their career goals. On weekends, I also filled in as a post PA for scripted shows. I was pretty much working around the clock and was extremely exhausted at times. However, I knew that if I could tough it out, the payoff would be so sweet, to finally get my first scripted union position. During this tough period, I learned how to strategize in a way that was different from how I had networked on the east coast. I learned how to maneuver to different projects and promote myself to other editors and producers in this landscape. After 11 months of this hectic schedule, I got my first union AE position and then a month later, my first union scripted AE position.
What was the most fun you've had at work?
This didn't happen at work, but the most fun I've had with my co-workers was attending 2018 Comic-Con International in San Diego to see the "Black Lightning" panel, which included our executive producers and cast. Editorial was given complimentary passes on behalf of the production. It was a great experience to see the fans up close and observe how intensely they supported the stories being told in the series. It helped give inspiration when we were back in the cutting room, knowing there are a ton of people that appreciate the content coming out the door. It was also my first time at Comic-Con, so I took in the excitement of it all.
Jobwise, what do you hope to be doing five years from now?
I hope to have transitioned back to picture editorial and to be cutting an episodic series. I feel that my experience in visual effects is helping to prepare me for that transition because I would like to work on visual-effects-heavy content.
What are your outside activities, hobbies, passions?
Outside of work, I enjoy being outdoors. I love running, hiking, and playing basketball when possible. I also like extreme sport activities such as riding ATVs and jet skiing. I adore traveling. Of course, the pandemic has altered that type of activity, but I look forward to visiting some of the places I have on my bucket list once it's safe to do so.
Favorite movie(s)? Why?
"Love and Basketball" (2000). I know the dialogue word for word all the way through, even if I watch it muted (haha)! I related to the coming of age story so much, and it's ironic that my career path would eventually lead me to call its editor, Terilyn Shropshire, ACE, a friend and mentor. I was 11 years old when I first saw the movie in a theater with my Amateur Athletic Union (AAU) basketball team. The main character, Monica, inspired me and my friends at the time, and we were determined to have experiences like she had.
Favorite TV program(s)? Why?
That's a tough question since I have so many faves. I'll list a few that I've really enjoyed recently. HBO's "Lovecraft Country" and "Watchmen" are definitely on the list for their amazing black leading characters. I was engrossed the entire time while watching, and the supernatural elements and effects were spectacular. I also really like the British series "A Discovery of Witches," currently on Sundance TV (formerly the Sundance Channel) in the US. I enjoy its take as a fantasy series and its interpretation of vampires, daemons and witches. It's also quite the love story and has got me interested in reading the source novel for the show, which is the first book in the "All Souls" trilogy. I also enjoy the STARZ series "Outlander," which is another love story involving time travel and magical folklore.
Do you have an industry mentor?
Mentors! Very much so! Terilyn Shropshire, ACE, Shannon Baker Davis, ACE, Joi McMillon, ACE, Brett Hedlund, James Wilcox, ACE, Mary DeChambres, ACE, and many more.
What advice would you offer to someone interested in pursuing your line of work?
There are a million pathways to your end goal. Your path will be unlike any others because it is yours, with all its uniqueness. Don't compare your journey to someone else's in a way that deters you. Be encouraged that the journey is all a part of the experience. Visual effects is definitely an onion of a world, so have an open mind as you experience all the layers.
Was there ever a circumstance when you had to rely on the Guild for help or assistance?
Yes, there have been many times when I turned to one of the Guild field reps, Jessica Pratt, for assistance and guidance when working with the larger studios. She has been an incredible help, and I am so happy that she is a resource for Guild members.
Is there anything you'd like to say to your fellow Guild members, some words of encouragement?
As a Guild member who is a black woman, I encourage my fellow members to look at how they can play a part in continuing the initiatives to create a diverse and inclusive editorial environment. Mentorship is key for allowing underrepresented groups a chance to flourish in editorial. So if you have the time, consider mentoring someone from these groups. Our industry is all the better for it.
Compiled by David Bruskin.